We spend about eight months a year looking forward to the college football season because there is always so much to see with the Buckeyes and so many possibilities.
You have new stars taking off, old stars leaving a legacy, and transfers, transfers, transfers!
It's the best thing going, even in its current shifting-sand-like state.
For Ohio State, this could be a very special season, which means there is plenty to get excited about. Over the next 10 days until the start of Game Week against Notre Dame, I'll be sharing 100 things for you to look forward to this year, along with the reasons why.
So let's get started.
---
Previous | 100-91
---
90. Jayden Ballard On A Deep Route
Jayden Ballard has been graciously saddled with Devin Smith comparisons ever since he donned a Massillon uniform and chose to wear the No. 9 just like the former Buckeye deep threat did before him. It also helped that he played a lot like Smith, running past defenders like he was racing towards a fire and they were hesitant to enter the billowing fray. The scorched earth, it turned out, generally resided in Ballard's wake as cornerbacks desperately tried to not lose him in the smoke. Ballard redshirted as a true freshman last season for the Buckeyes, catching a single 4-yard pass in the three games of action that he saw. He has been touted by strength coach Mickey Marotti as the fastest of the receivers. He may also be the most athletic. Now after a year of tutelage from receivers coach Brian Hartline, Ballard is ready for more. And you should be too.
89. Luke Wypler Running The Offensive Line
Luke Wypler's quest to be the starting center for the Buckeyes last year began the day after OSU's loss to Alabama in the national title game in 2020. The season was over. Ohio State head coach Ryan Day sent the team home, told them to take a break and regroup from an incredibly difficult COVID year. Most did. Luke Wypler, however, was at the practice facility sending clips of his workout to then offensive line coach Greg Studrawa asking for critique and feedback. Wypler was wrapping up a true freshman season where he played in just one game but he was determined to compete for the starting job in 2021 as a redshirt freshman. As we all know, he won the job last year and played well enough to earn Honorable Mention All-Big Ten accolades. Now, however, the offensive line is his and he's in much better control of everything that his position requires. Because of the collisional chaos occurring with every snap, you can't always tell when a center is in complete control of everything going on around him, but when the offense is humming, there's generally a talented center in the mix who is owed a sizable chunk of the credit.
88. Kourt Williams Finding A Role In Jim Knowles' Defense
Coaches have been excited about Kourt Williams from the first time they got to meet him as a recruit. Most of those coaches are now gone, but the excitement remains, perhaps rejuvenated by the Buckeyes' new handful of defensive coaches. Williams came to Ohio State over two years ago to play the hybrid linebacker/safety "Bullet" position, but that position ended up being more of a blank last season. New defensive coordinator Jim Knowles doesn't have a "Bullet" in his defense, but he does have a penchant for finding things that players can do and then — shockingly — employing them to do those things in his defense. Knowles has been speaking highly of Williams since the first time he spoke with reporters back in the winter. Those words continued in the spring, but were accompanied by coverage concerns. Williams was looking like one of two strong safeties that would see the field for the Buckeyes this year. Now he's looking like a guy who might be headed back to more of his once-promised hybrid role as a Sam linebacker against heavier teams. Williams played well in the Rose Bowl and quietly posted 28 tackles last season as a redshirt freshman. The team voted him a captain for a reason and everyone should be looking forward this year to seeing why.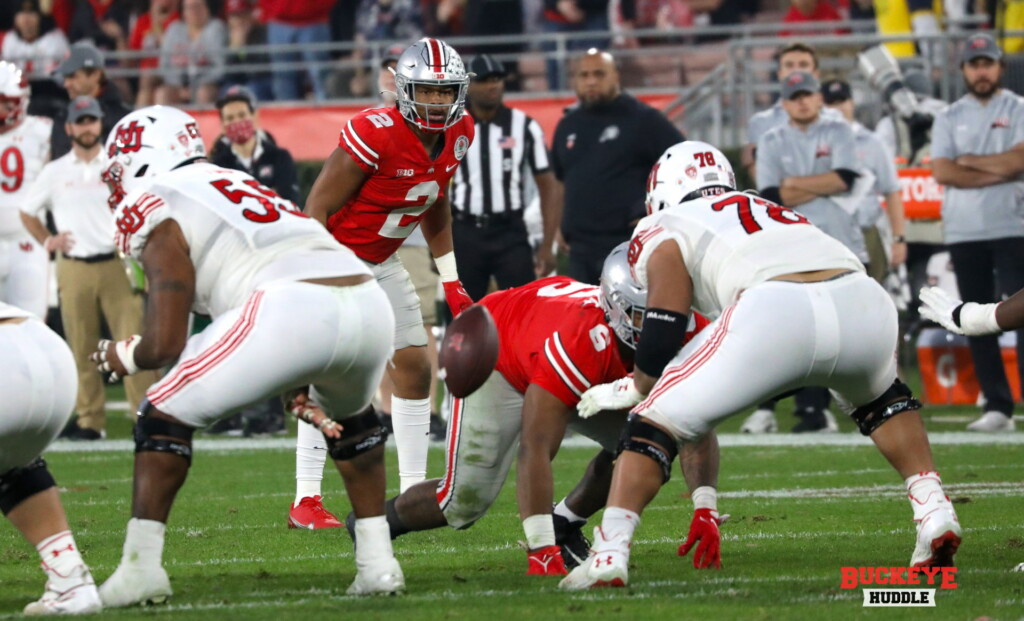 87. Michael Mayer Vs. OSU's Defense
Talented tight ends having success against an Ohio State defense is a tale almost as old as time. The Buckeyes will find out right away this season if they will be writing another chapter in that particular book of the damned. Notre Dame's Michael Mayer is a favorite this year to win the Mackey Award as the nation's top tight end. He led the Irish with 71 receptions and seven touchdowns last year, and finished second on the team with 840 yards receiving. The former five-star signee also posted 42 receptions and 450 yards as a true freshman in 2020. Notre Dame will be starting a new quarterback this season in Tyler Buchner, who threw 35 total passes last year. The odds that he relies on Mayer to be his security blanket in his first career start are pretty high. So how do the Buckeyes defend him? Is this where Kourt Williams steps in? Or maybe Lathan Ransom since he is a bit better in coverage? Is this where Josh Proctor or Ronnie Hickman announce themselves to the football world? It make take a village, but if the biggest threat to the Ohio State defense is the Notre Dame tight end, then you have to like the Buckeyes' chances overall.
86. A Healthy Cody Simon
Ryan Day preached toughness to last year's team and few players exemplified that message as much as middle linebacker Cody Simon. Simon started 10 games last year and did most of that with a bad shoulder that got increasingly worse as the season went on. He still managed to finish fourth on the team with 54 tackles, and his 33 assisted tackles were second-most on the team. The hope this year is that the shoulder is no longer a concern, and if it isn't, then what does that mean for Simon's play on the field?
85. Tommy Eichenberg As An Attacking Linebacker
It was not a great year for the Ohio State linebackers last year but times have now changed, as has the Buckeyes' defensive scheme. Jim Knowles wants a more aggressive defense than what Ohio State utilized last year, which should be music to the ears of middle linebacker Tommy Eichenberg. Eichenberg finished second on the team with 64 tackles last year, despite starting just four games. The 2021 season was Eichenberg's third on campus, but it was the first time he really got to see any action on defense. As coaches will tell you, the biggest jump a player makes is from his first year to his second year. This is technically a jump from Eichenberg's third year to his fourth, but it will be his second year of starting. And he'll be doing it in a new defense that wants him to be aggressive and make plays. A little north-south action is never a bad thing for a middle linebacker, and is often more productive than the east-west stuff that can get them in trouble. Eichenberg was voted a captain by his teammates and has taken over as a leader in the linebacker room. Now begins the portion of his story that lasts infinitely longer than the humble beginnings.
84. The Gradual Reveal Of Ohio State's Next Crop Of Stars
It was mid-November of 2018 and following a two-catch, 41-yard performance as a true freshman, wide receiver Chris Olave was brought out for midweek interviews with reporters. Because of this, just about every outlet on the Ohio State beat wrote about Olave in the next day or two. His next game out, he caught just one pass for 10 yards in the wild 52-51 survival at Maryland. Around that same time, a Buckeye fan on Twitter @'d a bunch of the beat writers sarcastically asking if we would be cramming another round of Chris Olave puff pieces down his throat anytime soon. Well, the next time Olave stepped on the field, he caught a pair of touchdown passes against Michigan and blocked a punt for a touchdown, so yes, there was another round of puff pieces to stuff down one particular gullet. Before that game, very few people knew who Olave was. After that game, his name was known far and wide. It doesn't always happen that way, but new names always emerge and it's always fun to watch.
83. Taron Vincent Being The Best Version Of Himself
There have been flashes of the five-star promise throughout Taron Vincent's time at Ohio State. It started back in 2018 as a true freshman when he tallied a sack against Northwestern in the Big Ten Championship Game. He missed the 2019 season with an injury and then went through the same hiccupping mess that everybody else did in 2020. Vincent started eight games last year for the Buckeyes and was named Honorable Mention All-Big Ten following the season. He posted 23 tackles, 3.5 tackles for loss, and 0.5 sacks last year as a fourth-year junior. This is likely the last season for Taron Vincent and he's going to want to make it the most memorable one yet. It will be interesting to see what Jim Knowles' defense can do to make that happen.
82. A Healthy Julian Fleming Having Opportunities
Every time I write about Julian Fleming, it seems I have to start with what he hasn't done yet. Such is life for the No. 1 wide receiver recruit in the class of 2020, I suppose. But in writing those words, I also generally remind people that it wasn't until year three that Terry McLaurin and Parris Campbell caught their first passes at Ohio State. Fleming is entering his junior season with 19 career catches and has done so while dealing with injuries throughout his time with the Buckeyes. He is healthy now and still possesses all of the talent that made him a top prospect. He is also now an experienced receiver who can use his strength, wiles, and athleticism to make defenders wish they were just a little bit better at catching the football in high school so that they never would have had to switch to defense.
81. JT Tuimoloau As A Sophomore
JT Tuimoloau arrived at Ohio State as a true freshman so late last year that he practically went from the airport straight to practice. He was a five-star recruit and expectations were immense, but given that he had no winter, spring, or summer workout time at OSU, it would have been okay had he not gotten any immediate action as a true freshman. Instead, on the second drive of the season, on the road at Minnesota and facing a third-and-two, Tuimoloau was in the game to help contain talented running back Mohamed Ibrahim. That's just not normal and should not be remembered as such. Tuimoloau posted 17 tackles, 4.5 tackles for loss, and 2.5 sacks last year, but now he's got a full offseason under his belt. A full winter, full spring, and is now completing his second fall camp. There is no telling what he could do this year, which is exactly why you should be excited about it.