The 2021 Ohio State Buckeyes football season left us with a number of lasting memories, be it Jaxon Smith-Njigba's 347 yards receiving in the Rose Bowl, quarterback CJ Stroud's precise prowess all season long, or the joy-dampening loss to Michigan in the regular-season finale.
The loss to Michigan itself has left folks with many lasting memories, and one of those was the Buckeyes' inability to run the ball against the Wolverine defense.
Ohio State was held to just 64 yards rushing on 30 carries against Michigan. A paltry 2.1 yards per carry. It was the worst rushing day for the Buckeyes in over a decade. Not since they were held to 35 yards rushing on 39 attempts by Michigan State in 2011 has the Ohio State running attack been less threatening.
Buckeyes head coach Ryan Day fired offensive line coach Greg Studrawa and replaced him with UCLA's Justin Frye in part to improve the running game.
So what will a successful rushing attack look like today for the Buckeyes?
"No expectations in terms of yardage or anything like that," Day said on Thursday. "I mean, the first goal that we want to have is to win the game. And I think that's what you're hearing our guys on offense talk about. It isn't about the yards. It isn't about the points. It's about winning the game. And a big part of running the ball is controlling the clock. And I think that's something that we want to do, I think finding a balance is going to be very, very important.
"But when you run the ball and you control the game, your chances of winning go way up. Taking care of the football and ball security is going to be very important in this game. So we're going to focus on that and kind of come up for air when we get done with the game and figure out where we're at and then reevaluate it from there. But I like the plan we have going in. I like the work that guys have had going in. But now we've got a top-five team in the country that we've got to play against, and so it's a big challenge right out of the gate."
Sophomores Have Gotten Older By The Day
The way things look right now, it's not going to be a surprise if the 2021 Buckeyes recruiting class ends up being one of the best in school history.
Running back TreVeyon Henderson rushed for 1,248 yards last year as a true freshman. Receiver Marvin Harrison Jr. caught three touchdowns in the Rose Bowl last year as a true freshman. Receiver Emeka Egbuka led the Big Ten in kickoff return average and had the Buckeyes' longest play from scrimmage last year. Offensive lineman Donovan Jackson is now a starter after playing a valuable role as a sixth man last year. Quarterback Kyle McCord already has a 300-yard passing game under his belt.
And that's just the offense. Defensively, the Buckeyes are excited about ends Jack Sawyer and JT Tuimoloau, and tackles Tyleik Williams and Mike Hall. All four are expected to have sizable impacts this season. The cornerback class has been a godsend, particularly last year with Denzel Burke earning a starting job as a true freshman.
There is still plenty more to unfold among OSU's second-year players, which is why when Ryan Day was asked which of his sophomores are on the verge of breaking out, he didn't have one particular answer.
"I think there's a lot of them because a lot of those guys played last year, and that was unique," he said. "So I think when you look at a lot of our second-year guys, I mean, across the board, on defense, when you look at the guys up front, when you look at the guys in the back end, when you look at our receivers. There's a lot of those guys in that sophomore class who are playing for us.
"I feel like even probably five to 10 years ago, if you had a lot of sophomores playing, you were like, 'Man, this is a young team.' I guess young is all relative in terms of experience because these guys have played. And that was one of the things that we wanted to do last year was get experience under our belt. So I can't sit here and tell you there's one guy, but I can tell you that for a lot of those guys who came in at mid-year, and then have now been in the program here for a full year and now going on year two, there's been a lot of improvement across the board."
Seeing It Happen Right In Front Of You
One of those sophomores who continues to improve is TreVeyon Henderson. After a record-setting freshman season, Henderson spent the offseason improving his craft on and off the field.
If you ask anybody on the team about Henderson they will tell you that he's a different back than he was a year ago. He understands the offense better and how to make the most of the way he fits into it.
Ryan Day has said that Henderson is now faster and stronger than he was a year ago, but it's the understanding and the experience that has slowed the game down for the second-year star.
And it's noticeable.
"Oh yeah, I mean, just the way he's able to cut and kind of set up our blocks, it's the one biggest thing I've seen. Especially in space, him being able to kind of navigate himself and set up blocks for himself and make bigger plays," center Luke Wypler said of the game slowing down for Henderson.
And it's not something that you have to go to the tape to actually notice.
"I can see it live," Wypler said. "Yeah, it's pretty cool to see it live. I know the scheme and I see him pushing and I see him cutting it back and setting up a block for us, which is pretty cool to see."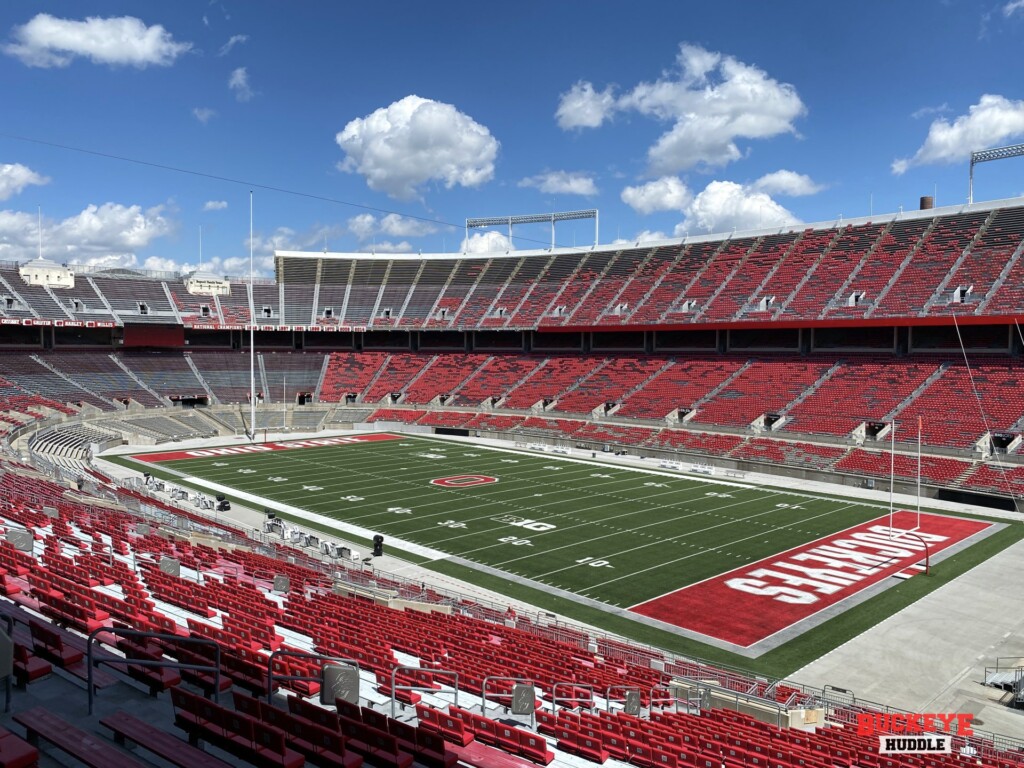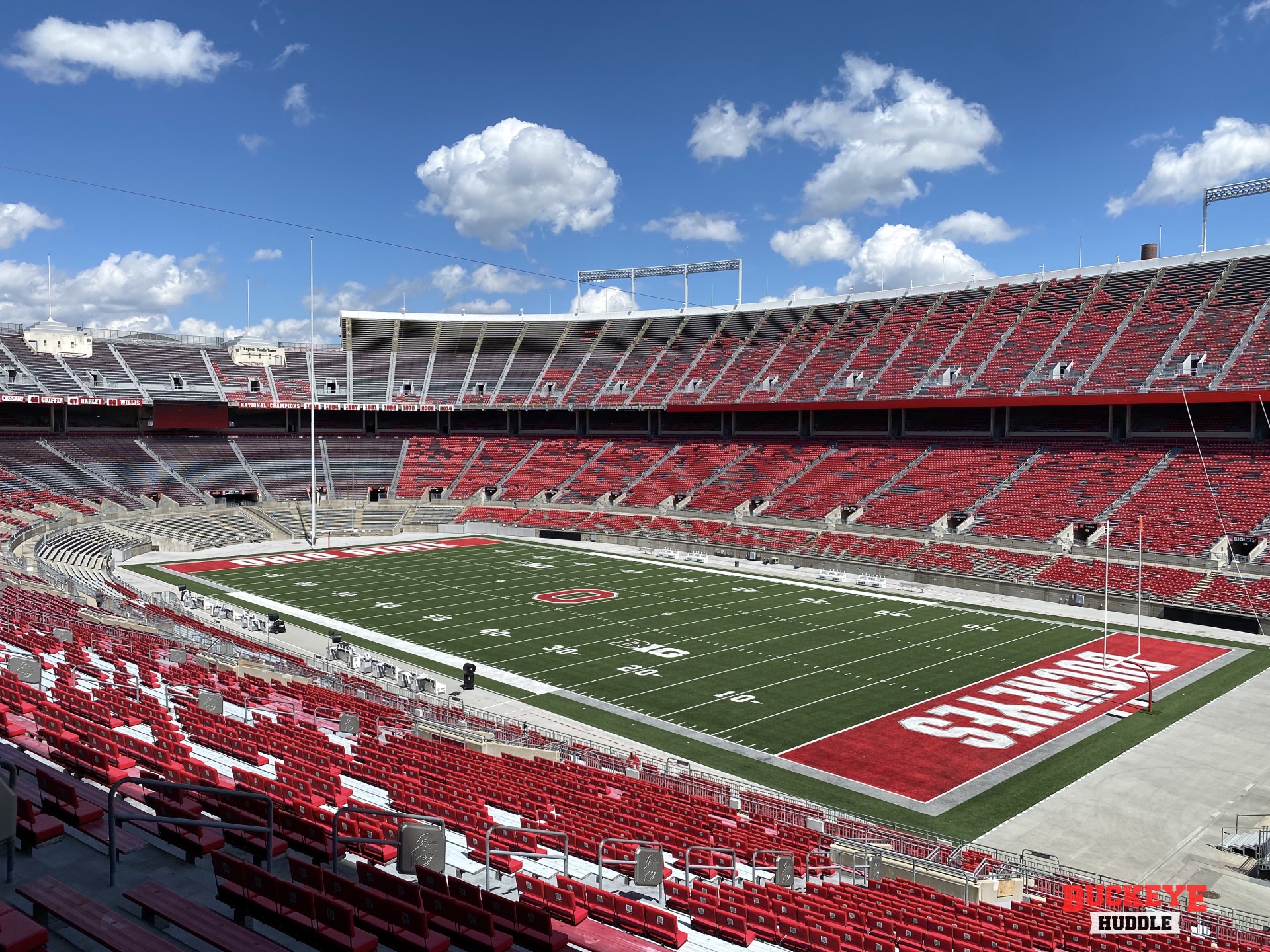 Sometimes The Grass IS Greener
Sure, TreVeyon Henderson worked in the offseason to be a better running back this season. Something he probably didn't anticipate, however, is getting some help from the OSU grounds crew.
The Ohio Stadium turf was finally replaced during the offseason as it had fulfilled its lifespan. They also had that same new turf installed inside the practice facility at the Woody Hayes Athletic Center. The new turf is certainly much brighter, thanks to not being sun-soaked for nearly a decade, but it has also provided better footing for the Buckeyes during fall camp.
"Way better. Way better. I'm glad they finally got that done. I mean, it's way better now," Henderson said. "It was very slippery. It was. I mean, sometimes I'd roll my ankle out of nowhere. And so now that doesn't happen. We've been practicing on the new turf and it feels great now."
The new turf is allowing for better cutting for the players, which is music to the ears of the Buckeyes on offense.
"For sure. It looks good and it feels good. So we're ready to bounce around on it," Jaxon Smith-Njigba said.
The Buckeyes have practiced on the Ohio Stadium turf a handful of times over the past month so that they could get a feel for everything.
How has the new turf impacted Smith-Njigba?
"Just being out there, just [having] more confident in my cuts, for real," he said. "We were kind of slipping a lot, a little bit last year. But just more confidence. It's fun to always have that. It's good to always have that."
Time For Some Electricity
One of the common refrains by the middle of week three of every fall camp is that each team is just ready to hit somebody else. Then, as camp comes to a close and game preparation takes over, the days get shorter and the season gets closer.
For coaches, the days fly by. For players, they can crawl. But even when the game was still days away, the electricity for Notre Dame vs. Ohio State was palpable.
"Oh, yeah, just getting back to game day, game week. It feels different," Jaxon Smith-Njigba said on Wednesday. "The juices are up and we're just all excited to get out there. You know, we've been practicing for a long time now. So for us to put that helmet on in the 'Shoe, it's gonna be an amazing feeling."
An opening game brings its own electricity, but when it's a game between two storied programs like Notre Dame and Ohio State, there is an additional switch that is flipped to provide even more juice.
Especially for Smith-Njigba, who has been looking forward to this one for years.
"I love these types of games," he said. "Since I was a recruit, this was a game that I looked forward to. 'Oh, we play Notre Dame in 2022?' when I was a junior, so I've been looking forward to this one for a long time. Just everyone being pumped in, the juice, and the electricity is gonna be amazing. So I love to be out there."
Smith-Njigba also knows he won't be out there alone. He'll have his teammates, and he'll have Buckeye Nation. And he expects everybody to bring it.
"I expect them to be the best fans in the world," he said. "I mean, that's what they always bring, always bring a lot of juice a lot of energy. And we're going to need that and I'm excited to play in front of however many people it's gonna be there. It's gonna be an awesome experience."