All Marvin Harrison does is catch three touchdowns in a game.
Harrison, the talented sophomore receiver for Ohio State, caught seven passes for 184 yards and three touchdowns in the Buckeyes' 45-12 win over Arkansas State on Saturday.
It was the second time in Harrison's short career that he has caught three touchdown passes in a game. The first time came back in January when he scored three times in OSU's 48-45 Rose Bowl win over Utah.
With his third touchdown of the day, Harrison became just the second Buckeye to catch three passes in a game twice. He joined Joey Galloway, who did it in 1993 against Michigan State and in 1994 against Purdue.
That's a pretty good crowd to be a part of, though to call it a crowd would be very misleading.
Harrison doesn't take it in stride, either. He appreciates the company.
"The receivers that have come through here, to be mentioned with a guy like Joey Galloway, that's a pretty good honor," Harrison said after the game.

The 101,067 fans in attendance were treated to a show by Harrison on the afternoon. He made the difficult look routine and the routine seem way too easy.
But the person who enjoyed it most may have been Ohio State quarterback CJ Stroud.
"They just couldn't contain him today," Stroud said. "Every day in practice, he just shows how great of an athlete he is. And he works so hard. During the week, bloody Tuesdays, going into Wednesday, third downs and red zone. He's always giving me clean numbers. He's one of the best route runners I've ever played with. So today, it was just the day to do it."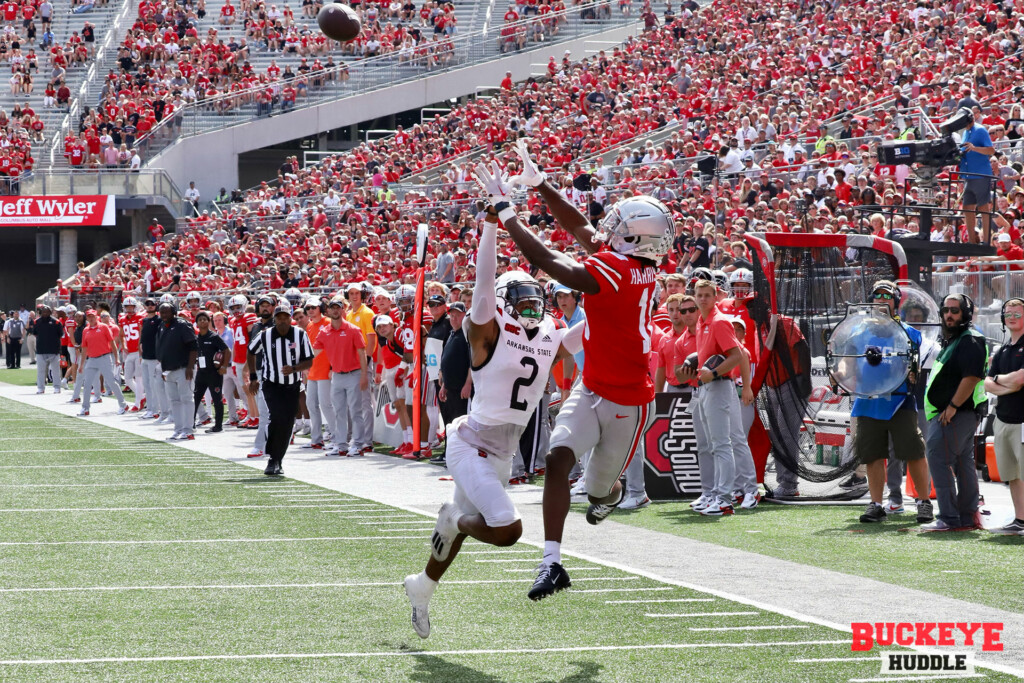 The Buckeyes were without three of their top six receivers today, including All-American Jaxon Smith-Njigba. Smith-Njigba went down early in last week's win over Notre Dame, which has forced Marvin Harrison into the forefront even more.
And he has responded.
In two games this season, Harrison has caught 12 passes for 243 yards and three touchdowns. If you want to backdate things, you can add in the Rose Bowl and bump those numbers up to 18 catches for 314 yards and six touchdowns in his last three games.
Not bad for a true sophomore making the third start of his career.
"Marvin is very mature for his age with that high level of route running," head coach Ryan Day said. "To see somebody who has played as much as he has and has that high level of route running, it's pretty remarkable. Marvin was a big part of getting us going and certainly has big play capability."
Harrison was allowed to ease into his Buckeye career last year playing behind the likes of NFL first-round draft picks Chris Olave and Garrett Wilson. One year later, and now he's easing his way into the end zone a handful of times a game.
And he's just getting started.
"I learned a lot from Garrett and Chris, honestly, just watching them last year, how to prepare," Harrison said. "You can't replicate game reps, so the more you get, the better you'll be. So this is my, what, third start? So I'm still trying to learn and get better each week."