COLUMBUS — Senior forward Justice Sueing led the Buckeyes with 20 points in Ohio State's 91-53 season-opening win over Robert Morris on Monday. It was Sueing's first action since a season-ending injury cut his year short 360 days ago.
Sueing was in the starting lineup on Monday after missing last week's exhibition game. He looked completely comfortable and rust free in 24 minutes of action, shooting 8-of-14 from the field and 2-of-3 from three-point territory.
Transfer guard Isaac "Ice" Likekele did a little bit of everything for Ohio State, scoring nine points, grabbing nine rebounds, and dishing out six assists. His ability to rebound and lead the break contributed to Ohio State's 11-0 mark in fastbreak points.
The Buckeyes got the scoring started with junior center Zed Key showing off his improved range with a three-pointer. Less than two minutes later, Likekele introduced himself with a steal and dunk to give OSU a 7-2 lead.
Key added his second three-pointer to give the Buckeyes a 16-15 lead with 11 minutes to play in the first half. That was followed by a three-pointer from freshman guard Roddy Gayle on OSU's next possession. Back-to-back layups by Likekele and senior forward Justice Sueing made it 23-17 Ohio State. A little later, Sueing added his first three of the game.
Key had to leave the game with two fouls in the first half. He was replaced by true freshman Felix Okpara, who contributed a blocked shot and dunk off the bench in the first half. Freshman forward Brice Sensabaugh scored five quick points off of a couple of short baskets and a free throw to make it 36-26 late in the first half. Sensabaugh would finish the game with 17 points and nine rebounds in 17 minutes of play.
Ohio State closed the first half with consecutive threes from starting freshman point guard Bruce Thornton and starting transfer guard Sean McNeil, giving the Buckeyes a 42-28 halftime lead.
The 14-point lead went to 20 points quickly in the second half thanks to two baskets and a pair of free throws from Key and a three-pointer from McNeil in the corner to make it 51-31.
Sueing, meanwhile, continued his assault on the scoreboard. He added a layup on the fastbreak and a jumper. Then following a Sensabaugh three, a pair of Holden layups, and another basket here and there, Sueing dropped in a jumper and then picked up his third steal and followed it up with a dunk on the break to make it 71-44 with 8:44 to play, giving him 20 points on the night.
Sensabaugh scored the Buckeyes' final seven points.
Ohio State shot 34-of-61 (.557) from the field and 10-of-21 (.476) from three-point range. They held Robert Morris to 20-of-63 (.317) shooting.
Rebounding was a focal point for the Buckeyes coming into this game and they responded with a 48-27 margin on the boards. Key led the Buckeyes with 10 rebounds.
Wright State graduate transfer Tanner Holden went 5-for-5 from the field and scored 12 points on the night.
Quick Thoughts
Isaac Likekele's ability to rebound and lead the break is going to lead to some fast-paced offense for the Buckeyes. Unlike previous years, however, "fast-paced" doesn't mean hectic. Likekele stayed under control in this game and never overran his dribble. The Buckeyes also have more finishers on this team than they have in the past, which will make their fastbreak even more effective.
Zed Key's new-found range is a bonus for the Buckeyes, but it can't be his first option. As Chris Holtmann said after the game, his greenlight comes with caveats. He has to be open and it can't be a force. Catch it and shoot it. Key is always going to be more effective in the paint, but as Holtmann looks to use the guards in the paint more and more, having Key show the ability to shoot is going to stretch the defense further out of the paint.
West Virginia transfer guard Sean McNeil is the designated three-man stationed in the corner, but he can create his own jumper, which is a step up from Justin Ahrens last year. McNeil got the start and even when the shot wasn't falling early, he stayed aggressive and made sure Robert Morris continued to guard him.
The secondary break after Likekele gets it up court is going to be just as effective with the shooters that Ohio State has and their ability to put the ball on the deck and also find the better shot. There are wings upon wings here and they can all do different things.
There is a lot to like here. As Zed Key said after the game, anybody can go for 20 points on any given night. They are deep. There will be growing pains, and there will be some slop. This will be a different team in four months, but it will still be a versatile group. The key will be rebounding, defending, and having two or three consistent scorers that put up points each night while other random Buckeyes go for 20.
The freshman class is fun to watch. Bruce Thornton at point guard isn't out of control. He's not passive, but could maybe stand to be more aggressive in the paint. Shooting guard Roddy Gayle has a nice stroke, is athletic, and even ran the point late in the game, showing good court awareness. Forward Brice Sensabaugh scored 17 points in 17 minutes. Chris Holtmann wants him to let the offense come to him and not force it too much, but he did a bit of both tonight. Center Felix Okpara looks much more ready to play this year than I expected. His minutes will be limited against elite opponents, but he's much more natural on the court than most Buckeye freshman centers over the last 30 years.
Postgame Interviews
Box Score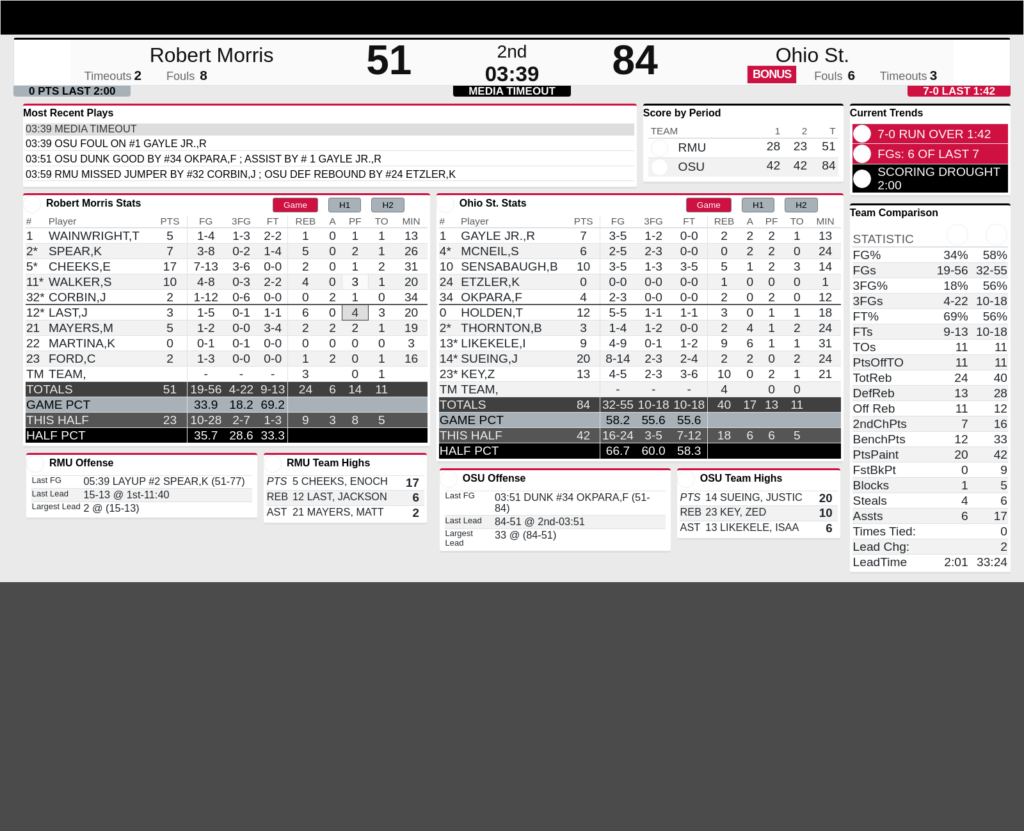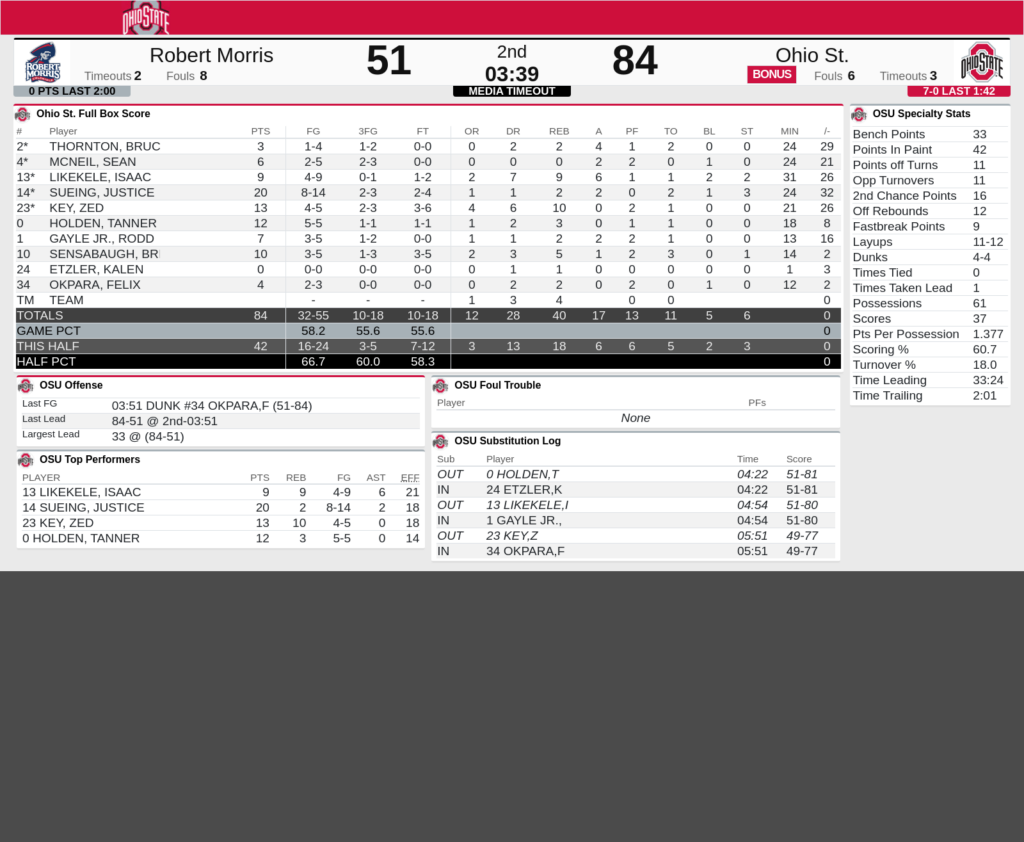 [Ohio State header photo courtesy of the Ohio State Dept. of Athletics/Twitter.]