Monday night will be the official unveiling of Team 124 for the Ohio State men's basketball team as they host Robert Morris of the Horizon League for a 7:00 pm tip at Value City Arena. The game will not be aired on television but can be seen on BTN+ for a subscription fee of $9.95.
The Buckeyes won their exhibition game last Tuesday by a score of 101-57 over Chaminade. In that game, Wright State transfer Tanner Holden came off the bench to lead Ohio State with 25 points on 10-of-12 shooting.
Holden is one of eight new scholarship faces Buckeye fans will see on the court. He is joined by fellow transfer guards Isaac "Ice" Likekele (Oklahoma State) and Sean McNeil (West Virginia), along with true freshman guards Bruce Thornton, Roddy Gayle, forward Brice Sensabaugh, and center Felix Okpara. Redshirt freshman forward Kalen Etzler is also now free to see action for the Buckeyes.
Returning for Ohio State are junior center Zed Key, junior forward Eugene Brown, and senior forward Justice Sueing.
Notable
This is the seventh time that Ohio State and Robert Morris have played. The Buckeyes have won all six, though officially Ohio State counts their record against Robert Morris as 4-0.
Ohio State is 104-17 in home openers. The Buckeyes are 5-0 in home openers under head coach Chris Holtmann, and have won 18 home openers in a row. The last loss came in December of 2003, as Ohio State lost 73-53 to No. 13 Georgia Tech in the Big Ten/ACC Challenge.
Justice Sueing and Eugene Brown both missed the exhibition game against Chaminade. Their status for tonight's game wasn't known yet by Chris Holtmann when he spoke with reporters on Thursday.
Quotable
Chris Holtmann on offensive struggles experience in the exhibition game by freshman forward Brice Sensabaugh who was 3-for-11 from the field: "I think those experiences are normal for freshmen, especially guys that scoring comes so easy for them. He's a natural-born scorer. It's what he does. But I do think that he's got to let it naturally come to him a little bit more than what he did last last time out. That won't be the last time that we see Brice struggling in some of those areas in terms of forcing the issue. I think he's got to find that balance between staying really aggressive and letting it happen. The big things, I don't worry about his scoring, he's going to be able to do that for us. For sure. He's got to be able to rebound and defend at a really high level for us as a freshman. That's what we're asking of him right now."
Chris Holtmann on the need for Tanner Holden to remain consistent: "I think as he gets to a situation where we're playing Division I opponents – I think for him, consistency is going to be key. He did struggle, he would tell you that he struggled in the scrimmage. And I think what has impressed me about Tanner, among other things, has been the fact that he's pretty serious in his approach and his focus. And I think he came back with the mindset of, 'Hey, I've got to be better than what I was for this group.' He's had some moments dating back to the summer where he's been good. I think that consistency for a guy who's a junior, who we're going to lean on, is going to be really important, because he is going to be a guy that we're going to have an expectation of consistency. And he's performed really, really well in stretches, and our challenge is for him just to perform at that consistent level like we know he's capable of."
Chris Holtmann on whether or not he'll have to remind himself to be patient with a team that features four true freshmen and three transfers: "Yeah, absolutely. There's no question I think I'm gonna. I've had to remind myself and our staff of that throughout the preseason and throughout the summer. I think there is a balance there as a coach, because there is an expectation of how we want to work and what our approach needs to be on a consistent basis, and holding ourselves and our players and our program accountable to that. Yet, at the same time, the understanding that many of these guys are going through this for the first time and they're being asked to play a significant role on our team, from our four freshmen, to our our three transfers, and we're also asking more of those returning guys that we have that roles are going to need to increase. So I do think I've had to remind myself of that a number of times. I think I'm also trying to find the balance between appropriately driving them to a level of consistency and yet understanding that there's going to be areas that we're just we're just not there yet as a group."
The Squad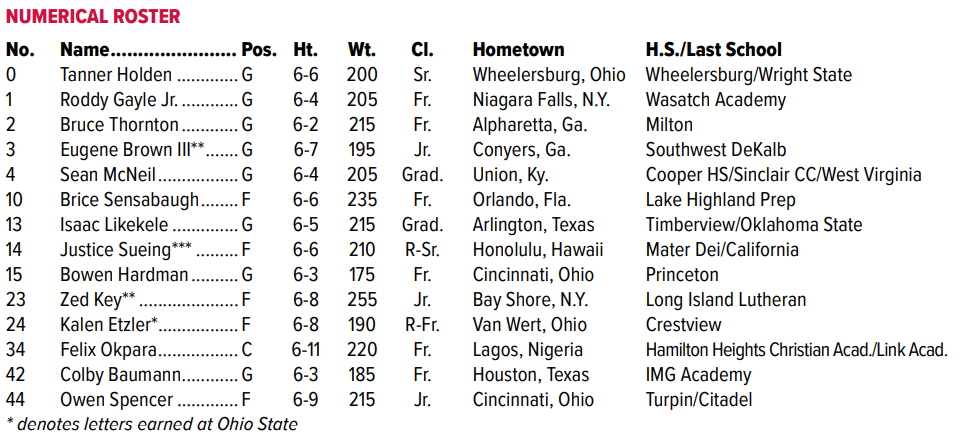 The Opponent
Robert Morris is returning four starters and five letterwinners from a 2021-2022 team that went 8-24 last year. They have been picked to finish eigthy in the Horizon League this year.
Fifth-year forward Kahliel Spear was named to the 2022-23 Preseason All-Horizon League Second Team in a vote of league head coaches. Last season, Spear paced the Colonials in both scoring (14.7 ppg) and rebounding (7.7 rpg) while leading the conference in field goal percentage at 55.1 percent (188-for-341).
Senior guard Michael Green III averaged 10.4 points and 3.3 assists in 29 games last year, while junior guard Enoch Cheeks produced averages of 9.2 points and 5.4 caroms per contest. Forward Matt Mayers, the final returning starter for RMU in 2022-23, scored at a 6.0 points per game clip, grabbed 4.4 rebounds per contest and knocked down 63.3 percent (76-for-120) of his shots from the floor.
The numbers bear out that following in the footsteps of defending is victories. Over the last 15 years, RMU owns a record of 209-59 (.780) when holding opponents under 70 points since the beginning of the 2007-08 season. Despite a 66-56 loss to IUPUI (2/17/22), the Colonials have posted a ledger of 158-52 (.752) under 13th-year RMU Pat Gallagher Head Coach Andrew Toole when turning the trick. Overall in the last 15 years, RMU has held its opponent to under 70 points 53.9 percent (268-of-497) of the time.
[Bruce Thornton header photo courtesy of Ohio State Dept. of Athletics.]