COLUMBUS — The Buckeyes (2-0) wrap up their early-season home stand Wednesday night against Eastern Illinois (0-3) of the Ohio Valley Conference. The game is set for a 7:00 pm on BTN. Ohio State comes into this game following an 82-56 win over Charleston Southern last Thursday. The Panthers last played Sunday at Central Michigan, falling 76-60 to the Chips.
In the Buckeyes' last outing, center Zed Key scored 17 points and pulled down 13 rebounds in just 21 minutes of play.
---
Notable
Freshman forward Brice Sensabaugh scored 14 points in 18 minutes in the Buckeyes' last game, giving him 31 points scored in 36 minutes played this season. He is 11-of-20 from the field this year and is tied for the team-lead in scoring (15.5 ppg) with senior forward Justice Sueing .
Ohio State has had the same starting lineup in each of their first two games this season. Freshman point guard Bruce Thornton and transfer seniors Sean McNeil and Isaac "Ice" Likekele have handled the backcourt, while senior forward Justice Sueing has returned after missing last season, and he has been joined by Zed Key as starters in the frontcourt.
Bruce Thornton is playing 23.5 minutes per game this season, which is the third-most on the team. He is scoring 5.5 points per game so far and has dished out six total assists.
The Buckeyes are holding opponents to 32.8% shooting from the field and 19.6% from three-point territory. They've even stiffened up at the free throw line, allowing just 59.6% shooting from the charity stripe.
Ohio State and Eastern Illinois will be meeting for the third time. Ohio State won 72-59 in 2001 and 69-50 in 2003. Both of those games were in Columbus. Velimir Radinovic scored a game-high 16 points in the 2003 game.
Zed Key has had a double-double in each of the first two games and is now just the fourth Buckeye in the last 40 years to open a season with back-to-back double-doubles. He joins Keita Bates-Diop (2017), Jared Sullinger (2010) and Evan Turner (2009).
---
Quotable
Head coach Chris Holtmann on Eastern Illinois: "I've had a chance to watch them quite a bit, playing some common opponents. They played well in their opener versus Illinois, which was competitive for most of the game. They've got a really tough defensive-minded group, in particular the backcourt. They turned people over at a high rate, which is, as we mentioned last after the last game, something we continue to work on with this group."
Chris Holtmann on OSU's freshman class: "They're talented kids. They will go through challenging moments and stretches of the season. That's going to happen. That has already happened in some cases and will continue to happen. But I've been pleased with their approach, attitude, work, and consistency. As a coaching staff, we feel very good about these four guys. We do."
Chris Holtmann on what he'll be watching for his team against Eastern Illinois: "I think the most important thing is whether we are playing to our standard. We'll get tested with what I talked about Eastern Illinois' ability to turn you over and force you into difficult plays. So I think again, that's something we evaluate game by game. I'm certain our guys understand. We've got a lot to prove, and tomorrow's another opportunity."
Transfer guard Tanner Holden on stepping up from Wright State to Ohio State and trying to fit in: "It's been a different feel for me playing at a different level. There are a lot of things that change. I'm just happy to get minutes. We have a lot of great players, and we have a deep team with a lot of versatility. We've got guys who can make plays, who can score 20 points, who can get double-doubles. So wherever I fit in, I'm happy to be a part of the team."
Freshman guard Roddy Gayle on what helps with the demands of playing at Ohio State: "Honestly, just how close we are as a team. I feel like it's very important there hasn't been any off day that we aren't spending together. I feel like that kind of unity between all of us is very important. Guys like me, freshmen, haven't really been in such a big place as Ohio State. It makes everything so much easier, the transition so much easier. We've got a great team that really gets along together."
The Squad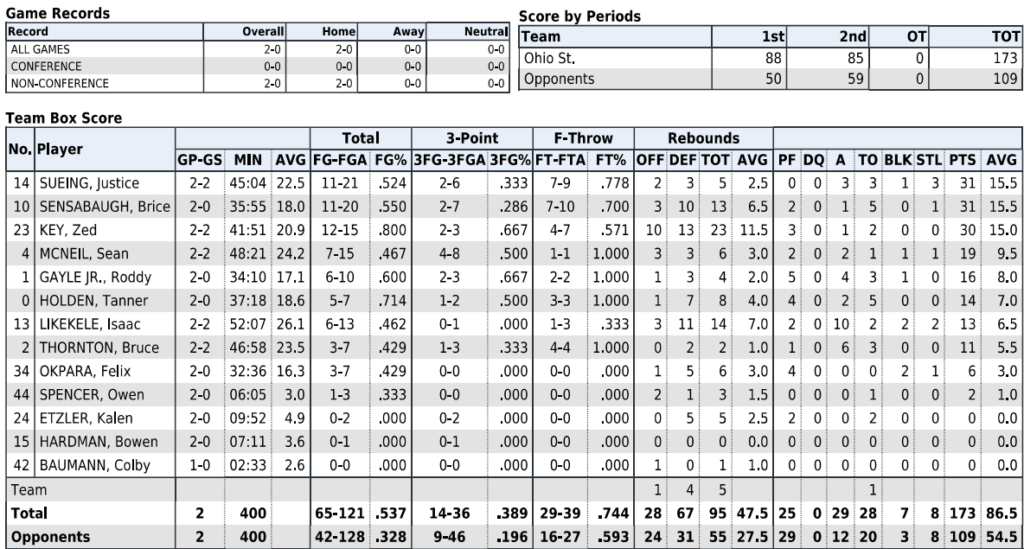 ---
The Opponent
Eastern Illinois received key minutes and contributions from some of its freshmen faces during Sunday's game at Central Michigan. Sincere Malone, Kyle Thomas and Cameron Haffner all saw increased minutes in the second half as the trio combined for 22 points, nine rebounds and five steals. Malone and Thomas both finished with eight points while Haffner knocked down a pair of second half 3-pointers.
Eastern Illinois continues to force turnovers and create steals as the Panthers had double figure steals for the second time this season with ten at Central Michigan. EIU opened the year with 12 steals at No. 23 Illinois. Sincere Malone and Yaakema Rose Jr both have seven steals to lead the Panthers, a total that ranks them 32nd in the NCAA. As a team EIU is averaging 10.3 steals per game to rank 65th in the NCAA and second in the OVC.
Central Michigan used a 24-3 run in the latter part of the first half to open up a commanding lead over Eastern Illinois as they beat the Panthers 76-60 on Sunday afternoon. Kinyon Hodges scored in double figures for the third straight game leading EIU with ten points. EIU got good second half production from freshmen Sincere Malone, Kyle Thomas and Cameron Haffner combining for 22 points.
Kinyon Hodges continues to be the Panthers leading scorer on the season as the junior college transfer was the lone EIU player in double figures on Sunday at Central Michigan finishing with ten points. Hodges had 14 in the season opener at No. 23 Illinois and followed that with 14 against Illinois State. He ranks 12th in the OVC in scoring this season at 12.7 points per game.
Eastern Illinois improved on its 3-point shooting on Sunday at Central Michigan as the Panthers knocked down 6-of-17 for 35 percent. Entering the CMU game, EIU had been 5-of33 (15 percent) in the opening two games. Cameron Haffner and Kinyon Hodges both knocked down a pair of 3-pointers at CMU. Hodges is 4-of-8 from long range this season.