Ohio State (4-1) had four scorers in double figures, including a game-high 19 points from center Zed Key, in an 81-53 win over Cincinnati (3-3) in the Maui Invitational on Tuesday. The Buckeyes move to 1-1 in Maui following Monday's loss to No. 17 San Diego State.
Key added eight rebounds to his 8-of-11 shooting. Freshmen Bruce Thornton and Brice Sensabaugh each added 17 points, and Justice Sueing scored 11 points, adding six rebounds in the process.
The Buckeyes actually trailed 8-2 early in this game before going on a quick 6-0 run with two Key layups and a jumper from Sueing. A pull-up jumper from Thornton at the 10:30 mark of the first half gave Ohio State a 17-16 lead. It was a lead that they would never relinquish.
A pull-up three-pointer from Sensabaugh gave OSU their largest lead at 33-24 with under four minutes left in the half. Another Sensabaugh three at the end of the half extended the lead to 38-27.
This is the third time in just five games that Sensabaugh has scored exactly 17 points. He shot 5-of-9 from the field, and made half of OSU's six three-pointers on the day.
The Buckeyes opened the second half on a 9-1 run featuring a pair of jumpers from Thornton that ballooned OSU's lead to 47-28. Sensabaugh dropped in a three-pointer a few minutes later that made it 54-32. Thornton got the lead up to 24 points following a three-pointer at the 9:20 mark.
The Buckeyes then extended that lead in the game's final minutes thanks to a layup from freshman center Felix Okpara and a second-chance basket from freshman forward Kalen Etzler, making it 81-53.
Ohio State forced 14 turnovers and committed just six of their own. They outscored UC 24-4 in points off of those turnovers.
The Buckeyes outrebounded the Bearcats 42-29, including 19-12 on the offensive end. Ohio State shot 30-of-64 (.469) from the field and held Cincinnati to 20-of-52 (.385) shooting. They were 10-of-26 shooting in each half.
Quick Thoughts
The Buckeyes did to Cincinnati in this one what San Diego State did to Ohio State the night before. Ohio State was more physical, more determined, more active, and they executed at a higher level throughout the game.
Even though the Buckeyes again got little scoring from Isaiah Likekele (0 points) and Tanner Holden (6 points), they were still active and they both pulled down seven rebounds. If Ohio State can score 81 points and only get a handful from Holden and Likekele, that's a good sign. But the sooner they can get some scoring from those two, the better off Ohio State will be.
The Buckeyes only had seven assists on 30 made field goals, but when you consider how those points came, the picture becomes a little clearer. Justice Sueing and Zed Key did some work in the paint, often after several dribbles and pivots. Bruce Thornton and Brice Sensabaugh excelled in one-on-one situations. Thornton drove and also hit some pull-up jumpers. Sensabaugh can be a catch and shoot guy, but he was also a dribble and pull-up guy. They got scoring from all four guys as they excelled in their individual one-on-one situations.
One day after scoring a game-high 22 points, Sean McNeil scored just five points. But he opened the game by being aggressive shooting the ball. He has done a fantastic job replacing Justice Ahrens. McNeil is too active to be forgotten, and also too aggressive. But he also knows when things aren't falling, like shooting 2-of-6 in this game. The shot wasn't falling, so he didn't force more misses.
The Box Score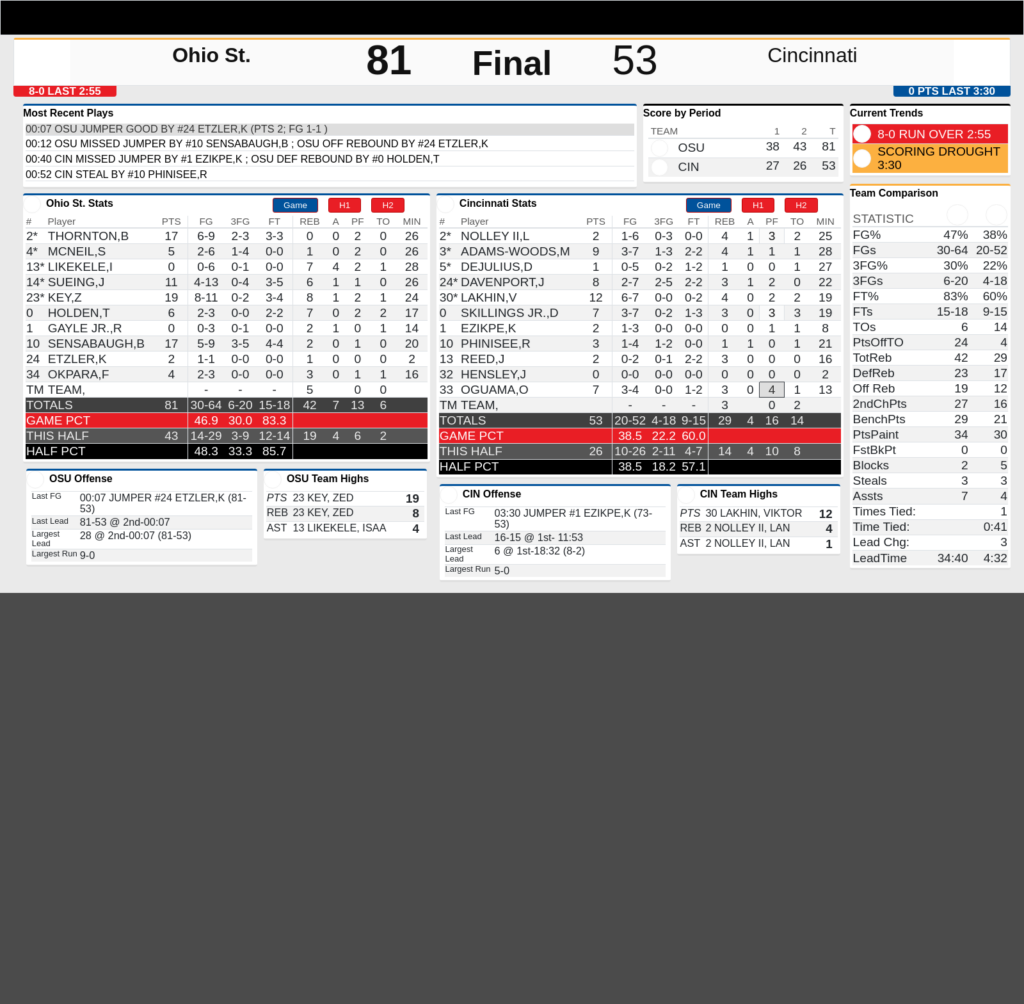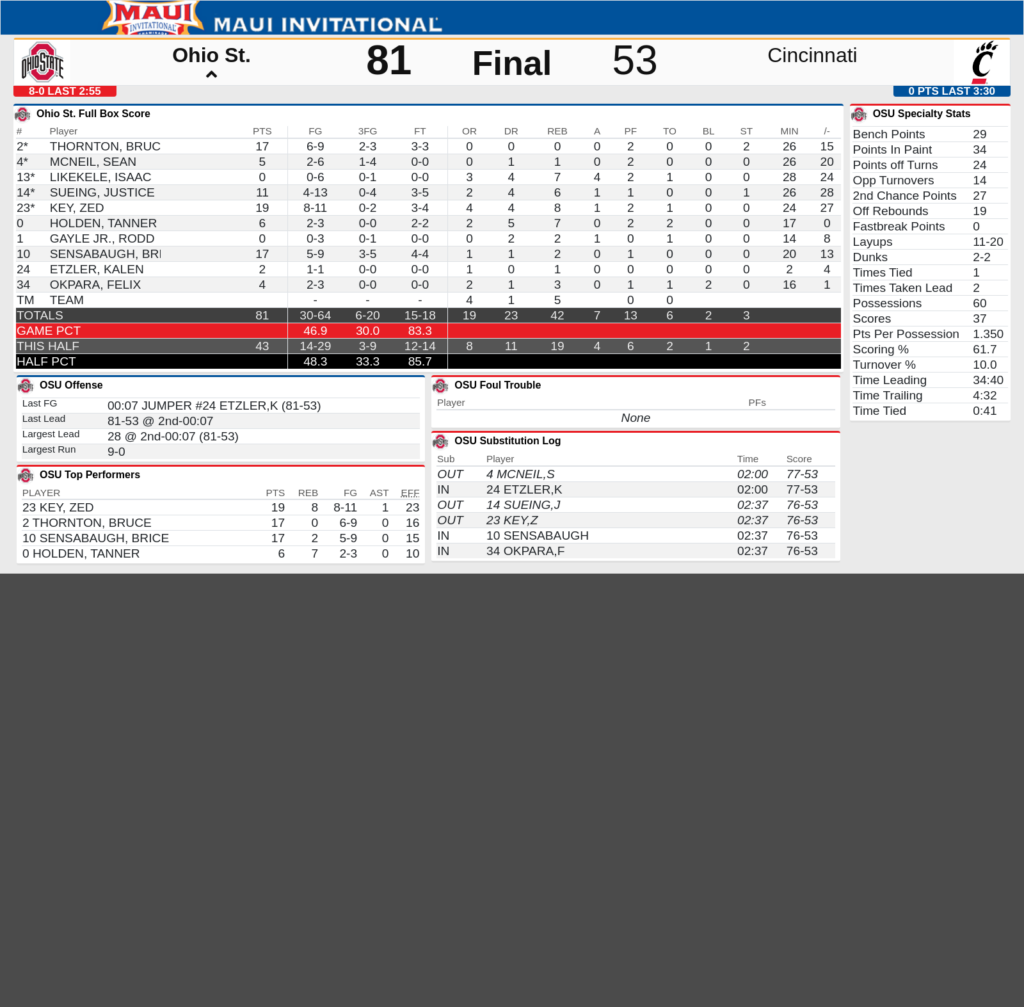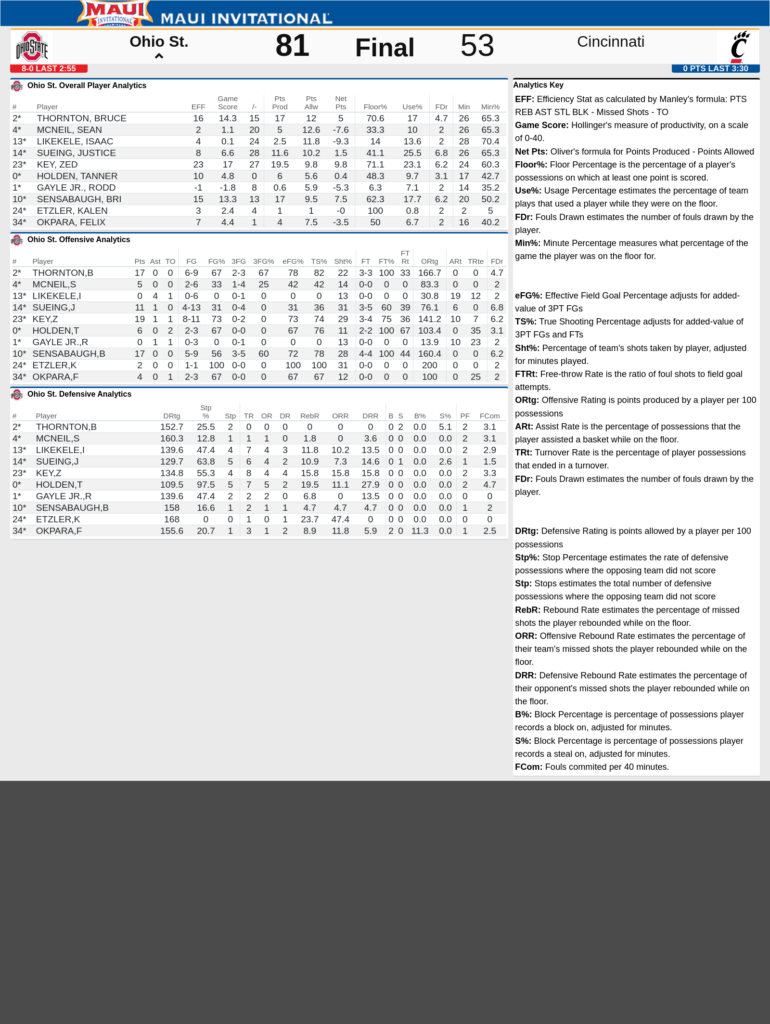 [Justice Sueing header photo courtesy of the Ohio State Dept. of Athletics/Twitter.]