Playing in his home-state of Hawaii in the fifth-place game of the Maui Invitational on Wednesday, Ohio State senior forward Justice Sueing scored a career-high 33 points and grabbed a game-high eight rebounds while dishing out a team-high five assists in leading the Buckeyes (5-1) to an 80-73 win over No. 21 Texas Tech (4-2).
Sueing was an impressive 12-of-19 from the field and connected on all eight of his free throw attempts. As a team, the Buckeyes went 18-of-18 at the free throw line.
Senior guard Sean McNeil scored 13 points and had a team high +/- of 14. Freshman forward Brice Sensabaugh was the third Buckeye in double figures, scoring 10 points. Freshman point guard Bruce Thornton scored nine points and added four rebounds and four assists. He hit three of his four three-point attempts.
No team led by more than three points until a three-pointer from McNeil gave OSU a 13-7 lead with 14:36 remaining in the first half. McNeil added a fast-break jumper and that was followed by a Sueing layup to make it 17-7. After a three-pointer from Tech's Daniel Batcho, Thornton and Sensabaugh added back-to-back threes to give Ohio State a 23-10 lead at the 11:46 mark of the first half.
The Red Raiders whittled the lead down to two points over the next nine minutes, but OSU eventually went to the half with a 41-37 lead. The two teams traded early baskets to start the second half, but back-to-back threes from Thornton and Sueing gave the Buckeyes a 52-41 lead with 15:40 remaining.
Texas Tech cut the lead to six points a couple of times in the ensuing minutes, but the Buckeyes always had an answer. A jumper by Tech's Kevin Obanor made it 62-58 with 7:10 left, but Sueing again answered. He was fouled while shooting a three-pointer and made all three of his free throw attempts. Following a Jaylon Tyson three, Sueing hit a jumper while getting fouled and completed a three-point play.
Sueing added a pair of free throws and then a layup and then a dunk to keep the Red Raiders at arm's length. The dunk gave OSU a 74-67 lead with 1:04 remaining and effectively ended the game.
Ohio State shot 27-of-52 (.519) from the field for the game and held Tech to 1-of-10 shooting from three-point territory in the second half. For the game, the Red Raiders shot 28-55 (.509) from the field overall.
The Buckeyes held the lead for 37:04 of the 40 minutes played.
The Box Score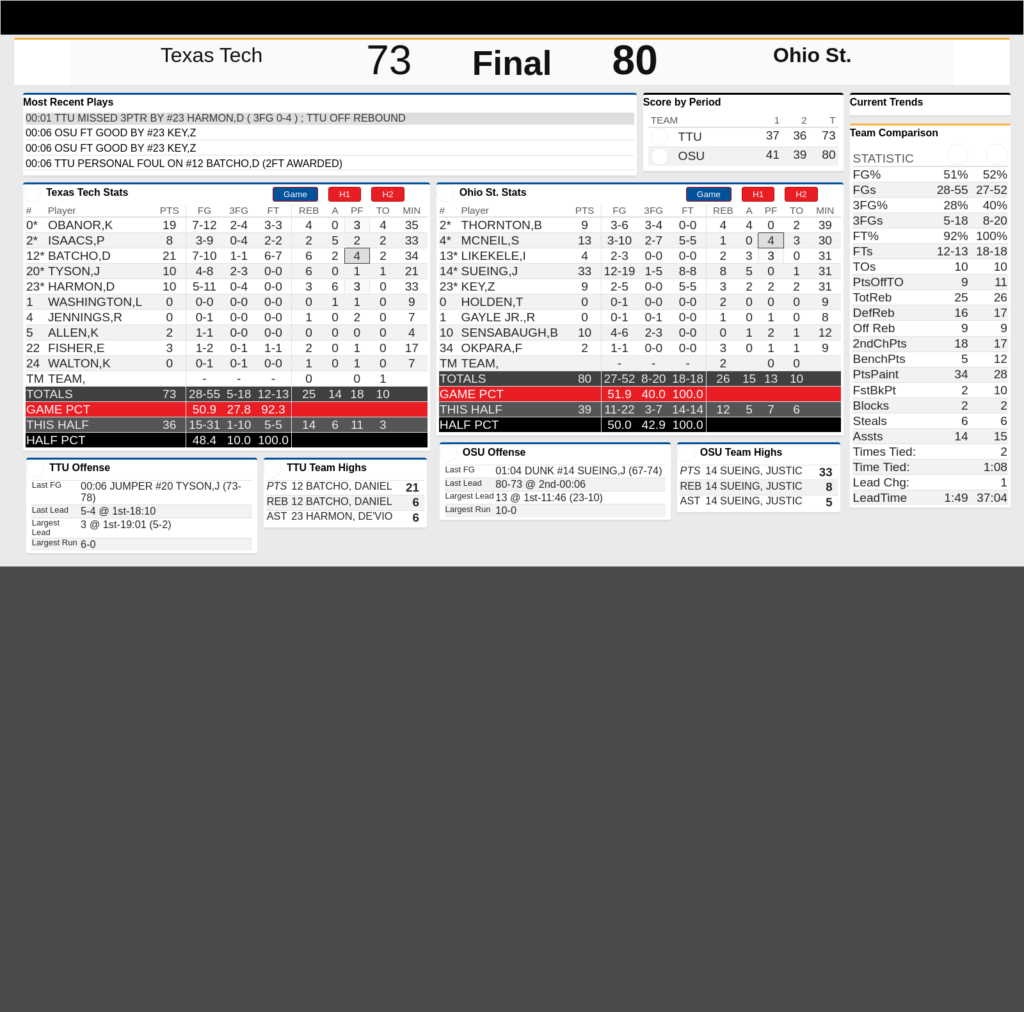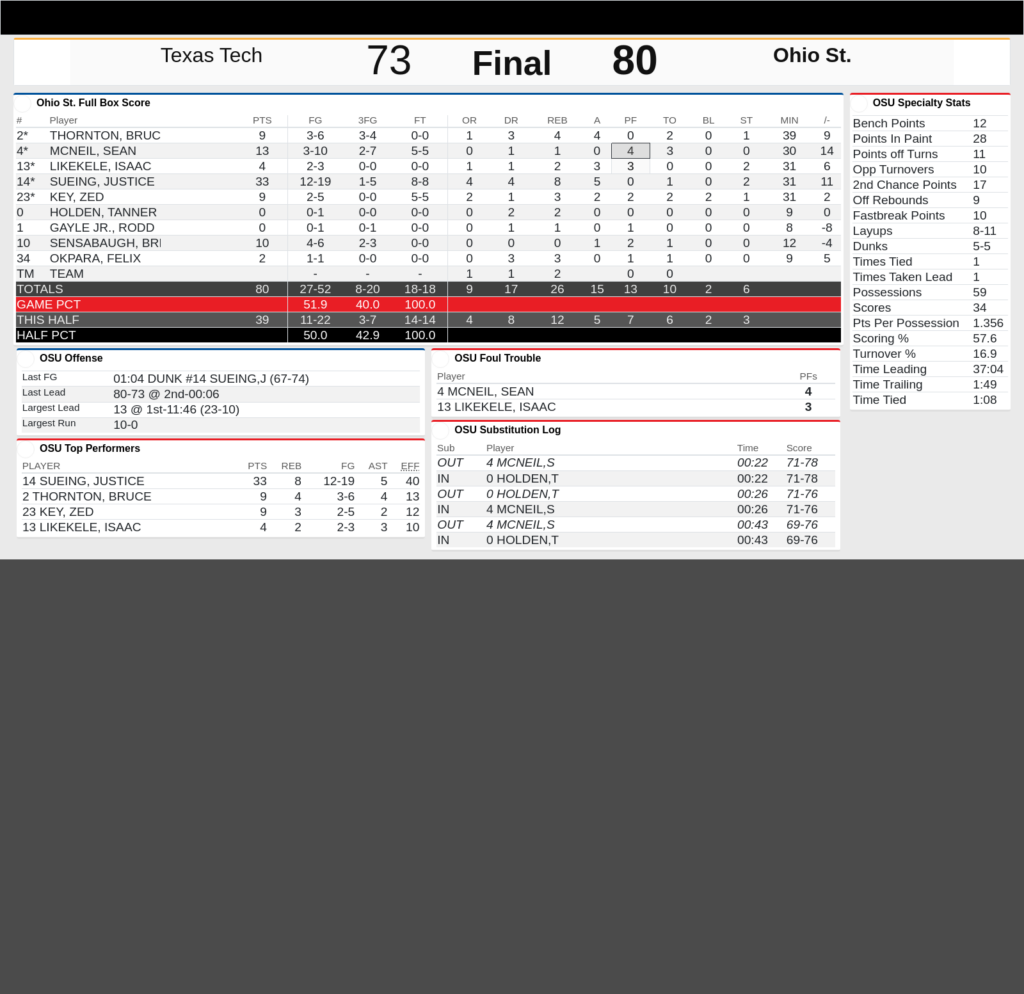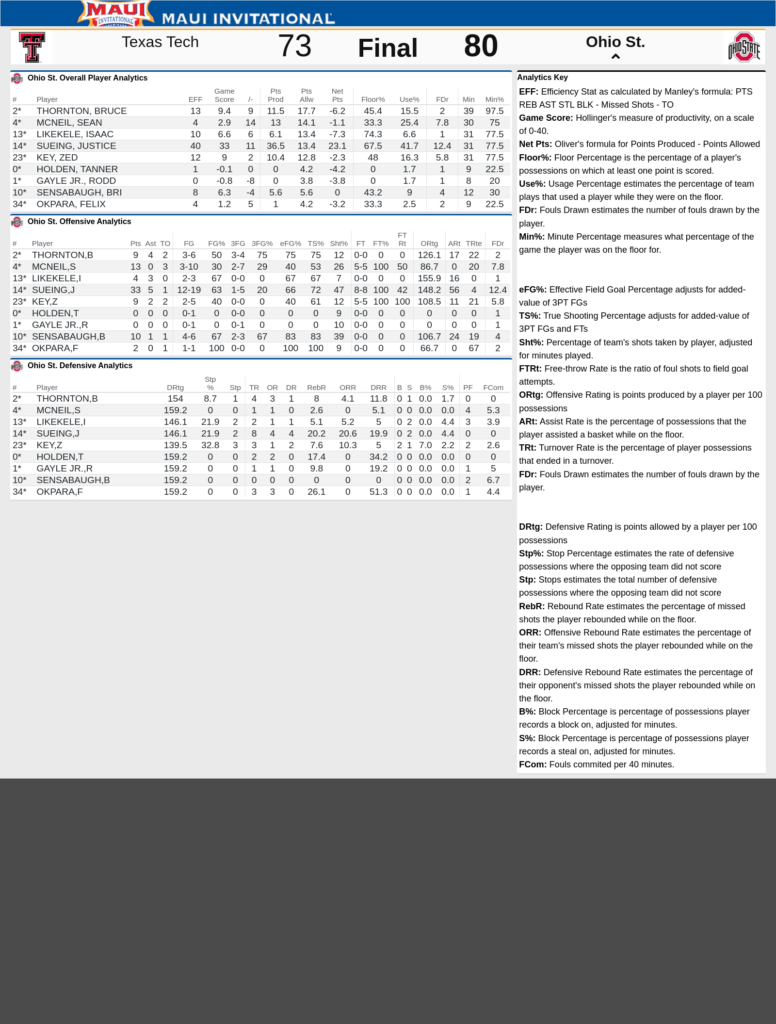 [Justice Sueing photo courtesy of the Ohio State Dept. of Athletics / Twitter.]