The No. 25 Buckeyes (5-2) fell 81-72 at No. 17 Duke (7-2) as five Blue Devils scored in double figures, led by freshman center Kyle Filipowski's 16 points and seven rebounds. Ohio State was led by Zed Key and his game-high 21 points and a game-high eight rebounds.
The Buckeyes also got 14 points from guard Sean McNeil, 12 points from forward Justice Sueing, and 11 points from freshman point guard Bruce Thornton.
McNeil scored the first five points for Ohio State as the Buckeyes built a quick 8-4 lead. Shortly after that basket, Sueing picked up his second foul and had to leave the game. Duke guard Jacob Grandison then immediately dropped in a three to make it a one-point game. Two more layups over the next two minutes by Grandison gave the Blue Devils an 11-10 lead with 15:08 left in the half.
Ohio State turned a 15-12 deficit to a 20-17 lead, thanks mostly to three baskets by Thornton. From there, Duke began to turn it on and the Buckeyes tried like heck to not get rolled over in a run. The Blue Devils ended the half on a 22-9 run that featured seven Ohio State turnovers.
The Buckeyes turned the ball over 10 times in the first half (while forcing seven) and were outscored 18-9 off of turnovers.
Duke stretched the second-half lead to 48-35 following a three-point play by Dereck Lively with 15:55 remaining in the game. A dunk by Key and a jumper from McNeil cut it back down to nine points. Less than a minute later, a three from Thornton made it 50-42.
The Buckeyes still kept turning the ball over but found a way to make it a five-point game following a three-point play from Key, cutting it to 52-47 with under 12 minutes to play. Duke took the lead back up to 10 at 59-49, but the Buckeyes again cut it down to five with a three-point play from Sueing and a layup from Key with 9:25 left.
Unfortunately for Ohio State, they could never get the lead under five, as Duke's defense proved to be too much to overcome.
The Buckeyes out-shot the Blue Devils 26-of-55 to 25-of-55, but Duke's nine more makes at the free throw line provided the scoring difference.
Ohio State was outscored 26-9 off the bench. Three Buckeyes fouled out.
Quick Thoughts
Chris Holtmann was rightfully concerned about Duke's offensive rebounding leading up to this game. They focused on defensive rebounding all week in practice, but it didn't completely prepare them for playing against a pair of 7-footers in the starting lineup. The Buckeyes just didn't have nearly the size needed to keep Duke off of the boards. In the first half, the Blue Devils missed 18 shots and grabbed nine offensive rebounds. Amazingly, they only had four second-chance points because all week long the Buckeyes also focused on getting back under control defensively after giving up on offensive rebound. Duke only grabbed four more offensive rebounds in the second half and finished with just eight second-chance points.
The Buckeyes are an undersized squad, but they are REALLY undersized against Duke. They did as well as they could offensively and defensively, but there is just no good way to battle that kind of length when you don't have any yourself. When quasi-point guard Ice Likekele is defending a 7-footer in the post, you know things aren't going well. The Buckeyes have tremendous defensively versatility, but duct tape can't fix everything.
Freshman point guard Bruce Thornton spoke on Tuesday about how much confidence he gained playing against three quality opponents in the Maui Invitational. That let him know that he can play at this level. This game was further evidence of both his confidence and his realization. He will continue to become a more earnest scorer for Ohio State down the road, but just being able to lead the floor as a true freshman is really impressive.
Freshman forward Brice Sensabaugh is an advanced offensive player, but this was a rough night for him. He is still learning and growing as a defensive player, and that fact was on full display in this one as Duke's offense took advantage of him when he was in the game. The struggles on defense also led to struggles on offense. He scored just four points in 14 minutes of action, shooting 2-of-6 from the field before fouling out.
The Box Score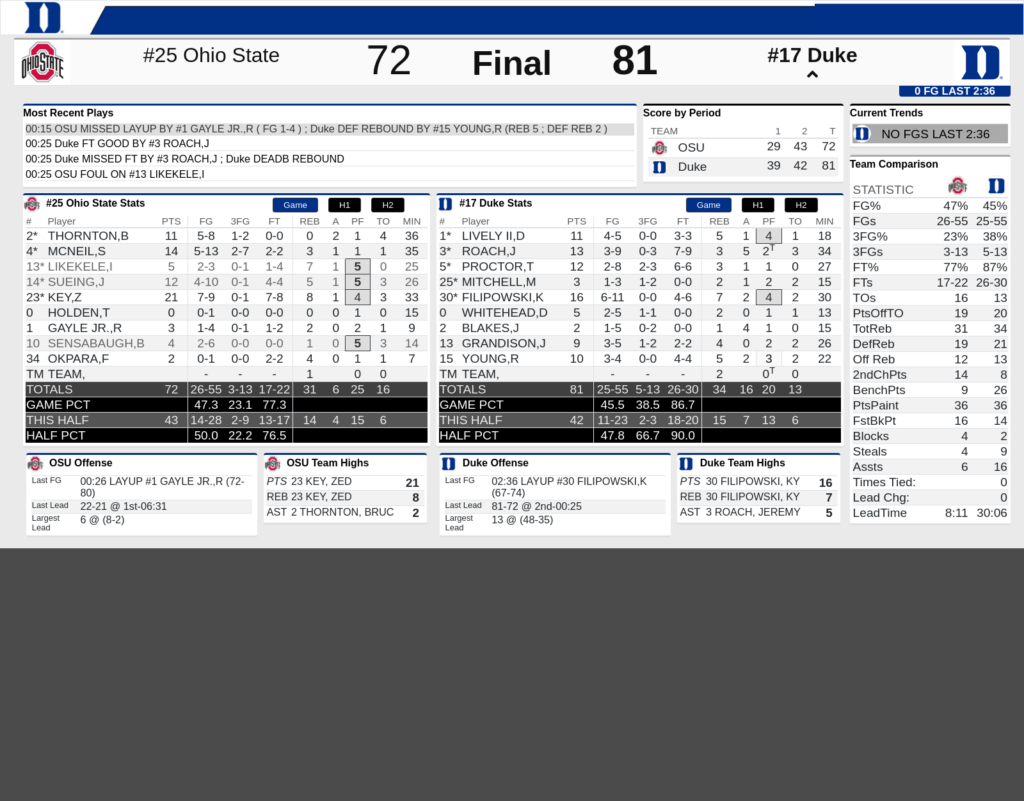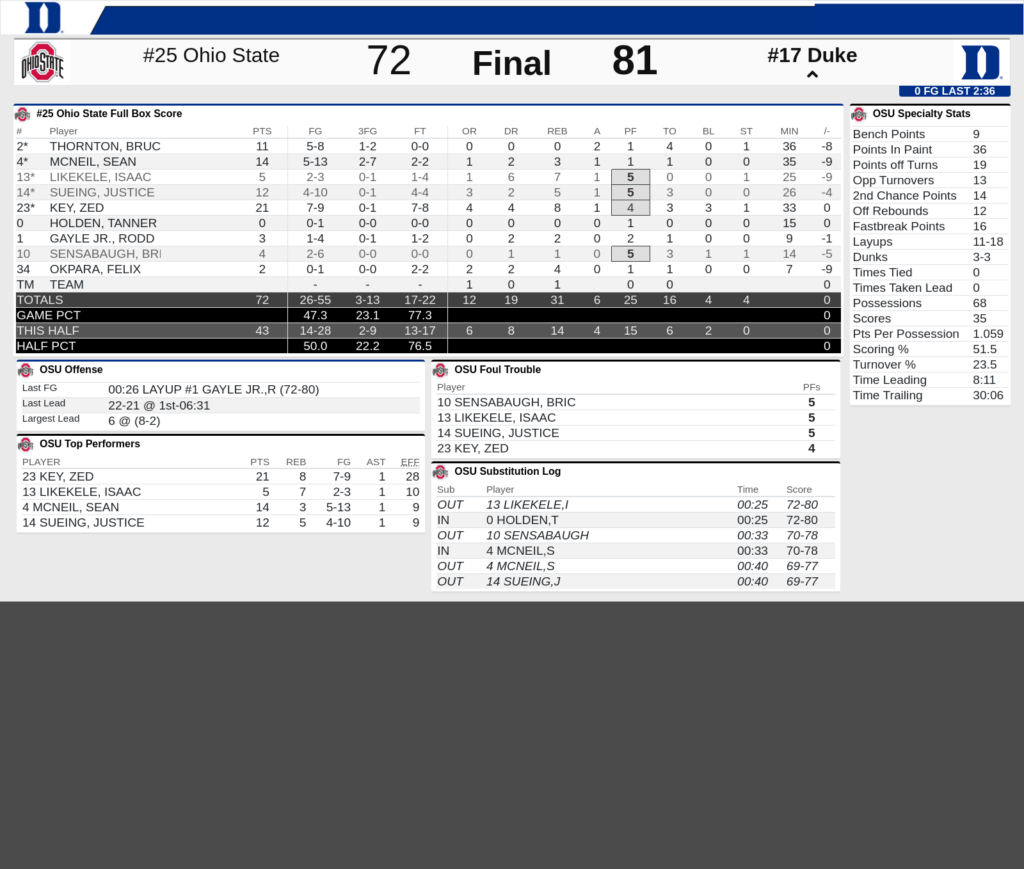 [Bruce Thornton header photo courtesy of the Ohio State Dept. of Athletics.]