Three Tar Heels scored in double figures as North Carolina (8-4, 1-1) overcame a 14-point deficit enroute to an 89-84 win over No. 23 Ohio State (7-3, 1-0) in overtime Saturday at the CBS Sports Classic in New York City. Center Armando Bacot scored a game-high 28 points on 11-of-19 shooting and pulled down a game-high 15 rebounds.
Guard Caleb Love scored 22 points and dished out seven assists, while backcourt mate RJ Davis added 21 points, eight rebounds, and four assists.
The Buckeyes were led by freshman forward Brice Sensabaugh's 22 points. Freshman point guard Bruce Thornton scored 17 with five rebounds, five assists, and five turnovers. Forward Justice Sueing scored 16 points and pulled down a team-high nine rebounds.
Ohio State center Zed Key began the game with a three-pointer but couldn't end it with a three-pointer as he was called for a traveling on the baseline with 11 seconds to play. Key jumped up to take a shot, but came back down without releasing it, hoping to convince the referees that he was pump faking. They did not fall for it and OSU had to give the ball back trailing 87-84. A pair of free throws for Davis following a quick foul provided the final score.
The Buckeyes led 44-35 at the half and then 66-55 with seven minutes left in the game. It was at about this time that North Carolina cranked up the full-court press and the Buckeyes weren't ready for it. It led to three turnovers in 90 seconds and OSU's 11-point lead was down to just four.
North Carolina finally took the lead 75-74 following a three from RJ Davis with 1:29 remaining, but Key answered with a three from the top of the key to make it 77-75 OSU with 31 seconds to play. Bacot tied it up with 17 seconds remaining.
The Buckeyes held for the final shot, or as close as they could get to it, as Sensabaugh went one-on-one and drained a jumper in the paint to make it 79-77 with 2.0 seconds on the clock.
North Carolina inbounded the ball to halfcourt and called an immediate timeout with 1.2 seconds remaining. The next inbounds pass went to forward Pete Nance on the wing who hit a game-tying turnaround jumper with no time left on the clock.
The two teams then went to overtime where the Buckeyes were outscored 10-5.
Huddle Notes
One game after hitting the game-winning three-pointer against Rutgers, Ohio State transfer guard Tanner Holden looked more confident on the court against North Carolina. This was true early on as he hit a three-pointer and soon after was driving the ball into the paint looking to make a play. He also had some solid plays defensively, which is going to continue to be key for him. Holden led the Buckeyes with a team-high +/- of +18 in the first half (meaning that Ohio State outscored North Carolina by 18 points in the 11 minutes he was on the court). Holden got the start out of the half as well and quickly forced a turnover against UNC center Armando Bacot.
Brice Sensabaugh has worked on his defense and rebounding, which showed in this game when he pulled down six rebounds in the first half. He also dished out three assists and scored 10 points in the first half before leaving with three fouls. Down the stretch, he also reminded everybody of his skill set on offense, getting what everyone thought was going to be the game-winning basket prior to overtime.
This game was lost by Ohio State's inability to handle the UNC full-court pressure. Not enough players were coming back to help out, leaving teammates stranded repeatedly. Even when they were able to get through the press, it took so much time that there was nothing left on the clock to really set up an offense.
Actually, this game was lost when Ohio State allowed two easy inbounds passes at the end of regulation. Two seconds should never be enough time for two catches, a timeout, and a shot, but it was in this game.
There were a couple of odd calls in this game that featured Ohio State players getting tackled and resulting in North Carolina getting the ball. The first came late in the game when Sean McNeil and Armando Bacot were both chasing a loose ball, both went to the ground, and it was McNeil who was whistled for the foul while on the bottom of the pile. Even later in the game, Bruce Thornton was pushed into the scorer's table on a loose ball and UNC was given possession.
People may say the Buckeyes collapsed in this game, and while they did give up a double-figure lead late, they also drew up a play that gave them a two-point lead with 2.0 seconds remaining. Even after taking punch after punch on the press, they still found a way to gather enough composure to throw some punches of their own.
Ohio State missed starting guard Isaac Likekele in this one. He has been away from the team dealing with a family situation, but was back on the bench for this game. Likekele is one of two primary ballhandlers for the Buckeyes and they missed his composure and experience in this game. They also missed his defense. As a tall guard, he would have been able to pose a more physical presence defensively against UNC's scorers.
The Buckeyes will be back on the court Wednesday night against Maine for an 8:30 pm tip on BTN.
The Box Score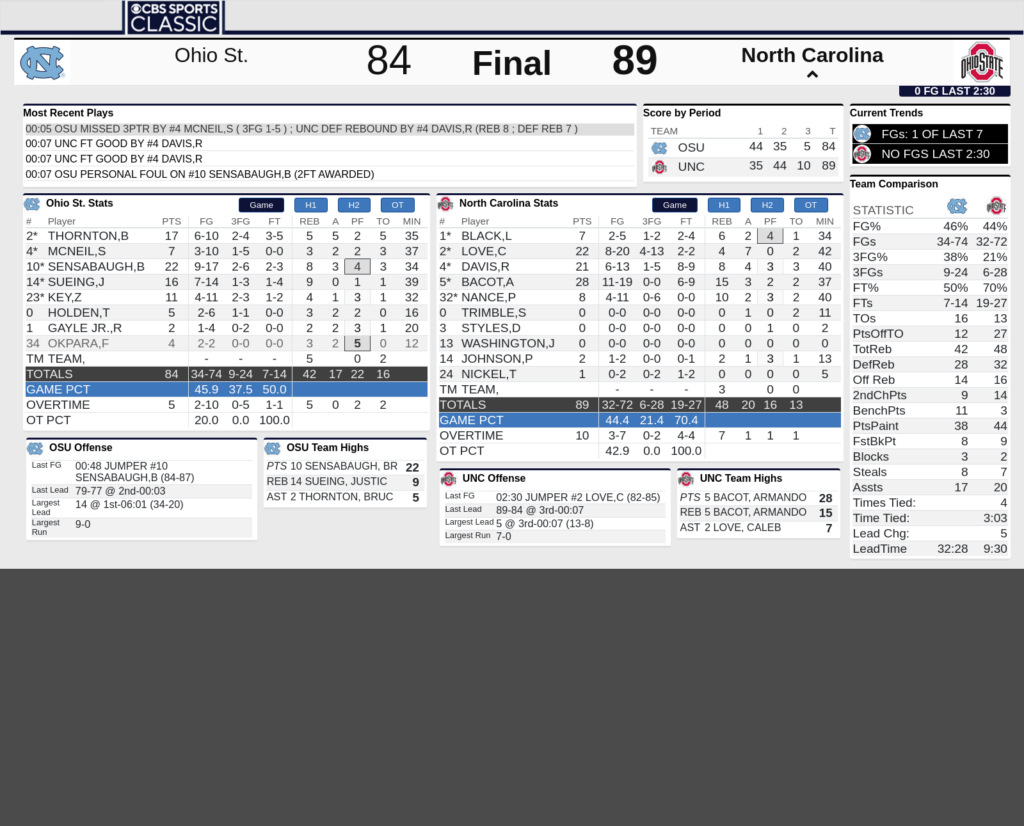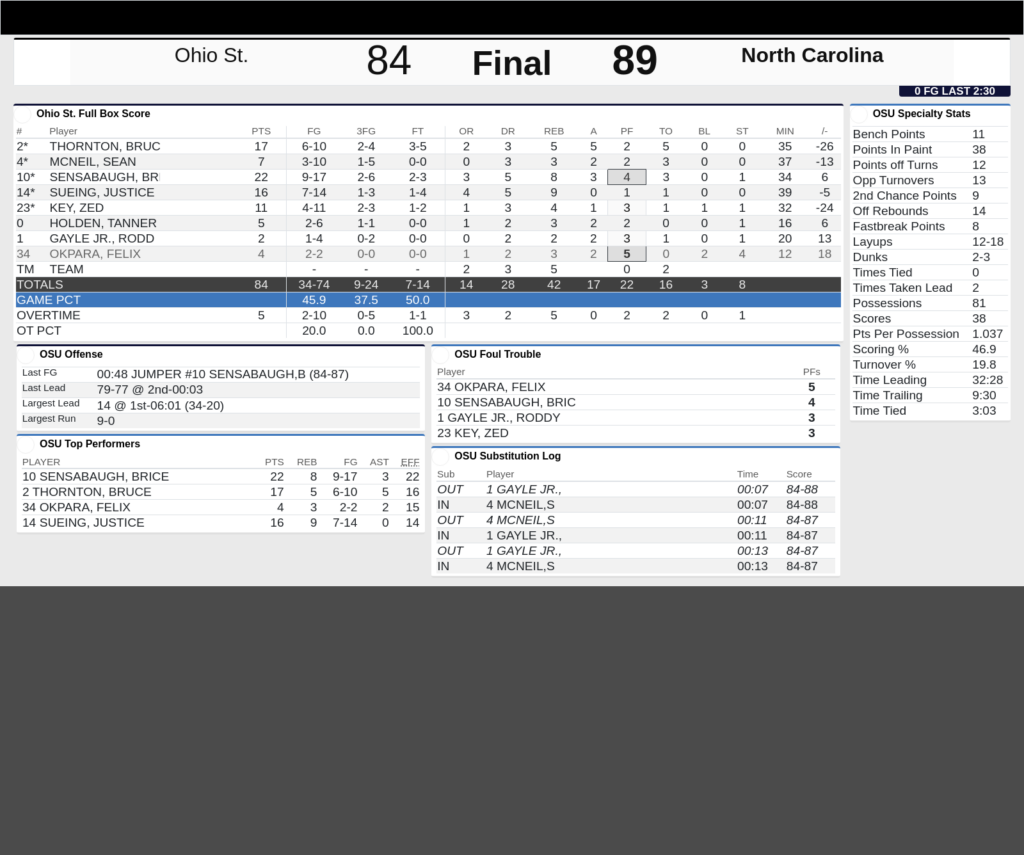 [Bruce Thornton header photo courtesy of the Ohio State Dept. of Athletics.]