The No. 23 Buckeyes (7-2, 1-0) will be in New York City today to take on North Carolina (7-4, 1-1) in Madison Square Garden as part of the CBS Sports Classic. The event will also feature Kentucky vs. UCLA in the early night cap.
Ohio State last played 11 days ago, which was a 67-66 win over Rutgers at the buzzer. North Carolina defeated The Citadel 100-67 on Tuesday.
This should be a bit of a track meet as both teams like to push the ball. North Carolina is averaging 80.9 points per game and the Buckeyes are right behind them at 79.0 points per game.
Today's game will tip off at 3:00 pm on CBS.
---
Notable
Starting guard Isaac Likekele is still out as he deals with a family matter back home.
This will be the 16th all-time meeting between the programs with North Carolina holding a 12-3 edge in the series. The most recent meeting was a fun one for the Buckeyes as they rolled the Tar Heels 74-49 in Chapel Hill on Dec. 4, 2019. That was a Top-10 showdown as part of that year's ACC/Big Ten Challenge.
This will be the third game between Ohio State and North Carolina in Madison Square Garden. The Tar Heels have won the previous two, beating the Buckeyes by three in the 1946 national semifinals and winning by four in the Coaches vs. Cancer 2K Sports Classic in 2009.
Ohio State is 23-13 all-time in Madison Square Garden with wins in five of its last seven trips. The first game was way back in 1937 against New York University and the most recent game came in the 2018 Big Ten Tournament.
Ohio State started the week third in the country in offensive efficiency according to Kenpom. The Buckeyes are also in the Top 10 in rebounding margin at +10.4.
Zed Key has gotten off to a great start this season. He is averaging a team-high 14.3 ppg and has four of his six career double-doubles so far this year. Key is also shooting a Big Ten best 70.4 percent from the floor which also ranks him in the Top 10 in the country.
Ohio State transfer guard Sean McNeil enters Saturday just 10 points shy of 1,000 for his DI career. He scored 900 points over the previous three seasons at West Virginia while making 155 three-pointers. McNeil played one season (2018-19) at Sinclair CC and led the nation in scoring with 921 points (29.7 ppg).
Tanner Holden had a thrilling three-pointer that beat the buzzer and sunk Rutgers 67-66 on Dec. 8. That was the first "walk-off" shot that came with :00 on the clock for Ohio State since Evan Turner famously beat Michigan with a near half-court shot in the 2010 Big Ten Tournament in Indianapolis. That three-pointer, as was the case with Holden's, lifted the Buckeyes from down two to a one-point victory. Last year, the Buckeyes were beaten twice with walk-off shots. Florida hit a three-pointer at the horn in the Fort Myers Tip-off on Nov. 24 and then Jaden Ivey knocked-down an off-balanced three from the wing for the win in West Lafayette on Jan. 30.
---
The Squad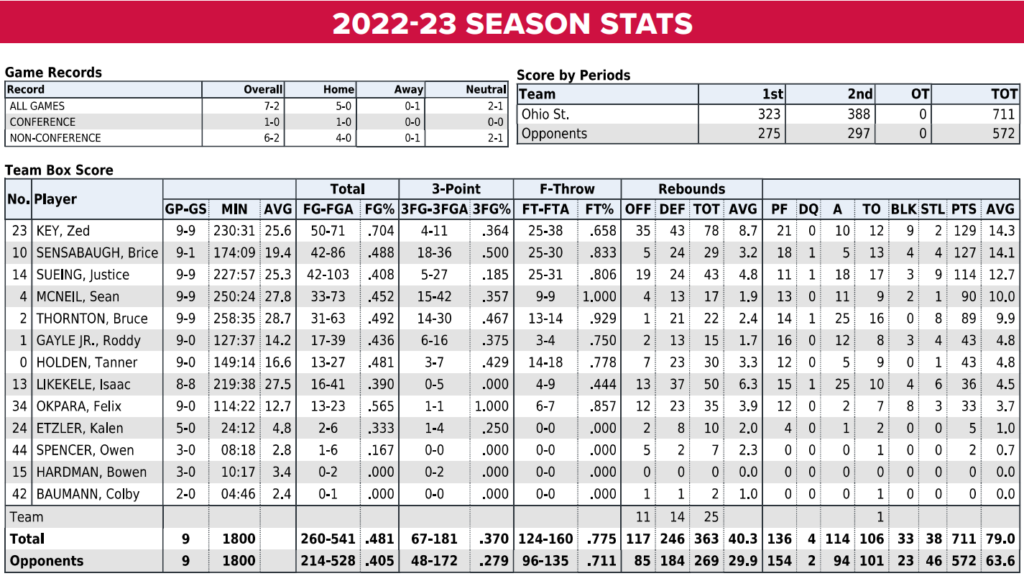 ---
The Tar Heels
Carolina returns to Madison Square Garden for the first time in more than a decade. Carolina is returning to Madison Square Garden for the first time since 12/28/2010, when the Tar Heels defeated Rutgers, 78-55. Carolina is playing in MSG for the first time since the arena underwent a $1 billion renovation from 2011-13. Carolina is 29-11 in the current facility located at 4 Penn Plaza. The Tar Heels first played in the Garden in the 1968 ECAC Holiday Festival. UNC is 43-25 all-time in New York City. That includes a 6-3 record in the Barclays Center in Brooklyn over the previous seven seasons.
Carolina made a season-high 15 three-pointers, handed out a season-high 24 assists on 32 field goals and hit triple digits for the third time this season in defeating The Citadel, 100-67, Tuesday evening in the Smith Center. Armando Bacot grabbed 11 rebounds to go along with 14 points, two blocks and two assists for his 55th career double-double. He set a UNC record with his 62nd game with 10 or more rebounds.
The four teams that defeated UNC (Iowa State, Alabama, Indiana and Virginia Tech) were a combined 35-6 through December 14.
Some notable stats according to KenPom: the Tar Heels are ninth in the country in offensive efficiency (115.1 points per 100 possessions), 13th best in getting to the free throw line (and 15th in percentage of points coming from the free throw line) and have committed the 24th-fewest turnovers per possession.
Conversely, the Tar Heels are 253rd in threepoint percentage (up 72 spots after making 15 of 31 vs. The Citadel), 314th in forcing turnovers and 304th in assists to field goals (up 45 spots after a handing out 39 assists on 59 field goals in the two wins over Georgia Tech and The Citadel).
Armando Bacot and Pete Nance are one-two on the team in plus/minus. Bacot leads the team with a plus-90 and Nance is second at plus-89. Both frontcourt starters have led the team three times in plus/minus this season. Nance leads Carolina in three-point shooting, converting 16 of 40 for 40%. Eleven of his 16 made threes have come in three games (three vs. Gardner-Webb, a career-high five vs. Portland and three vs. The Citadel).
The Tar Heels averaged only 8.6 fastbreak points in their first five games. In the last six games UNC has averaged 14.5 fastbreak points.
---