COLUMBUS — Ohio State (8-3, 1-0) outscored Maine (6-6) 64-28 in the paint on their way to a decisive 95-61 win Wednesday night in Value City Arena.
The Buckeyes were led by five scorers in double figures. Freshman forward Brice Sensabaugh scored a game-high 19 points on 8-of-12 shooting and also added seven rebounds and seven assists.
Senior forward Justice Sueing added in 15 points with six rebounds and three assists. Junior center Zed Key scored 14 points. Freshman point guard Bruce Thornton scored 11 points while grabbing six rebounds and handing out five assists. Freshman center Felix Okpara scored 10 points on 5-of-7 shooting in 13 minutes.
The Buckeyes shot 41-of-67 (61.2%) from the field overall and 8-of-19 (42.1%) from three-point territory. They held Maine to 25-of-64 (39.1%) shooting from the field on the night.
Ohio State finished with 23 assists and just seven turnovers.
The Bears hung around as long as they could, but back-to-back-back baskets from Okpara gave Ohio State a 12-point lead that they never relinquished.
Two of those Okpara baskets got a 14-0 run started for the Buckeyes, and before Maine knew what hit them, Ohio State had a 40-18 lead with 5:06 left in the first half. Maine was able to get the lead down to 17 points late in the first half, but another Okpara dunk and a jumper from Thornton gave OSU a 47-26 halftime lead.
The Buckeyes scored the first seven points of the second half, capped by a three-pointer from Sensabaugh. The lead never dipped below 21 points, and actually grew to 33 points following a 12-0 run that featured five points from Sueing, a three from Sensabaugh, and a dunk from freshman guard Roddy Gayle. Gayle scored six points in 20 minutes of action.
Freshman guard Bowen Hardman also got in on the action with a pair of threes. His second three gave OSU a 95-59 lead.
The Buckeyes' next game will be Thursday, December 29 against Alabama A&M. The game is set for a 3:00 pm tip off on BTN.
Starting guard Isaac Likekele is still out dealing with a family situation.
The Box Score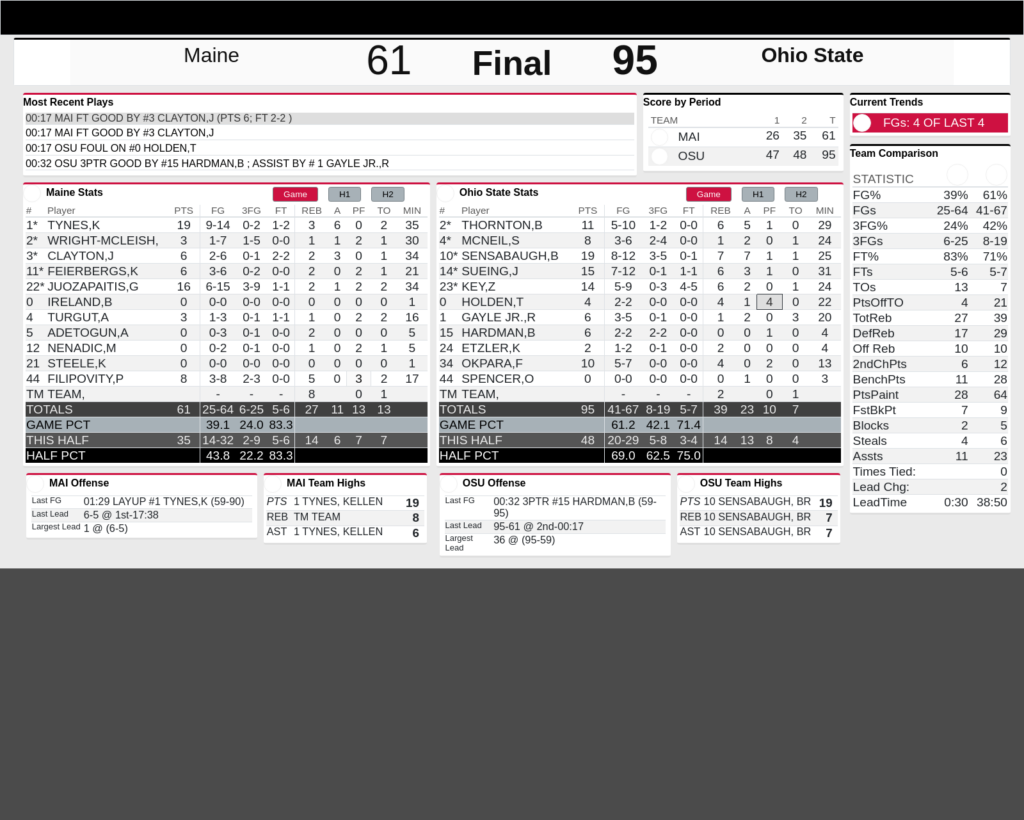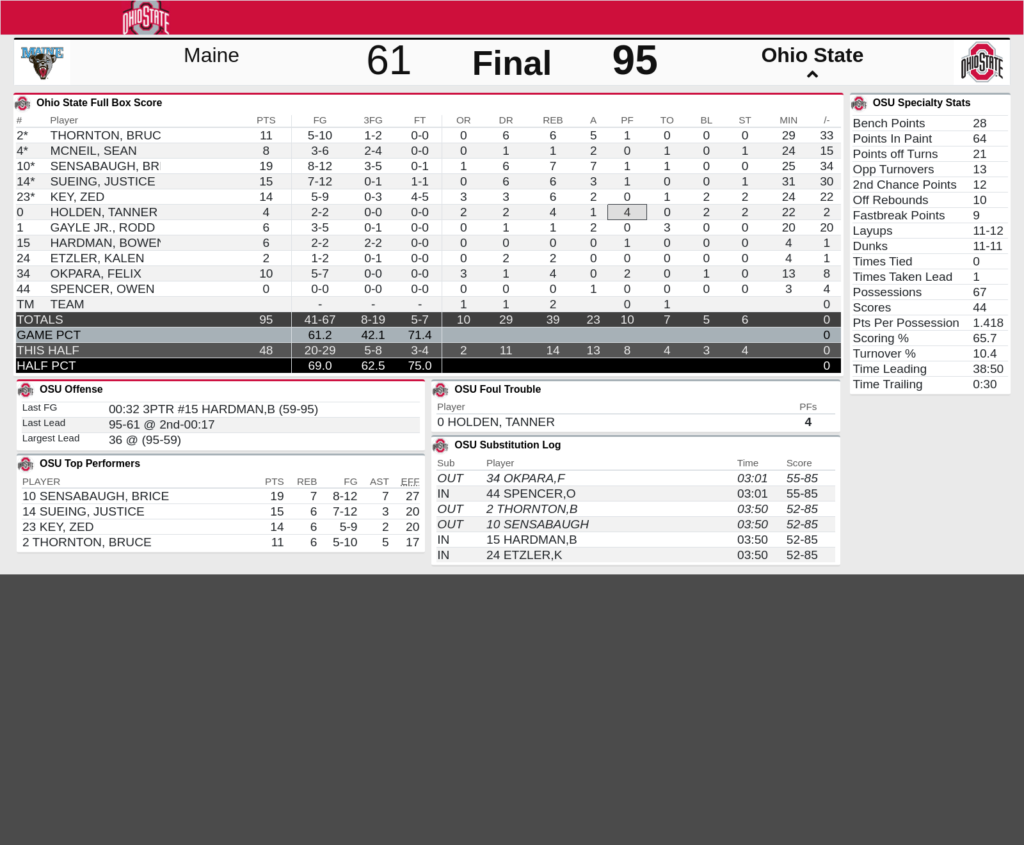 [Felix Okpara header photo courtesy of the Ohio State Dept. of Athletics.]