The No. 24 Ohio State Buckeyes (10-3, 2-0) host No. 1 Purdue (13-1, 2-1) tonight at Value City Arena for a 7:00 pm tipoff on FS1. The Buckeyes are 10-11 all-time when playing the nation's No. 1 team, but have won eight of their last 11 such meetings.
The Boilermakers actually suffered their first defeat of the season on Monday when Rutgers went into Mackey Arena and defeated Purdue 65-64. The Buckeyes last played on New Year's Day, tallying a 73-57 win at Northwestern.
---
Notable
The Buckeyes and Boilermakers are meeting for the 184th time and the all-time series is fairly close. Purdue officially leads the series 91-86 but the Buckeyes lead 55-31 in Columbus and 11-4 in Value City Arena. Purdue is just 4-14 all time in Value City Arena. The Boilermakers are, however, 3-1 in the last four trips.
The Buckeyes are No. 10 in the NET rankings and have the second-most efficient offense in the country according to Kenpom. Ohio State is shooting 49.2 percent as a team, which is second in the Big Ten. The Buckeyes are scoring 81.0 ppg which is also second in the conference. The Buckeyes are versatile in their scoring and have five players averaging 9.9 points per game or more, led by freshman Brice Sensabaugh at 15.9 ppg.
Sensabaugh has been named the Big Ten Freshman of the Week each of the last three weeks. He has scored in double-figures in all but one game this season and is third in the country in scoring among freshmen.
Thursday's game will likely feature a scrappy battle on the boards. Purdue leads the country in rebounding margin at +12.0 but the Buckeyes are right behind them at +9.6, which is second in the conference and 11th in the country.
This will be the fifth time Chris Holtmann has led his team against the No. 1 team in the country. He is 3-1 in his previous four meetings, including a perfect 3-0 mark at home and he has won each of his last three meetings with No. 1 This will be the third time as Ohio State head coach as he also faced No. 1 Villanova twice as head coach at Butler.
Ohio State is 10-11 all time vs. the No. 1 ranked team in the AP poll. The Buckeyes are 7-5 at home vs. No. 1. In fact, the last six times OSU has played No. 1, it has been played at Value City Arena. The last time the Buckeyes played a No. 1 ranked team was on Nov. 30, 2022 when Ohio State beat No. 1 Duke 71-66. The Buckeyes used a 14-1 run over the final five minutes and held Duke without a field goal for the final 5:18 of the game. Overall, the Buckeyes have won eight of the last 11 meetings with the No. 1 ranked team. That streak dates back to a 90-84 overtime victory over No. 1 Duke in the ECAC Holiday Classic in New York on Dec. 29, 1978.
---
Quotable
"Yeah, I mean, I think their length is a little bit different, and those guys are older, but yeah, Bruce has been a really good two-way player for us. And I think his defense and his understanding of how we play will only increase, but he's physically strong. You know, Rutgers is such a unique team because their perimeter players are so long. They have a 6-7 point guard. Their backup point guard is near 6-8. So just a really unique lineup." OSU head coach Chris Holtmann on his guards being able to do the same kind of things the Rutgers guards did to make life difficult for Purdue on Monday.
"I think you're gonna face a team that's gonna come in with a lot of bite. They're a really proud program. Matt's instilled that. They have really competitive guys, and they've been hearing for two days some things. So there's no question that – listen, I think when you're in this league, you understand you're gonna lose in this league. No one's going undefeated in this league. And that's the reality of the depth of this league and why it's consistently the deepest league in college basketball. Listen, our guys have obviously a lot to play for as well. Their competitive edge can't be any greater than ours, but we know we're gonna get Purdue's best shot." — Chris Holtmann on Purdue's demeanor coming into this game after a loss.
---
The Squad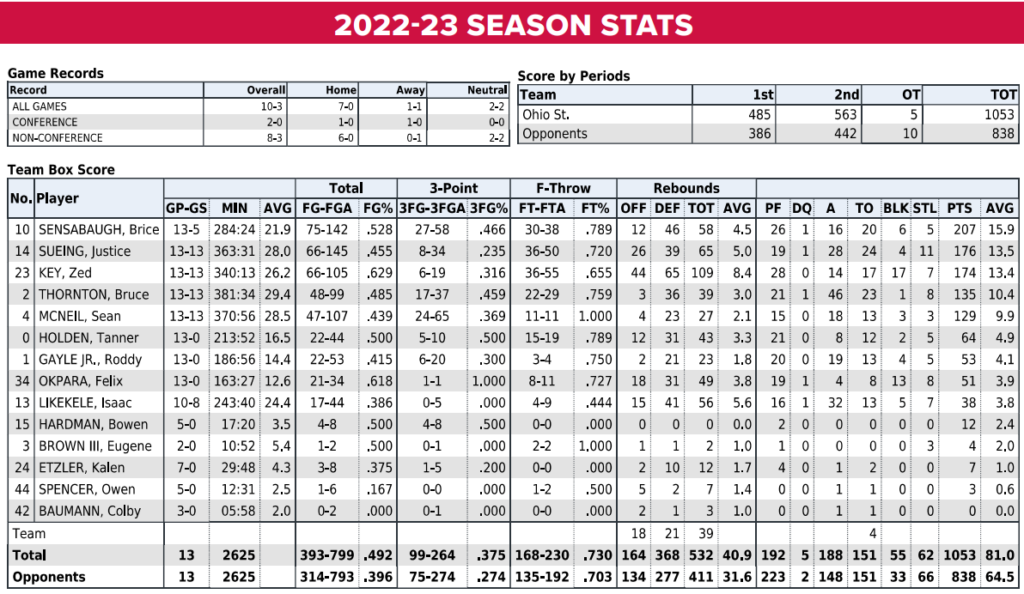 ---
The Opponent
Two of the nation's five-best offenses will go at it on Thursday. The Buckeyes are No. 2 in KenPom's offensive efficiency rankings, while the Boilermakers rank No. 5 in offensive efficiency.
Four of the Big Ten's eight top-freshmen scorers (Sensabaugh, Thornton, Loyer, Smith) will be on the court Thursday. The two teams are the only Big Ten teams with two players each in the top eight in freshmen scoring.
Against nationally-ranked teams this year, Purdue is averaging 79.5 points and shooting 46.2 percent from the field and 38.6 percent from 3-point range. The Boilermakers also own a 2.00 assist-to-turnover ratio (38/19), and are outrebounding its foes by 13.0 rebounds per game. Purdue hasn't shot over 31 percent from 3-point range in its last five games, shooting a combined 28-of-121 (.231) from deep in that span.
Purdue has held 26 straight opponents to 75 or fewer points, the third-longest streak in the country (North Texas 46, Houston 29).
Zach Edey ranks No. 1 in the KenPom POY ratings by a significant margin and has been the game MVP in 12 of the 13 Purdue games that he has played in (missed New Orleans game with the flu). Edey has scored 10 or more points in 30 straight games with six straight double-doubles. Through his 13 games this year, he has more blocked shots (28) than personal fouls (24). He has also played 30 minutes nine times this season after not doing it once in his first two seasons. Edey is averaging just 2.4 fouls / 40 minutes.
Basketball is a game of single plays that can determine the outcome of the contest at any given point and the Boilermakers have lived that the last two seasons. Purdue has lost seven Big Ten games since the start of last season. Five of the losses have come by opponents hitting a 3-pointer in the last 10 seconds of the game, and another coming by five points. In all, with the exception of the Michigan game, Purdue's other last 11 losses have come by a total of 42 points.
Fletcher Loyer has scored 170 points already this season, the fourth most for a Purdue freshman in his first 14 career games. Based on a 35-game season, Loyer is on pace for 425 points, which would rank third on the Purdue freshman scoring list (Russell Cross 540; E'Twaun Moore – 437). He is also on pace for 70, 3-pointers in a 35-game season, which would be the most by a freshman in school history (Moore – 66).
Purdue point guard Braden Smith is one of just two freshman in the country to average 8.0 points, 5.0 rebounds and 3.0 assists per game. Arkansas' Anthony Black (6-feet, 7-inches) is the other player and he was ranked No. 14 in the Class of 2022 recruit rankings.