Terrapins guard Jahmir Young scored a game-high 30 points in leading Maryland (11-5, 2-3) to an 80-73 win over No. 24 Ohio State (10-5, 2-2) on Sunday. The Buckeyes will be leaving the rankings following back-to-back losses in Big Ten play this week.
Freshman forward Brice Sensabaugh led the Buckeyes with career-high 22 points, but he fouled out with 46.8 seconds left as OSU trailed by six points. He also led the team with seven rebounds.
Starting guard Sean McNeil scored six of Ohio State's first eight points, but then had to leave the game for a bit when he reaggravated an ankle injury. The Buckeyes were already without starting center Zed Key for the afternoon, forcing freshman center Felix Okpara into the starting lineup.
The Terps built a 7-point lead at 23-16 midway through the first half, but the Buckeyes responded with a 7-0 run featuring baskets from Justice Sueing, Brice Sensabaugh, and Bruce Thornton. Sueing finished the game with 21 points.
Okpara picked up three fouls in just five minutes, leaving Ohio State even smaller. The lack of size then allowed for multiple second-chance points for the Terrapins throughout the first half.
Despite being outrebounded 24-16 in the first half, the Buckeyes lead 39-34 at halftime, thanks to their 6-of-11 shooting from three-point range and Maryland's 10-of-29 shooting from the field overall. The Terps hit just one field goal over the final 11 minutes of the half.
Maryland opened the second half with a full-court press that was effective in the first half, but became even more effective in the second half. The Buckeyes turned the ball over on the first five possessions of the half and didn't even get a shot off until the 16:39 mark of the second half.
Ohio State head coach Chris Holtmann finally called a timeout to stop the bleeding after consecutive Terrapin three-pointers from Donta Scott and Donald Carey, pausing a 12-0 run to open the half.
Maryland's lead grew to 14 at 60-46 with 9:41 remaining, but the Buckeyes fought back with a 9-0 run thanks to a pair free throws from Bruce Thornton, a pair of jumpers from Sueing, and another basket from Sensabaugh. Sensabaugh twice got the lead down to three points via the free throw line.
Trailing 69-63 at the four-minute mark, Roddy Gayle hit a bail-out three for the Buckeyes to make it 69-66, but they could never get it within a possession and also have the ball in the game's final minutes.
Ohio State was outrebounded 40-26 and outscored 34-22 in the paint.
The Buckeyes were whistled for 28 fouls to Maryland's 18.
Ohio State next plays Thursday at home against Minnesota. The game will tip off at 6:30 pm on FS1.
The Box Score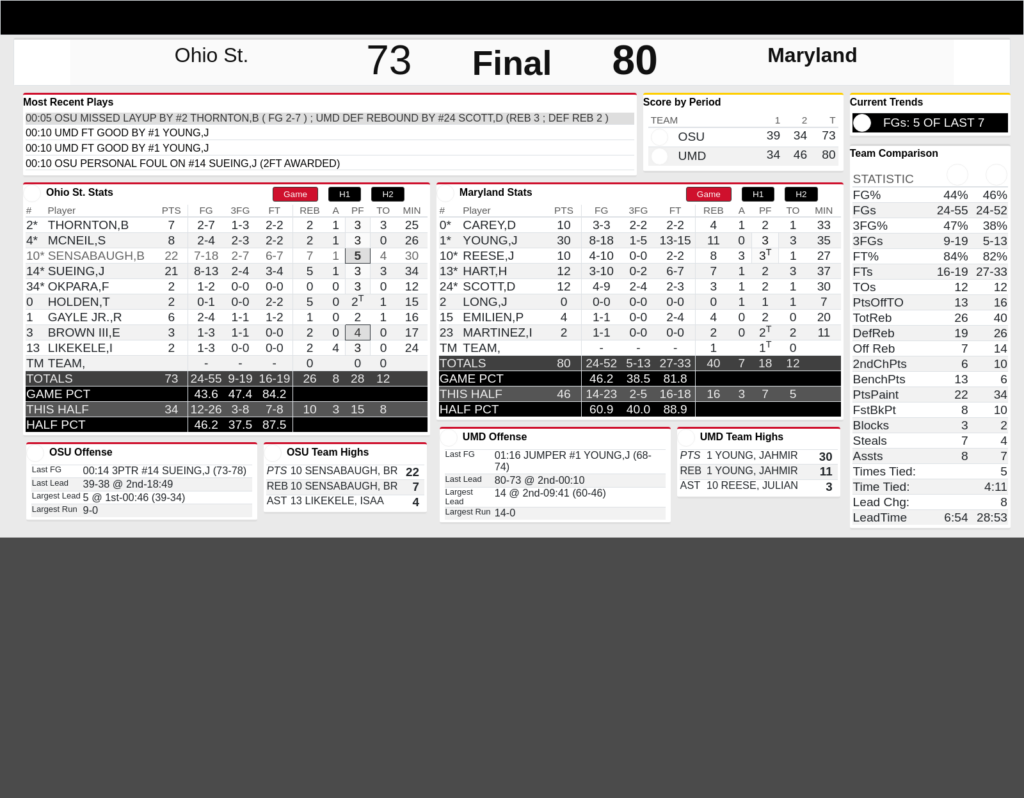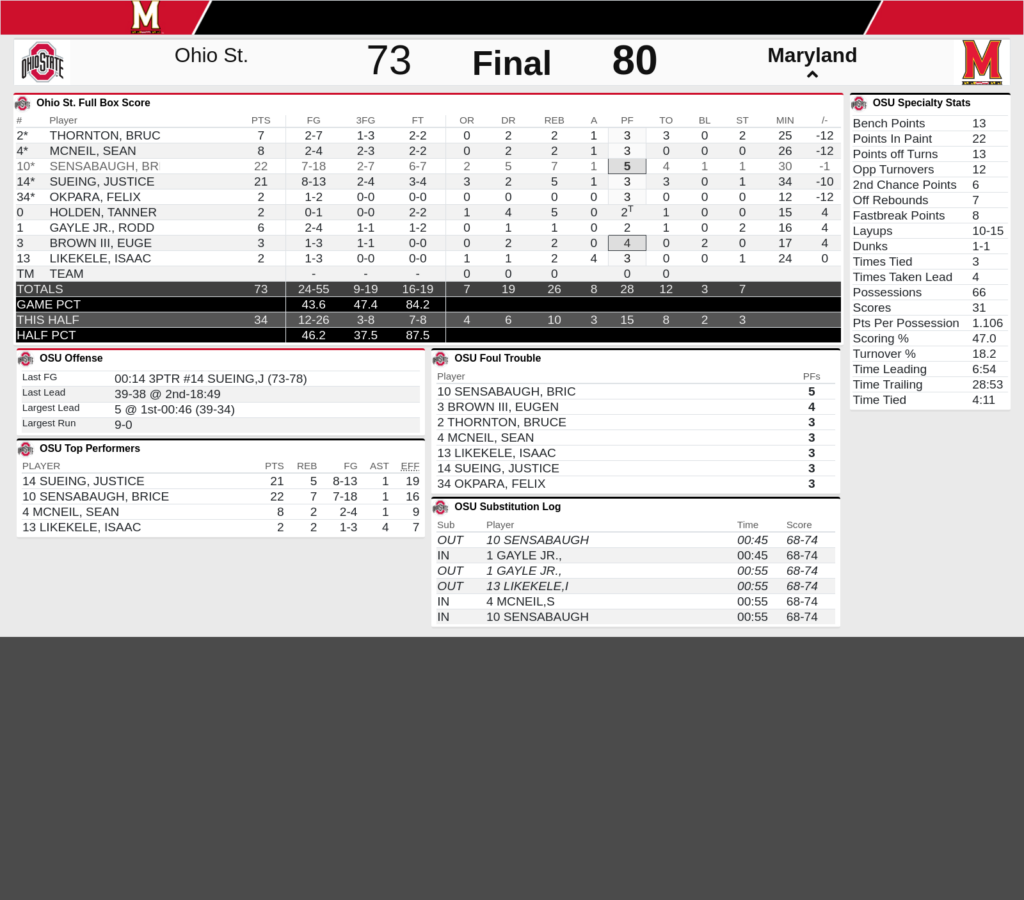 [Header photo courtesy of the Maryland Dept. of Athletics.]