COLUMBUS — Ohio State junior left tackle Paris Johnson has announced that he is forgoing the rest of his collegiate eligibility and will be entering his name into the 2023 NFL Draft.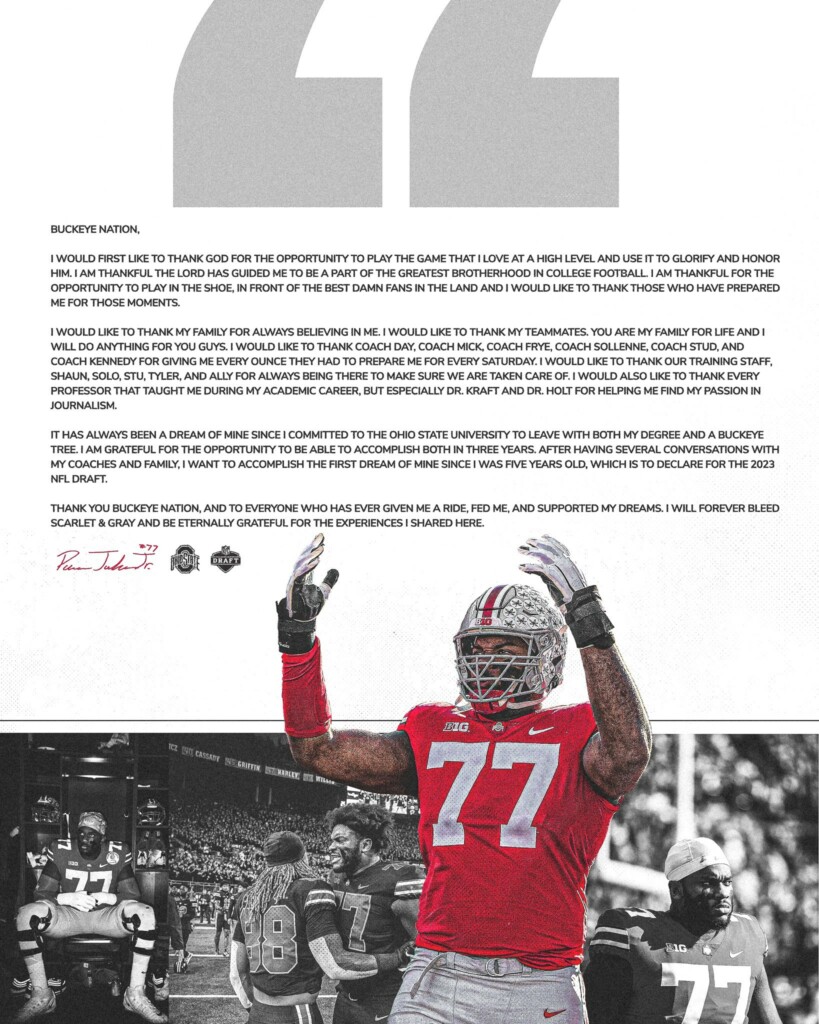 Johnson has been a two-year starter for the Buckeyes. As a sophomore, he slid inside and started at right guard and was named Second-Team All-Big Ten by the conference coaches. This year as a junior, he went back outside to left tackle and earned First-Team All-Big Ten honors from both the coaches and media.
Johnson was also a consensus First-Team All-American as a junior. He helped anchor an offensive line that gave up the third-fewest tackles for loss and fifth-fewest sacks in the nation.
The Buckeyes signed Johnson out of Cincinnati Princeton High School, where he was a 5-star prospect and a high school All-American. He was always projected to be one of the top left tackles in college football, and he reached those projections this year as a junior.
NFL draft projections have Johnson landing somewhere in the first round. He is expected to perform well at next month's NFL Combine, which could help his draft stock even more.
Ohio State has had just four offensive tackles selected in the first round of the NFL Draft over the last 40 years. Jim Lachey went 12th overall to San Diego in 1985, Korey Stringer went 24th overall in 1995 to Minnesota, Orlando Pace was selected by St. Louis with the first pick overall two years later, and Taylor Decker is the most recent, going 16th overall to Detroit in 2016.
Johnson's departure leaves one of the largest holes on the Ohio State depth chart. There is no definitive left tackle waiting in the wings, which is one reason why OSU has been looking into the portal for a quick fix.
The 2023 NFL Draft kicks off Thursday, April 27.