Ohio State quarterback CJ Stroud has announced that he will forego his final two years of eligibility and enter the 2023 NFL Draft.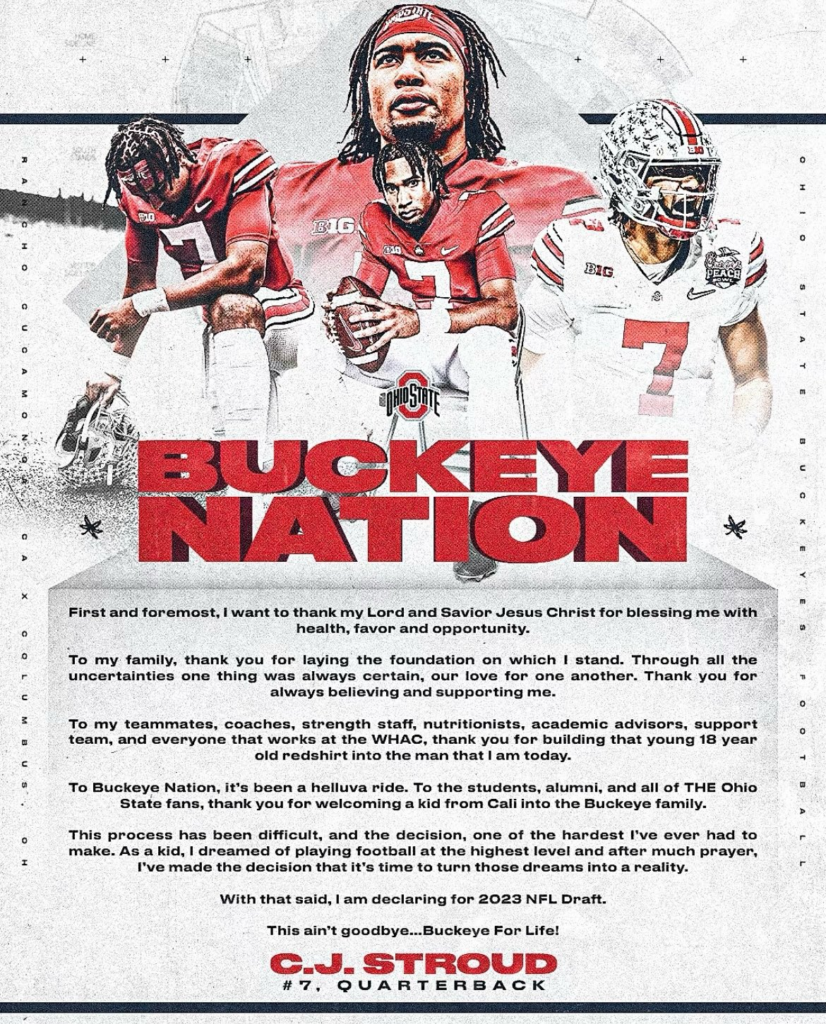 Stroud, who is a redshirt sophomore, led the Buckeyes to the College Football Playoffs this year and will leave with a number of OSU records.
This past season, Stroud led the nation in pass efficiency (177.66), and threw for 3,668 yards with 41 touchdowns and six interceptions while completing 66.3% of his passes. He was named a Second-Team All-American by the Walter Camp Foundation, the American Football Coaches Association, and CBS Sports. He was also named Big Ten Offensive Player of the Year, and Big Ten Quarterback of the Year.
Stroud now owns two of the three most-prolific quarterback seasons in Ohio State football history. As a redshirt freshman last season, he threw for 4,435 yards with 44 touchdowns and six interceptions. Only Dwayne Haskins' 4,831 yards passing in 2018 top either of Stroud's seasons.
Stroud's 8,123 yards passing in his career is second-most in Ohio State history, behind JT Barrett's 9,434 yards. He is also second all-time in passing touchdowns with 85. Barrett's 104 is still an OSU and Big Ten record.
Stroud finished with a school-record career average of 300.9 yards passing per game. The previous record was 245.3 yards by Dwayne Haskins. Stroud is also now the OSU record holder for 300-yard passing games with 15. His 182.39 career passer rating is also the best in school and Big Ten history
Stroud has 25 career starts at Ohio State, finishing with a career record of 21-4, with losses to Michigan in 2022 and 2021, a loss in his second-career start against Oregon in 2021, and the loss to Georgia in the College Football Playoffs last month.
Stroud is currently projected to be drafted in the top half of the first round of the 2023 NFL Draft. The first round will be held Thursday, April 27th.