Ohio State (11-9, 3-6) has suffered its fourth road loss in a row, falling 69-60 at Illinois (14-6, 5-4) Tuesday night in Champaign, Illinois.
Statistically, it wasn't the Buckeyes' biggest loss of the season — that came in an 11-point loss to #17 San Diego State in Maui, but this was Ohio State's worst performance of the season. The Buckeyes trailed by as many 17 points and never mounted a serious challenge in the second half.
Ohio State shot 22-of-60 (36.7%) from the field, producing just eight assists. They were outrebounded 44-30 and had just two scorers in double figures.
Ohio State led 9-5 early on, but that lead went away with a 7-0 Illinois run over the span of four minutes. A layup by RJ Melendez with 12:34 left in the first half made it 10-9 Illinois and gave them a first-half lead that they never relinquished.
Freshman point guard Bruce Thornton cut the Illini lead to 16-15 following a three-pointer with 9:34 left in the half, but Illinois went back on the offensive and built a 32-21 lead with under two minutes remaining in the first half. A three-pointer from Roddy Gayle and layup from Eugene Brown cut it to six, but a pair of free throws from Jayden Epps in the final seconds gave Illinois a 34-26 halftime lead.
The second half began much the same way, as Illinois went on a 10-0 run early on to build a 48-31 lead. Epps had a pair of threes in that stretch. Two baskets by Justice Sueing cut the lead to 13 points, and then the two teams traded field goals for a few minutes. Sueing scored 13 points on the night.
A jumper from Sueing made it 56-46 with under 10 minutes to play, and that was followed by a Gayle steal on a pass into the post. The Buckeyes were able to cut it to nine points with a Key free throw, but Illinois went on another tear, quickly building a 17-point lead.
Ohio State eventually whittled the lead down to nine points, but that only came on a three-pointer from Sueing at the buzzer.
Freshman forward Brice Sensabaugh led Ohio State with 14 points, but he struggled to find his shot throughout the game.
The Box Score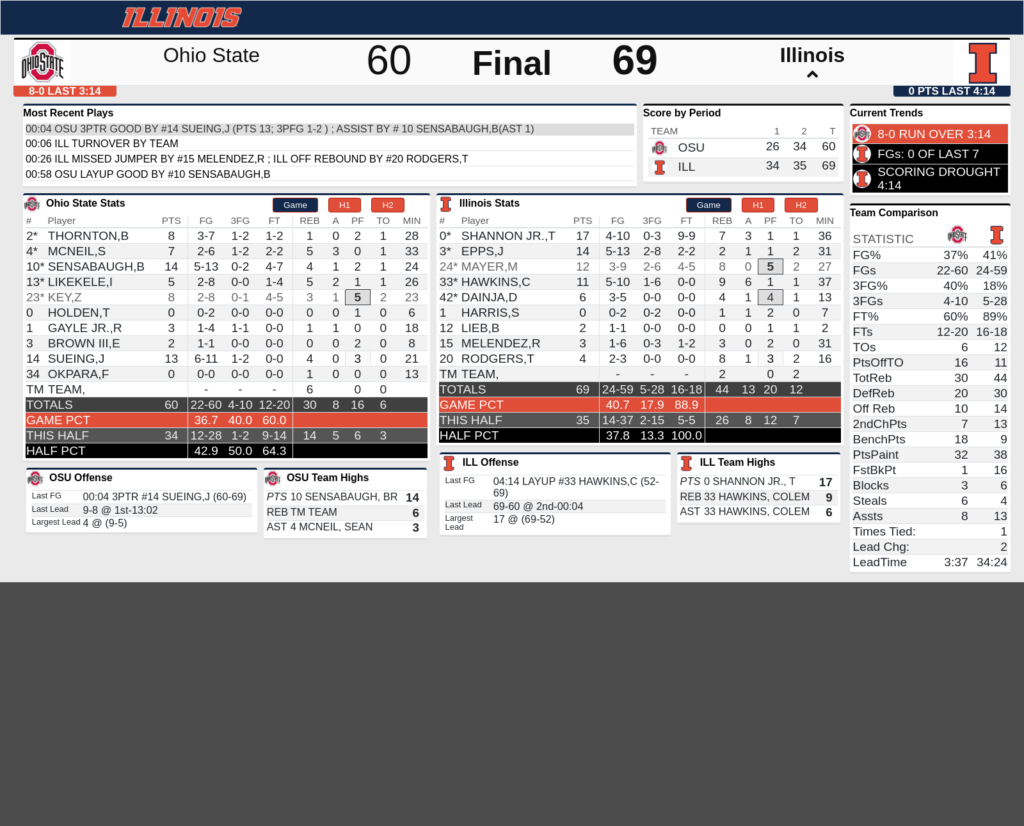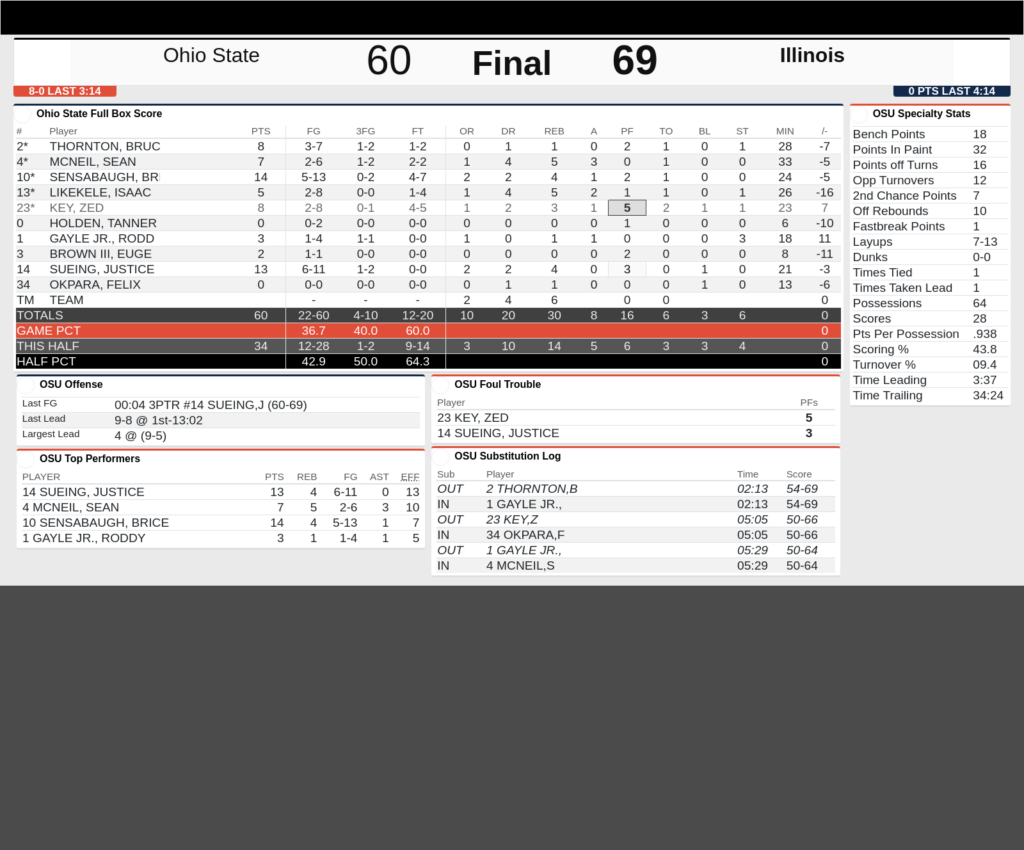 [Brice Sensabaugh header photo courtesy of the Ohio State Dept. of Athletics.]