Ohio State has now lost seven of their last eight games after falling to Indiana 86-70 in Bloomington on Saturday. The Buckeyes drop to 11-10 on the season and 3-7 in conference play. The Hoosiers move to 15-6 overall and 6-4 in the Big Ten.
Indiana freshman guard Jalen Hood-Schifino led all scorers with 24 points. Ohio State freshman forward Brice Sensabaugh scored a team-high 23 points.
Ohio State opened the game on a 9-2 run, buoyed by five points on jumpers by Sensabaugh. It was at that point, however, that Jalen Hood-Schifino got involved by hitting three threes in under three minutes to give Indiana a 13-9 lead with 13:56 remaining in the first half.
Freshman center Felix Okpara dropped in a left-handed hook shot on the baseline to cut IU's lead to one, then a driving layup by freshman guard Roddy Gayle gave the Buckeyes a one-point lead less than a minute later. Okpara made it a three-point lead with an offensive rebound and dunk. Hood-Schifino then tied it at 18-18 with 10:36 left with his fourth three-pointer in as many attempts.
Hood-Schifino's fifth three-pointer tied it up at 21-21 two minutes later. That basket started a 9-0 run for the Hoosiers, but the Buckeyes fought back piece by piece. Sean McNeil hit two pull-up jumpers, and was fouled on both of them. Both turned into three-point plays. The second tied the game at 29-29 with 5:37 left in the half.
Indiana scored the final 15 points of the half, turning a 31-30 game into a 46-30 halftime lead for Indiana. The only basket that didn't come in the paint in that run was the sixth three of the game for Hood-Schifino. He scored 20 first-half points.
Prior to the start of the second half, a piece of metal about a foot long fell off of the scoreboard and almost hit Sensabaugh. After a five-minute delay, the game was resumed. Following a Jackson-Davis dunk to open the half, Zed Key dropped in a three, then dunked one home after an offensive rebound. Sensabaugh followed that with a layup to make it 48-37 with under 18 minutes to play.
Unfortunately for the Buckeyes, they would get no closer, as Indiana opened as much as a 19-point lead in the second half.
Ohio State again struggled to move the ball, posting just nine assists on their 26 made field goals.
Up next for the Buckeyes is a home tilt against Wisconsin on Thursday, February 2.
The Box Score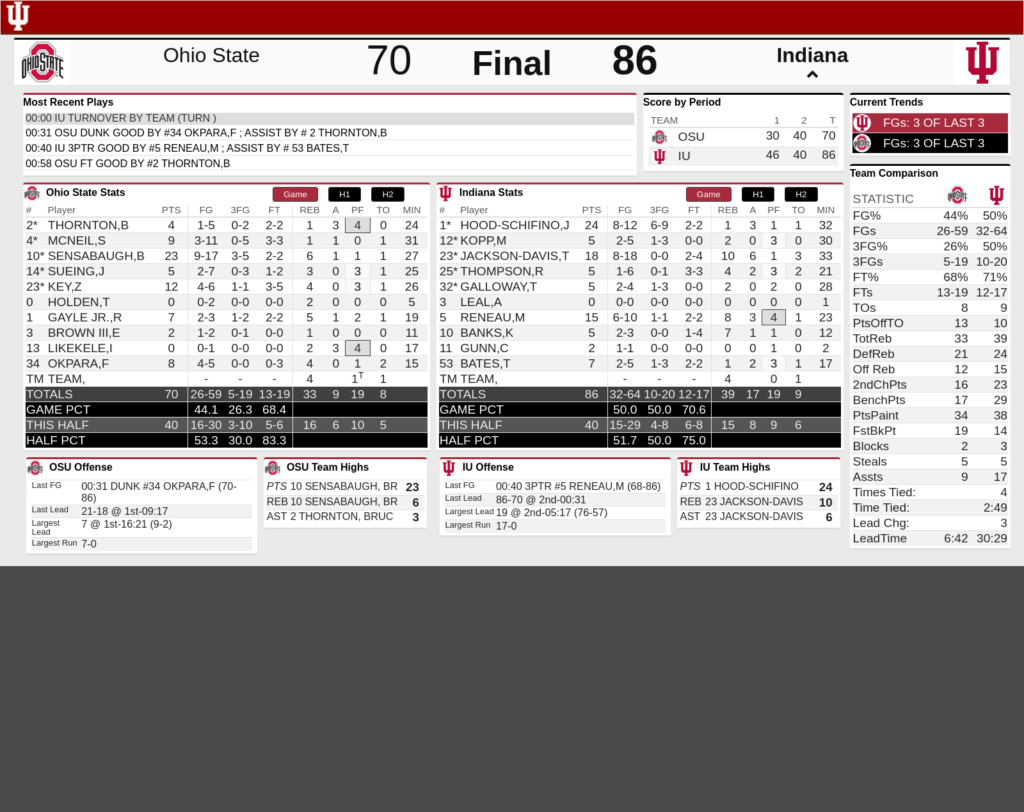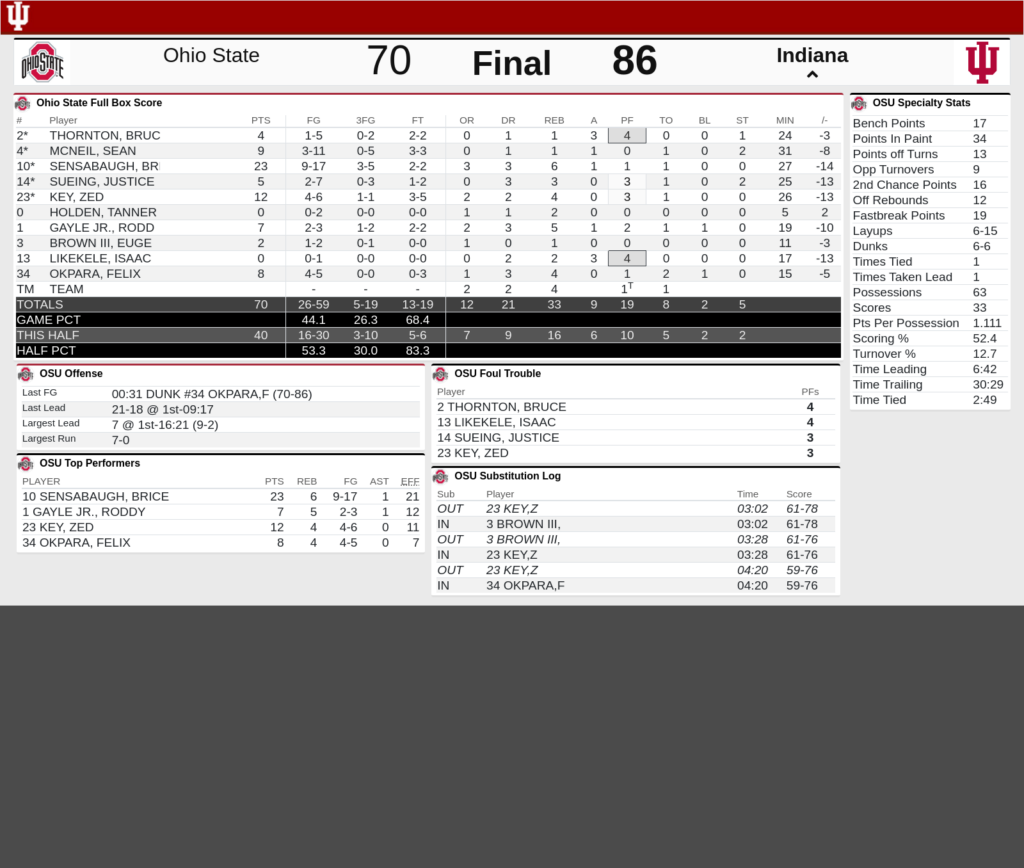 [Justice Sueing header photo courtesy of the Ohio State Dept. of Athletics.]