COLUMBUS — Ohio State (11-13, 3-10) is now in the midst of their second five-game losing streak this year after falling 69-63 at home to a Northwestern (17-7, 8-5) team the Buckeyes defeated 73-57 on New Years Day just over five weeks ago.
The loss is the fifth in a row for OSU and the 10th in 11 games.
Northwestern guard Brooks Barnhizer came off the bench to lead the Wildcats with a game-high 19 points. Buckeye forward Justice Sueing scored 19 as well. Sueing also added eight rebounds.
Freshman captain Bruce Thornton scored 12 points in 35 minutes for the Buckeyes. Leading scorer Brice Thornton struggled on the evening, playing just 16 minutes and scoring just four points on 1-of-8 shooting. The four points ties his season low in scoring, which he also managed in an 81-72 loss to Duke. Those are the only two games this year that Sensabaugh has been held to single-digit points.
Ohio State actually shot 50% from the field (24-48), but were undone by their 1-of-14 (7%) shooting from three-point territory. Northwestern, meanwhile, went 12-of-29 (41.4%) from deep.
No more than three points separated either team in the first half until Sueing hit a turn-around jumper in the paint to make it 21-17 Buckeyes with just under six minutes to play. A jumper by Sean McNeil the next time down the court gave OSU a six-point lead a minute later.
Nick Martinelli cut it to six points with a jumper, but Tanner Holden answered with a jumper of his own. Back-to-back threes by Brooks Barnhizer and Boo Buie tied the game at 25-25 with 1:37 remaining. Sueing dropped in another short jumper to get the lead back with 1:01 left, but a free throw by Buie and a spinning one-hander by Martinelli in the final seconds gave NU a 28-27 halftime lead.
Northwestern scored the first five points of the second half, but a jumper from Sueing and a three from McNeil tied it back up. Ohio State opened up a four-point lead, which didn't last long. Free throws by Robbie Beran and Chase Audige gave Northwestern a 48-47 lead with 8:27 remaining that they would never relinquish.
Ty Berry added a three to make it a four-point NU lead. Three minutes later, the Wildcats extended the lead to nine points following a Barnhizer three-pointer. The Buckeyes cut it to 61-57 with a three-point play by Sueing, but Audige added another three-pointer 90 seconds later to make it a seven-point game again. Ohio State never got it closer than two possessions after that.
The loss is the fourth in the last five home games for the Buckeyes. Ohio State next hosts Michigan State on Sunday at 1:00 pm.
---
The Box Score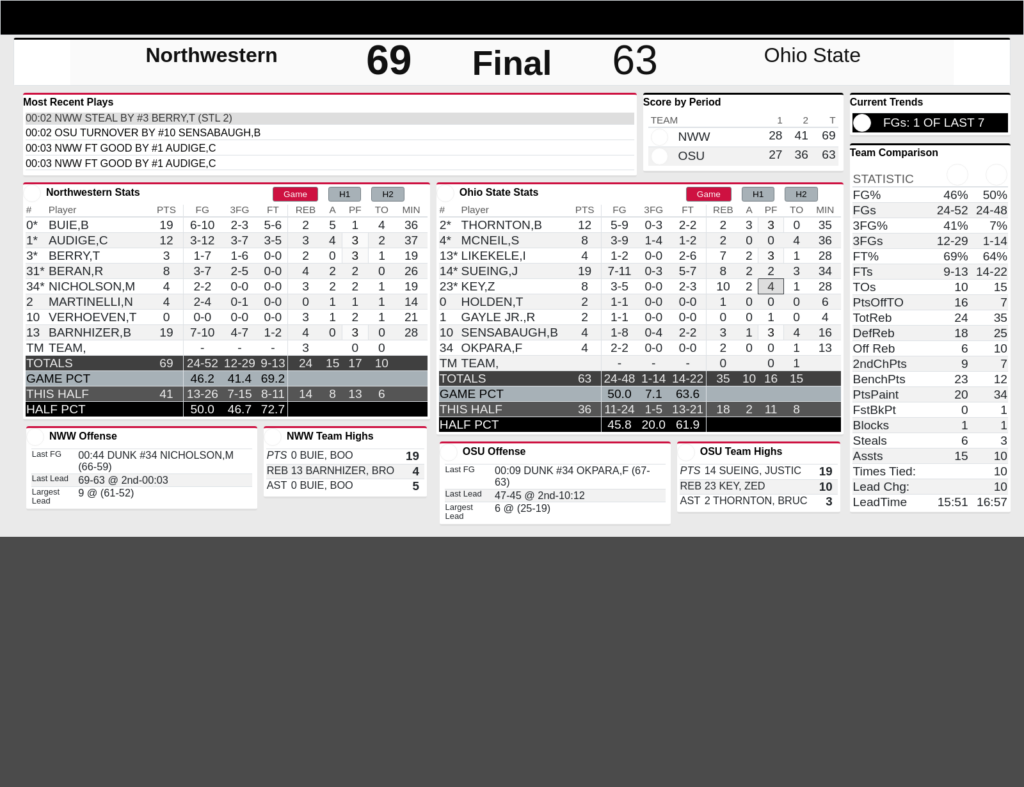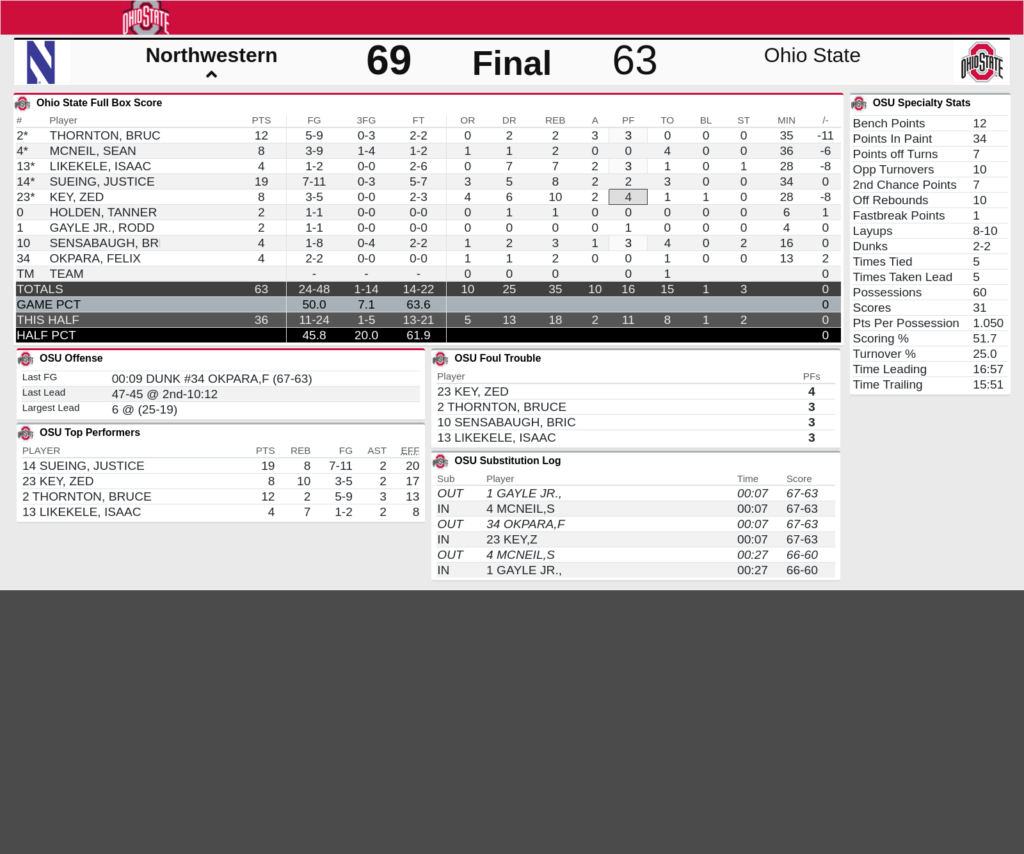 [Justice Sueing header photo courtesy of the Ohio State Dept. of Athletics.]