COLUMBUS — The Ohio State men's basketball team has now lost six games in a row for the first time since 1998. The Buckeyes (11-14, 3-11) narrowly avoided setting a school-record for fewest points in a first half, scoring just 14 in the first 20 minutes of an eventual 62-41 loss to Michigan State (16-9, 8-6).
(The current record for OSU scoring futility in a half is nine points, which came against Michigan State back in 1996.)
The Buckeyes managed just five assists on their 17 made field goals.
Michigan State forward Joey Hauser led all scorers with 22 points. He hit 6-of-9 from three-point range. Guard Sean McNeil scored 10 points and was the only Buckeye in double figures.
With just five first-half field goals, the Buckeyes went into the half trailing 27-14, shooting 5-of-26 (19.2%) from the field. The Spartans didn't do much better, hitting 12-of-30 (40%) of their shots, but they did outscore OSU 14-2 in the paint.
The paint was a focal point for Michigan State's defense. They packed the key and kept OSU out of the post. This led to the Buckeyes shooting mostly jumpers from the perimeter, and today was not a good time for their shooting ability to disappear.
The jumpers did start to fall a little bit in the second half. Bruce Thornton hit a three as part of a 5-0 run to get the Spartan lead down to 10 points. Trailing 35-23, McNeil dropped in a three with 14:08 left in the game. Following a three from Malik Hall one minute later, McNeil dropped in another three-pointer to make it 38-29 with 12:28 remaining. McNeil then picked up a steal that led to a Brice Sensabaugh jumper to cut it to seven points.
Michigan State ended the budding Ohio State hopes with a 10-0 run that built up a 51-35 lead with under six minutes to play. The lead continued to grow until the final score of 62-41.
Ohio State shot 17-of-60 from the field (28.3) and just 6-of-29 from three-point range (20.7%). Michigan State outrebounded the Buckeyes 42-33, and outscored OSU 14-6 in points off of turnovers.
---
The Box Score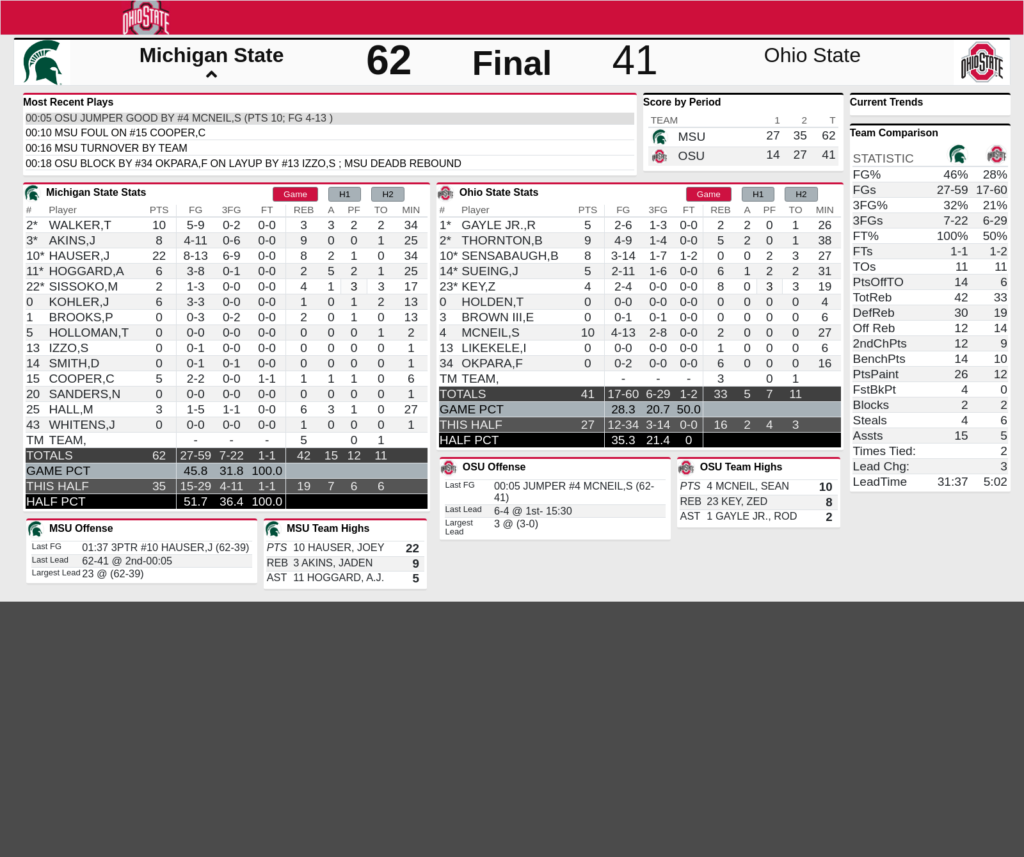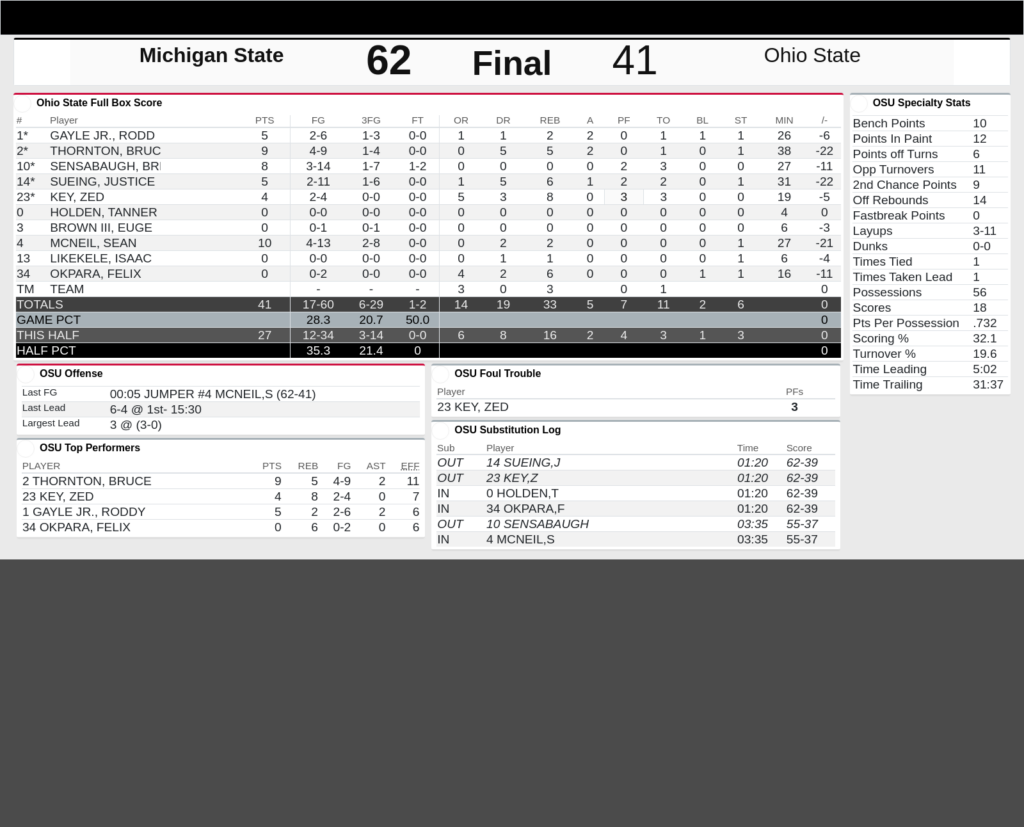 [Brice Sensabaugh header photo courtesy of the Ohio State Dept. of Athletics.]