Iowa point guard Connor McCaffery dished out 13 assists to a pair of 20-point teammates in leading the Hawkeyes (17-9, 9-6) to a rout of Ohio State (11-15, 3-12) Thursday night in Iowa City.
McCaffery also scored seven points, grabbed six rebounds, and came away with a pair of steals. Iowa guard Tony Perkins led all scorers with 24 points. Forward Kris Murray added 20 points. Perkins and Murray combined to shoot 19-of-29 from the field and 5-of-9 from three-point territory.
The Hawkeyes shot 37-of-65 (56.9%) from the field at a team.
Guard Sean McNeil led the Buckeyes with 20 points on 7-of-7 shooting. Freshman forward Brice Sensabaugh scored 16 points in 24 minutes. Ohio State shot 18-of-28 (64.3%) from the field in the second half, and still ended up trailing by as many as 28 points.
The Buckeyes began the game with a turnover, which was a sign of things to come throughout the first half. Ohio State turned the ball over nine times in the first half, with four of those miscues coming from Brice Sensabaugh. As such, Iowa outscored the Buckeyes 9-0 off of turnovers in the first half, which led to a 47-36 lead.
Well, those nine turnovers combined with the fact that Iowa closed the half out on a 12-0 run via four-consecutive three-pointers. The Buckeyes actually led the game 36-35 following a Sensabaugh three with 2:56 left in the first half. Then came the rain.
Sean McNeil scored 11 points off the bench in the first half, hitting all three of his three-point attempts. Starting center Zed Key went scoreless in just nine minutes of action in the first half. He later had to leave the game due to his ongoing shoulder injury.
Iowa's lead went to 20 points at 67-47 with 13: 19 remaining in the game. To that point, the Hawkeyes had hit 8 of their 10 field goal attempts in the second half. Things only got worse from there.
The Buckeyes have now dropped 12 of their last 13 games. And their next game is Sunday at Purdue, who is currently ranked No. 3 in the nation.
The Box Score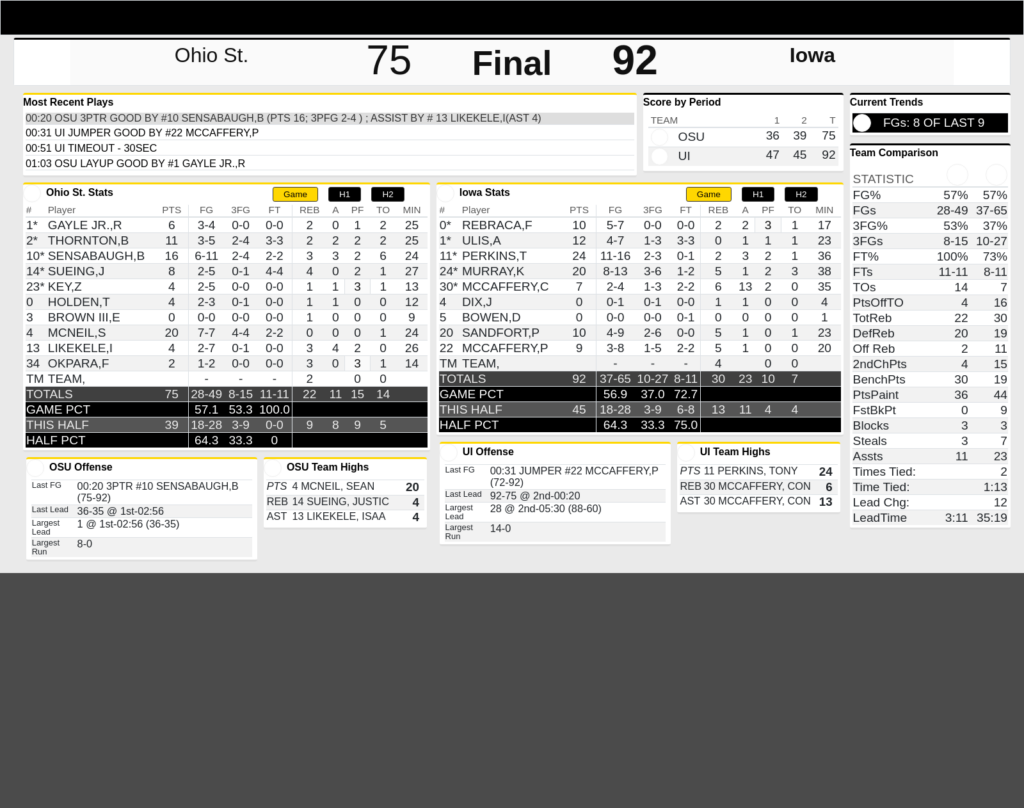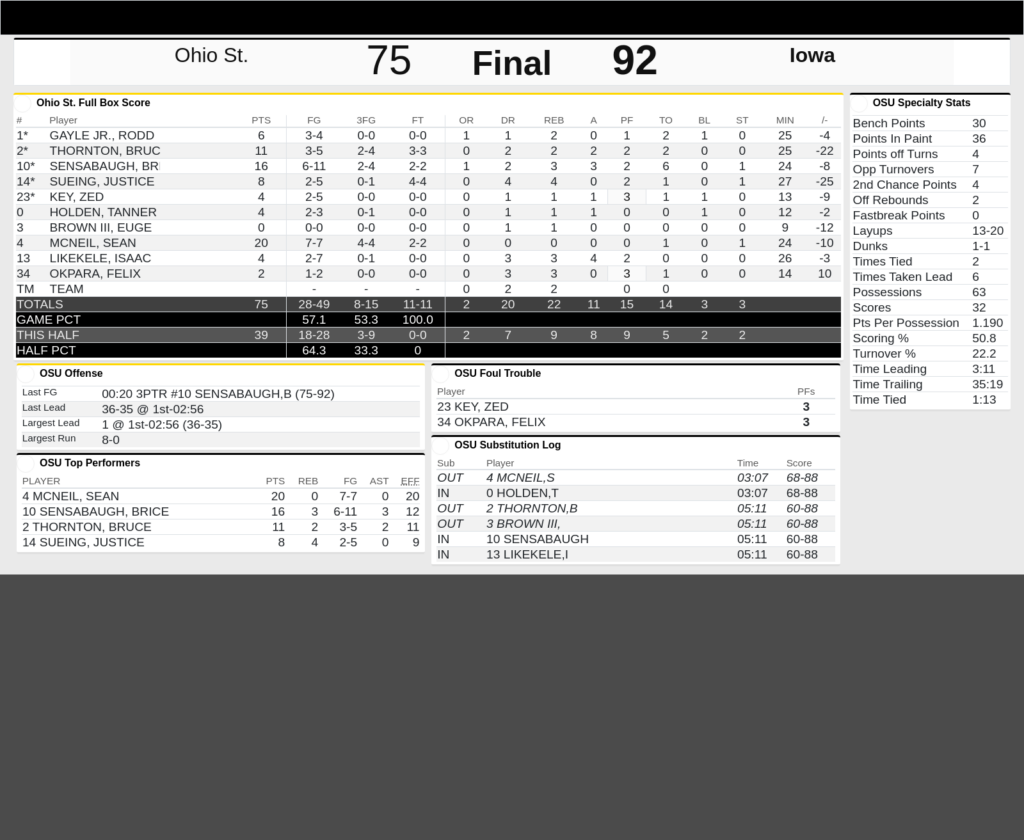 [Brice Sensabaugh header photo courtesy of the Ohio State Dept. of Athletics.]