COLUMBUS — Freshman point guard Bruce Thornton led the Buckeyes (12-17, 4-14) with a game-high 20 points in Ohio State's 72-60 win over Illinois (19-10, 10-8) Sunday at Value City Arena. Senior forward Justice Sueing scored 14 points and grabbed a game-high 11 rebounds. Freshman forward Brice Sensabaugh added 14 points and six rebounds for the Buckeyes.
The win for Ohio State snaps a nine-game losing streak, giving them their first win since January 21.
The Buckeyes shot 30-of-56 (53.6%) from the field, yet only 3-of-14 (21.4%) from three-point territory. The finished 27-of-42 (64.3%) on two-point field goals.
Ohio State outrebounded Illinois 40-28 despite playing most of the game without a true center. Freshman starter Felix Okpara played just eight minutes. And despite the lack of size, OSU outscored the Illini 46-28 in the paint.
Illinois actually scored the first five points of the game, but Ohio State responded with an 8-0 run — with six of those points coming from Thornton baskets. Leading 10-9 with 14:29 left in the first half, the Buckeyes went on a 9-0 run featuring baskets from Sensabaugh, Thornton, and Sueing.
The first 10-point lead for Ohio State came following a Eugene Brown layup to make it 21-11 with 10:06 left in the first half. The lead grew to 26-14 a few minutes later following a Brown three-pointer. The double-digit lead remained throughout the first half, growing to 15 points with a Sensabaugh three-point play with 29 seconds left in the half. Illinois forward Matthew Mayer then ended the half with a three to make it 41-29 at intermission.
Trailing 45-31 with 17:41 left in the game, Illinois went on a 10-0 run that featured a pair of three-point plays for guard Terrence Shannon. A Mayer layup a couple of minutes after the run made it 49-47 with 10 minutes remaining.
Illinois guard Jayden Epps cut it to 53-52 with a baseline three-pointer with 6:53 left, but the Buckeyes responded with a layup from Sueing and a pair of baskets by Sensabaugh, including a thunderous one-handed slam.
Ohio State went up 61-53 with just over four minutes to play following a jumper by Thornton in the paint. The next Illinois possession went empty, and Thornton then came down the court again and scored in the paint while being fouled. The subsequent free throw made it 64-53 with under four minutes to play.
Illinois would never get closer than eight points down the stretch. Thornton closed out the game with a pair of free throws to give the game its final score.
Up next for the Buckeyes is a Wednesday night matchup against Maryland in the final home game of the year for Ohio State. The game will tip off at 7:00 pm and will be aired on BTN.
The Box Score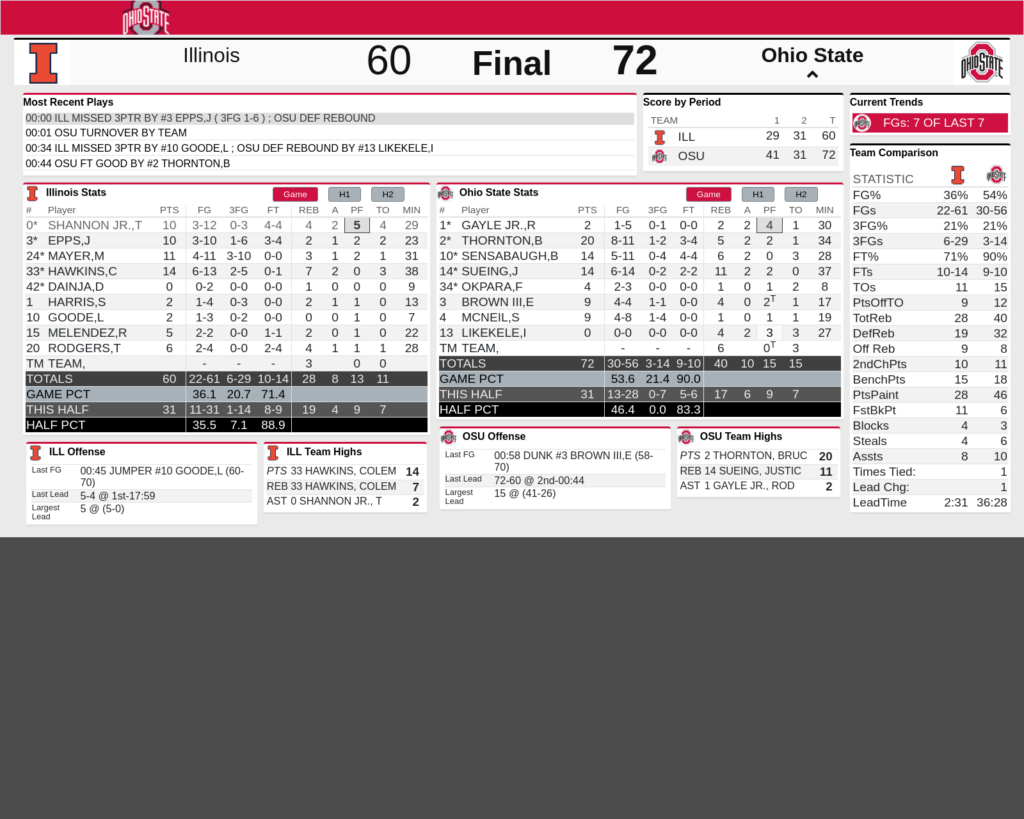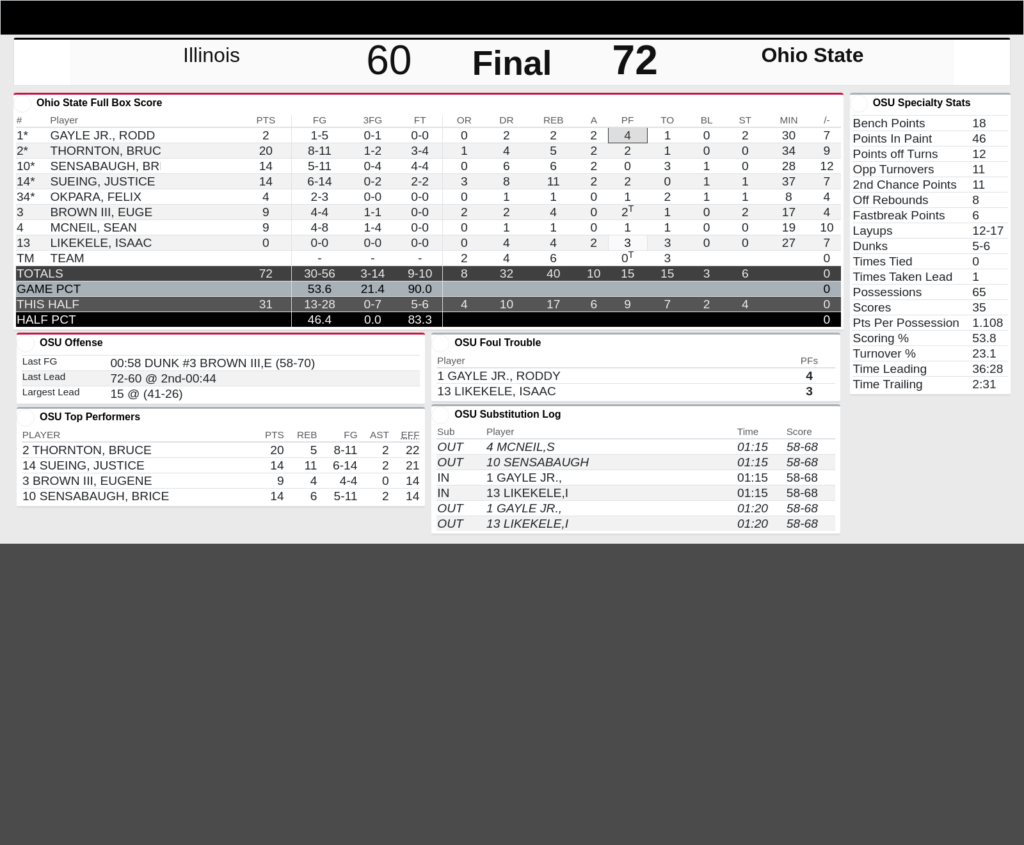 [Brice Sensabaugh header photo courtesy of the Ohio State Dept. of Athletics.]