Ohio State lives to fight another day as freshman point guard Bruce Thornton led the 13-seed Buckeyes (14-18, 6-15) to a 65-57 win over 12-seed Wisconsin (17-14, 9-12) in the first round of the Big Ten Tournament on Wednesday.
Thornton hit several key baskets throughout the game, scoring 15 points on 6-of-12 shooting. The Buckeyes were led in scoring by senior Sean McNeil with 17 points off the bench. Senior forward Justice Sueing scored 16 points. Freshman forward Brice Sensabaugh scored nine points and grabbed a game-high 11 rebounds.
Ohio State led this game by 27 points in the second half, only to see the lead whittled down to four points in the game's final minutes. After shooting 68% from the field in the first half, the Buckeyes managed just 8-of-22 (36.4) shooting in the second half.
Wisconsin's only lead in the game game came at 2-0 following a Brice Sensabaugh turnover in the first minute, but the Buckeyes responded with a 16-5 run over the next seven minutes. The run began with a pull-up jumper from freshman guard Roddy Gayle, then five quick points from Justice Sueing.
Thornton added a pair of layups, and McNeil added a pull-up jumper in the paint and a three-pointer. The Buckeyes secured their first 10-point lead at 18-8 with a McNeil layup with 11:08 remaining in the first half.
Another three from McNeil made it 25-12 three minutes later. Thornton then traded a pair of baskets with the Badgers before dropping in a three-pointer from the top of the key to give the Buckeyes a 32-16 lead with 4:44 left in the first half. The basket was the ninth-consecutive made field goal for Ohio State.
The Buckeyes went to the half with a 36-18 lead, shooting 15-of-22 (68.2%) from the field. Thornton scored 13 points in 19 minutes of play in the first half. McNeil added 10 points on 4-of-4 shooting.
Ohio State scored the first four points of the second half via baskets from Felix Okpara and Sueing. Following a Tyler Wahl layup to cut OSU's lead to 40-20, Sensabaugh hit a three from the wing on the fast break to give the Buckeyes their largest lead of the game.
A wing jumper from Sensabaugh gave Ohio State a 27-point lead with 15:31 remaining, which is when the Badgers began to fight back. Wisconsin went on a 13-3 run, capped by Kamari McGee layup to make it 50-33 with 11:59 left in the game, forcing a Chris Holtmann timeout. The Buckeyes turned the ball over three times in that span.
Following the timeout, McNeil hit a baseline three on a second-chance opportunity, then scored on a fastbreak layup following a Badger miss to make it 55-33 with 11:01 remaining. Tyler Wahl responded to OSU's resurgence with an 8-0 run by himself, featuring three layups and a pair of free throws.
Connor Essegian got the Badgers even closer with a three to make it 57-46 with 3:33 left. That was then followed by a three from Chucky Hepburn to cut OSU's lead to 57-49 with 2:51 remaining. The lead was Ohio State's smallest in nearly 30 minutes.
Following a missed jumper by McNeil, Wahl banked in a three from the wing to make it 57-52. Thornton then immediately turned the ball over with some pressure, but Max Klesmit's three came up empty and the Buckeyes retained possession and a 5-point lead. Holtmann called his final timeout with 1:34 left in the game.
From there, Wisconsin had to rely on fouling Ohio State and hoping for missed free throws. The Buckeyes responded with a pair from McNeil and one from Isaac Likekele to make it 50-42 with 1:09 left. The Badgers never got closer than four points from that point on.
Up next for Ohio State is a matchup against 5-seed Iowa, with tip-off set for approximately 2:30 pm on BTN.
The Box Score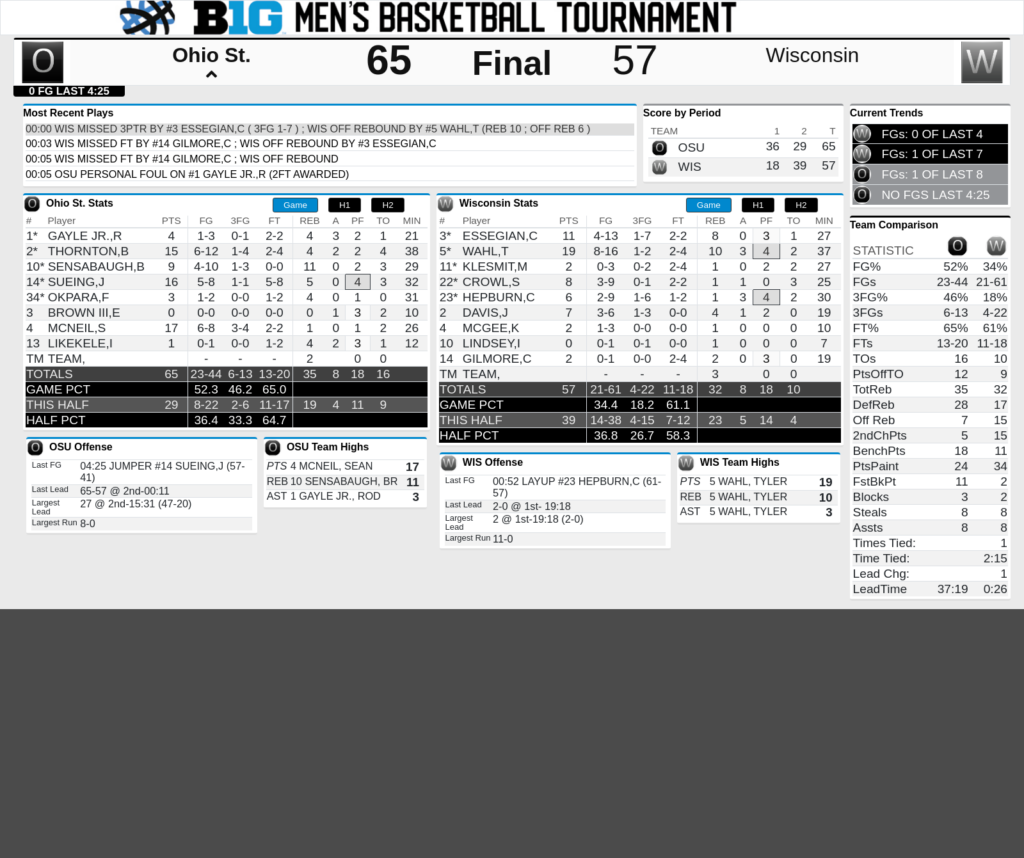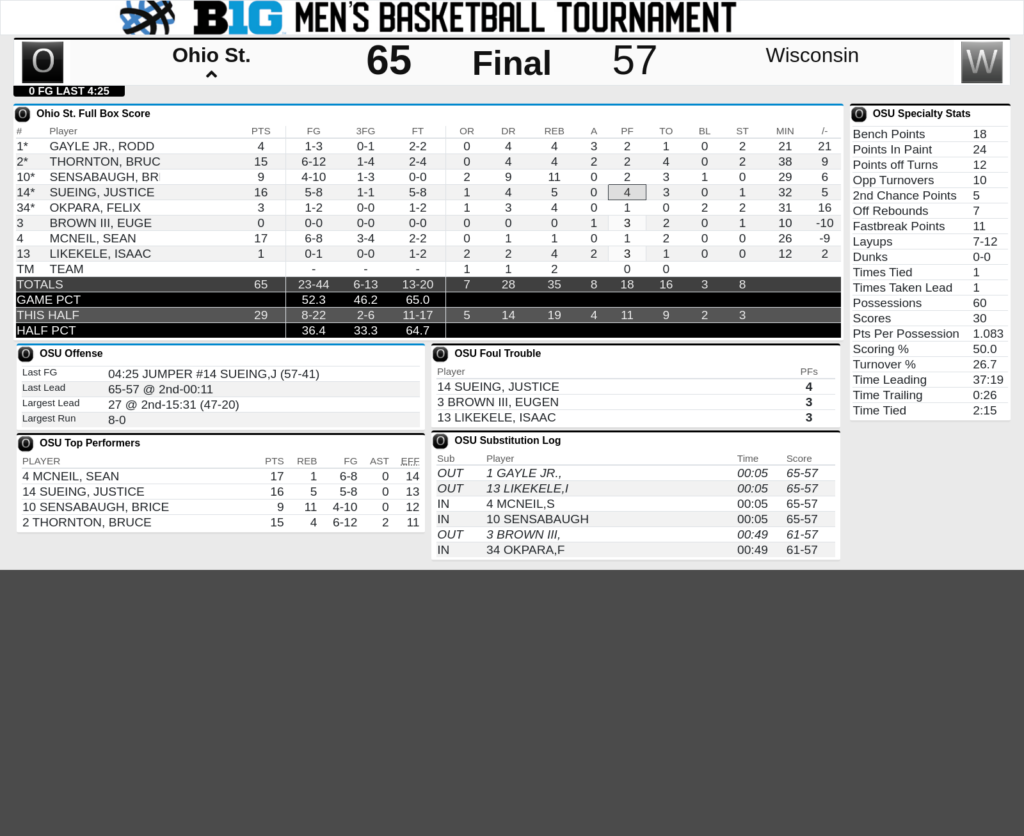 [Sean McNeil header photo courtesy of the Ohio State Dept. of Athletics.]