With spring football now in the rearview mirror for Ohio State, it's time to look back at what happened with each position group and where things currently stand for the Buckeyes. Up first will be the defensive ends.
Quick Position Overview
Juniors JT Tuimoloau and Jack Sawyer return from last year, with Tuimoloau starting every game, and Sawyer coming off the bench as part of the regular rotation. Sawyer tied for the team lead with 4.5 sacks and tied for fifth with 6.5 tackles for loss. Tuimoloau finished with 4.0 sacks and 11.0 tackles for loss. Sophomore Caden Curry played the most of three 2022 defensive end signees last year, but his snaps were still sparse. Classmates Kenyatta Jackson and Omari Abor were both rated higher than Curry in the 2022 recruiting rankings.
Expectations Going In
The expectation going in was that JT Tuimoloau and Jack Sawyer would lead the group as the ones. Given Caden Curry's effectiveness with limited snaps in 2022, he was expected to emerge as the Buckeyes' third defensive end. Redshirt freshmen Kenyatta Jackson and Omari Abor were expected to start flashing more consistently as second-year players, with one of them perhaps progressing into the rotation. The situation at the hybrid defensive end/linebacker "Jack" position would need recalibrated because it wasn't that effective last year with Sawyer running it.
Reality Coming Out
The Jack position was put on hold this spring because defensive coordinator Jim Knowles and Larry Johnson didn't like the effectiveness of it last year with Jack Sawyer. The preferred option there now is fourth-year junior Mitchell Melton (along with sophomore linebacker CJ Hicks), but Melton missed spring ball still recovering from an injury suffered last year. This meant that Sawyer spent his entire camp at defensive end, which made everyone happy — save for the offensive tackles maybe. Sawyer and JT Tuimoloau are your ones. Caden Curry was pushed by Kenyatta Jackson for the third spot.
Any Surprises?
It probably shouldn't have been a surprise but Omari Abor entered spring camp 19 pounds heavier than his listed weight last season (249 to 268), and Kenyatta Jackson added 13 pounds from last year's roster, checking in now at 252 pounds. Jackson showed that added strength in a more physical brand of pass rushing. He is no longer just the speed rusher that Larry Johnson first fell in love with.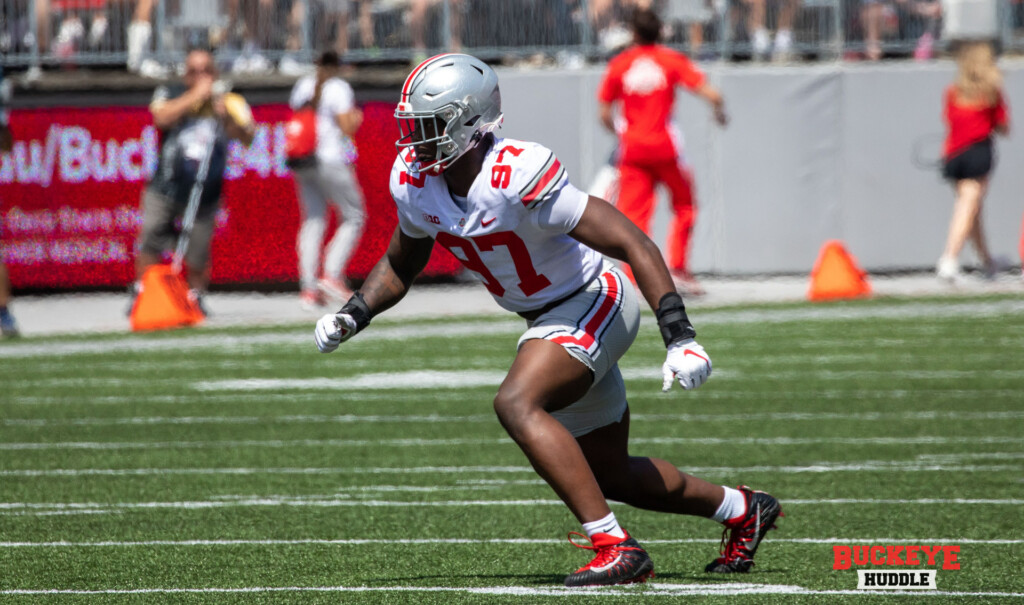 Unanswered Question
What will Jack Sawyer look like on the field when he's only focused on playing defensive end? How much was he hampered last year trying to fill a role that just wasn't as disruptive as Jim Knowles had hoped?
So Now What?
The Buckeyes now have five defensive ends who have been through at least one entire season of football and at least one spring camp. The veterans will need to lead the three second-year players into summer workouts. The group will grow by one or two when summer enrollees Joshua Mickens and Jason Moore arrive. Moore isn't a lock to be at defensive end, however, because he could also arrive as a defensive tackle.
One Concern
Depth is still a concern. JT Tuimoloau and Jack Sawyer are more than capable, but right now it's still just an assumption that Caden Curry, Kenyatta Jackson, and possibly Omari Abor can fill out the rotation. It can't just be two guys, and Larry Johnson doesn't want it to just be three guys. They could probably get away with three guys if some of the snaps are going to go to Mitchell Melton and CJ Hicks, however.
Are We Sure?
Even though confidence is high in JT Tuimoloau and Jack Sawyer, are we sure there will be the kind of pass-rush production that can ignite a top 10 defense? Can Tuimoloau and Sawyer get after the quarterback at a consistent clip, thereby making the back seven even more effective in coverage? The Buckeye defensive ends had 16 sacks last year, and just 13 the year before. The numbers are the worst for the OSU defensive ends since Larry Johnson's first year (2014). That 2014 team had a Bosa, however, and pass rushers at linebacker (Darron Lee, 7.5 sks) and defensive tackle (Adophus Washington, 4.5 sks; Michael Bennett, 7.0 sks). There are no Bosas or Chase Youngs on this defensive line, but there shouldn't need to be. Generational talent shouldn't be required to sack the quarterback.
Quotable
"Let him put his hand in the ground and let him go rush. That's why we brought him here to do that. I thought that it was a good experiment, but now let's go play football. I think that's the best position for him. He feels happy where he's at. And that's important too." — Defensive line coach Larry Johnson on moving Jack Sawyer away from the Jack position.
Depth Chart
Strong-Side End
44 JT Tuimoloau, Jr
92 Caden Curry, Soph
23 Omari Abor, rFr
Weak-Side End
44 Jack Sawyer, Jr
97 Kenyatta Jackson, rFr
23 Omari Abor, rFr
Reading List
It's Back To Basics For Jack Sawyer
Insider Notes: Defensive Line Shows Its Teeth At Saturday Scrimmage
'Relentless' Caden Curry Will Be Counted On Heavily In 2023