If you are going to be breaking in a new quarterback, you could do much worse than having wide receivers Marvin Harrison, Jr. and Emeka Egbuka to rely upon. In fact, you probably couldn't do any better.
That is the situation Ohio State's new starting quarterback will be in this season, be it junior Kyle McCord or redshirt freshman Devin Brown. They will have access to a pair of receivers who each hauled in over 70 receptions last season.
Harrison posted 77 catches for 1,263 yards and 14 touchdowns, earning Unanimous All-American honors. Egbuka finished with 74 receptions for 1,151 yards and 10 touchdowns, and was named Second-Team All-Big Ten.
Entering the 2023 season, both are being touted as Preseason All-Americans and future first-round NFL draft picks.
Once the season begins, all of that off-the-field attention will turn into on-the-field attention, and head coach Ryan Day knows that defenses are going to be focused on stopping Harrison, who is once again everybody's All-American.
"We talked about it yesterday as a staff. We can't, at the end of the game, look down at the stat sheet here and say, 'well, Marvin touched it once or twice.' That's not acceptable," Day said. "We have to figure out ways to get him the ball. But at the same time, if we're in three-by-one in the boundary, they've gotta double-team him. There's not a lot of people that can cover him. There's probably not some people in the NFL that can cover him. He's that talented of a player. We're very fortunate to have him."
The Buckeyes moved Harrison around quite a bit in the spring, which he also did a year ago. Expect that movement to continue as they look for ways to find matchups that are favorable. And for Harrison and Egbuka, that generally just means finding ways to make sure they aren't double covered.
But that defensive focus is also something the offense can use. Where a defense chooses to put its strength, that means other areas are weaker.
"There's going to be times where [Marvin] is going to dictate coverage. And there's also other times Emeka is going to dictate coverage," Day explained. "I mean, he had one of the more productive years last year of anybody in Ohio State history. Like, this is a really good player. So it's going to be interesting to see how teams play us. But there's going to be times where the quarterback's gonna have to find the one on one. And that's part of it. But we also need to do a great job on the offensive staff of finding ways to get touches to our playmakers."
A Dynamic Duo
Prior to Ryan Day's arrival as the Buckeyes' offensive coordinator in 2017, there had only been four 1,000-yard receivers in Ohio State football history. Cris Carter went for 1,172 yards in 1986, and Terry Glenn posted a then-school record 1,411 yards in 1995. David Boston bested Glenn's number with 1,435 yards receiving in 1998. Michael Jenkins joined the club in 2002 with 1,076 yards receiving in a 14-game season for the Buckeyes.
In the six years with Day at Ohio State, the Buckeyes have had five 1,000-yard receivers. Parris Campbell was the first, with 1,063 yards in 2018, followed by Garrett Wilson's 1,058 yards and Jaxon Smith-Njigba's school-record 1,606 yards in 2021. Wilson and Smith-Njigba became the first 1,000-yard duo in Ohio State history. They were joined by Harrison and Egbuka last year, and now the pair have the opportunity to become not just the first duo to post back-to-back 1,000-yard receiving seasons, but also the opportunity to be the first players in OSU history to accomplish the feat.
Nobody else in school history has posted back-to-back 1,000-yard seasons. Nobody else even has a second 1,000-yard receiving season in a career. Smith-Njigba would have gotten there last year, but his hamstring injury ended his season almost as quickly as it got started. Wilson would have done it if OSU's 2020 season wasn't shorted by COVID.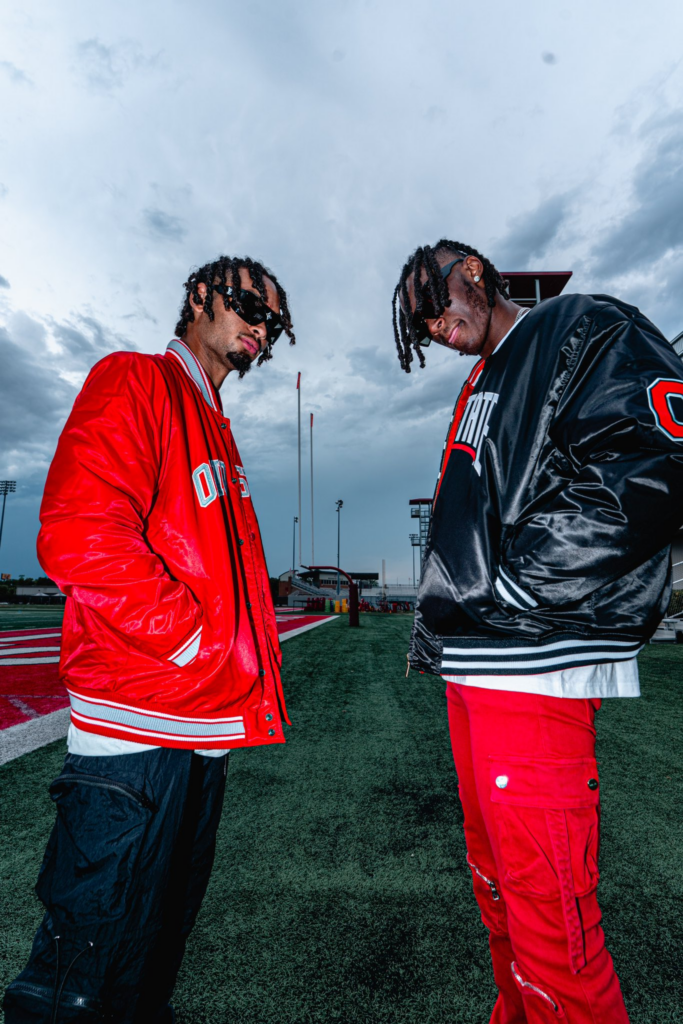 Circumstances could make Marvin Harrison and Emeka Egbuka the most productive pair of receivers in school history, but it's their talent that could make them the best Ohio State duo to ever do it.
"Yeah, I mean, I don't think you can say there's anybody better," Day said when asked if this was the best receiver duo he's seen at Ohio State. "They have to produce for another year, because they only have really one year of production. But if you look at what they did last year as sophomores, and certainly they had [quarterback] CJ [Stroud], and CJ was great, but man for two sophomores, I mean, that was as good of a [season], but they've got to do it again.
"I think that's part of what you're asking, guys who do it for multiple years in a row, not just for a year. I mean, Jaxon was one of the most talented receivers we have had, but he was hurt last year, so the production wasn't there. Where Garrett and Chris [Olave], those guys did it for multiple years. So if they could put another year together this year, they might be one of the better ones in the history of Ohio State. If not the best."