Ohio State hasn't released a depth chart for a couple of years now, so those of us who care about such things have had to take this meaningful task into our own hands.
As such, any impurities within this depth chart is not the fault of the creator but rather the fault of the system.
That being said, it's not like the depth charts that Ohio State used to release were all that accurate either.
Anyway, we are one day away from game week for the Buckeyes, so let's go ahead and project the first depth chart that they will take with them to Bloomington.
OFFENSE
Quarterback
6 Kyle McCord, Jr OR
33 Devin Brown, rFr
12 Lincoln Kienholz, Fr
13 Tristan Gebbia, Grad.
Ohio State head coach Ryan Day is expecting to play both Kyle McCord and Devin Brown against Indiana. Day will speak with reporters on Tuesday and even if he won't name a starter at that time, perhaps he will name a first-guy-on-the-field.
Running Back
32 TreVeyon Henderson, Jr
3 Miyan Williams, rJr
19 Chip Trayanum, Sr
5 Dallan Hayden, Soph OR
21 Evan Pryor, rSoph
This is very much a two-headed attack between TreVeyon Henderson and Miyan Williams, complemented by Chip Trayanum, Dallan Hayden, Evan Pryor, and even Xavier Johnson. However, when both Henderson and Williams are healthy, Henderson has been the guy who got the first crack.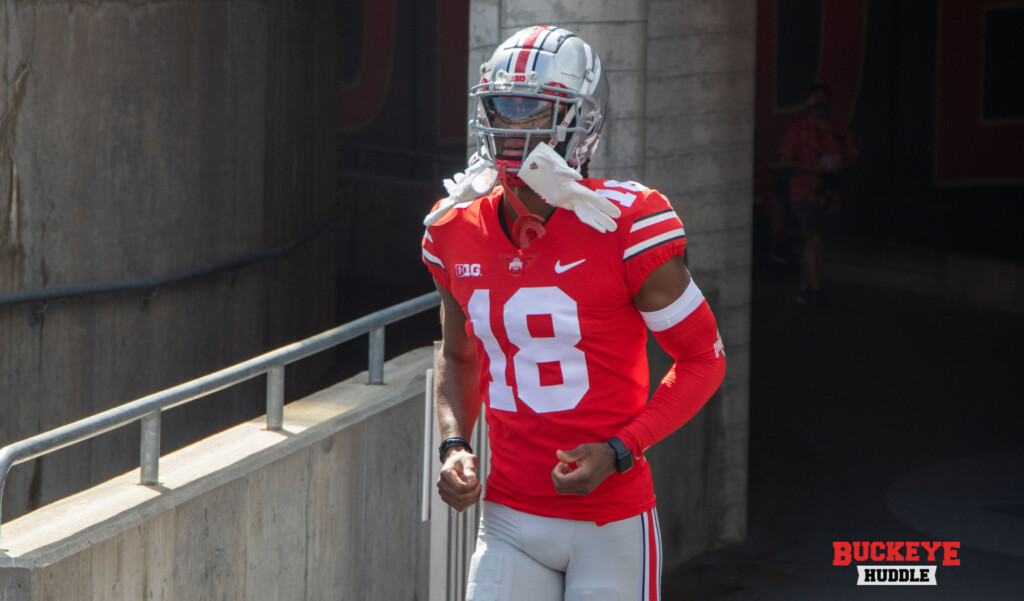 X Receiver
18 Marvin Harrison, Jr
17 Carnell Tate, Fr
14 Kojo Antwi, rFr
The main thing to understand here is Marvin Harrison, Jr. is going to move around, which will then move the other receivers around as well.
Z Receiver
4 Julian Fleming, Sr.
9 Jayden Ballard, rSoph
80 Noah Rogers, Fr
7 Kyion Grayes, rFr
A healthy Julian Fleming is going to be a productive Julian Fleming. Don't worry, this receiver rotation will be able to find room for the freshmen who have earned it.
Slot Receiver
2 Emeka Egbuka, Jr
10 Xavier Johnson, Grad
86 Bryson Rodgers, Fr OR
11 Brandon Inniss, Fr
Emeka Egbuka may be one of the two best receivers in the nation. He will likely lead the Buckeyes in slot snaps, but won't be the only guy you see there throughout the year.
Tight End
8 Cade Stover, rSr
88 Gee Scott, rJr OR
84 Joe Royer, rJr
49 Patrick Gurd, rJr OR
15 Jelani Thurman, Fr OR
81 Sam Hart, rSoph
The Buckeyes have three guys they feel good about. Perhaps the best news is that they feel comfortable going with 12 personnel (one back, two tight ends) without Cade Stover being one of the two tight ends.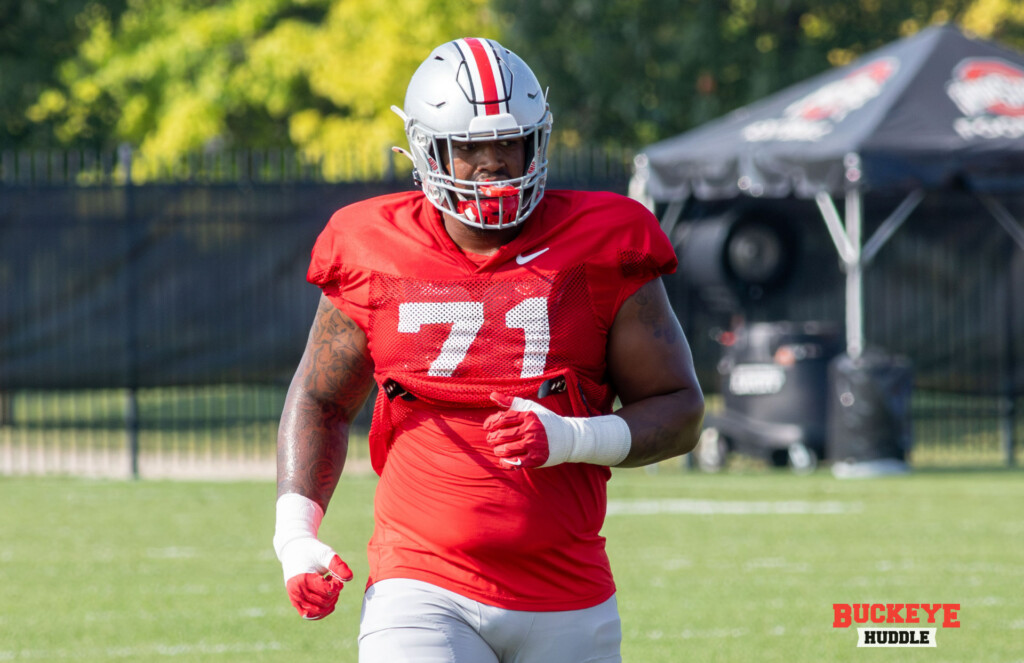 Left Tackle
71 Josh Simmons, rSoph
77 Tegra Tshabola, rFr
68 George Fitzpatrick, rFr
Everything that has been said about Josh Simmons has been extremely positive, but he's still playing a new position at a new school against a bigger level of competition.
Left Guard
74 Donovan Jackson, Jr
78 Jakob James, rJr OR
67 Austin Siereveld, Fr OR
64 Quinton Burke, rJr
The only question here is down the depth chart. Donovan Jackson should contend for post-season accoloades. A couple of weeks ago it was Quinton Burke with the twos and Austin Siereveld with the threes. The week before it was the other way around. Jakob James could be at either guard spot.
Center
75 Carson Hinzman, rFr OR
59 Vic Cutler, Sr
62 Josh Padilla, Fr
This OR is written in pencil. It has been Carson Hinzman all the way from spring ball until now, but there is still a chance that something could change as Victor Cutler continues to get more and more comfortable.
Right Guard
55 Matt Jones, Grad
66 Enokk Vimahi, rSr
69 Trey Leroux, rJr OR
54 Toby Wilson, rSoph
Set it and forget it.
Right Tackle
70 Josh Fryar, rJr
51 Luke Montgomery, Fr
65 Zen Michalski, rSoph
76 Miles Walker, Fr
It would be a surprise at this point if Luke Montgomery overtakes Josh Fryar, but the true freshman has exceeded his already-lofty expectations every step of the way. Josh Fryar is more comfortable at right tackle than left tackle where he played in the spring, so the expectation is that he will be just fine back here in his old stomping grounds.
---
DEFENSE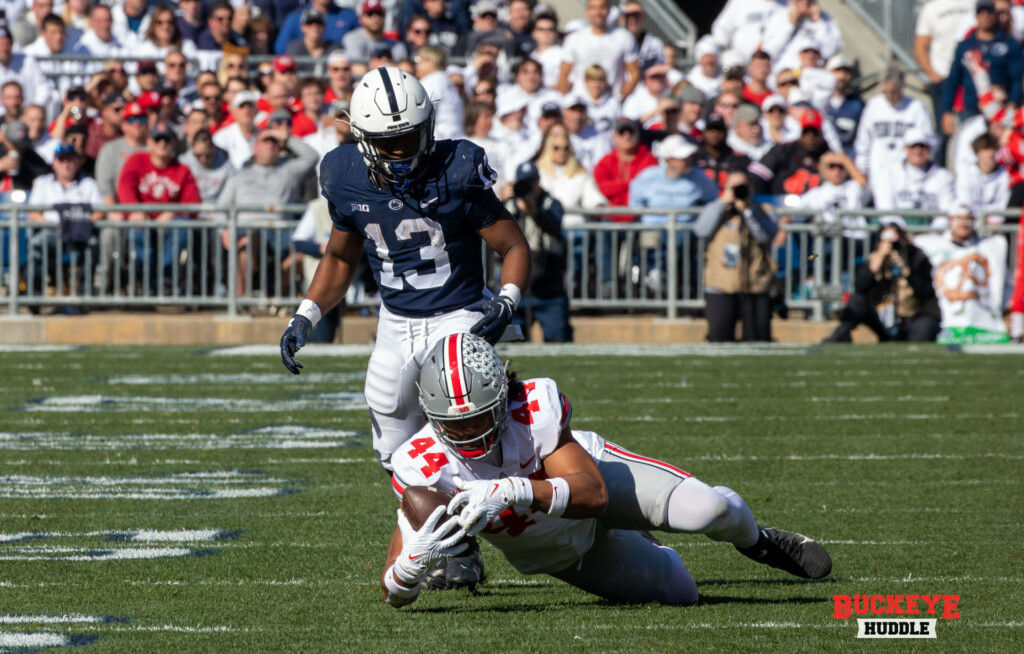 Strongside Defensive End
44 JT Tuimoloau, Jr
92 Caden Curry, Soph
17 Mitchell Melton
23 Omari Abor, rFr (Inj.)
Going to throw Mitchell Melton in here, but things probably aren't all that locked in. JT Tuimoloau will obviously play the most snaps. Caden Curry will be part of the regular rotation.
Three-Tech Defensive Tackle
91 Tyleik Williams, Jr
95 Tywone Malone, rSoph
90 Jaden McKenzie, rJr
53 Will Smith, Fr OR
94 Jason Moore, Fr
Tywone Malone has had a solid camp and has given the coaches confidence that he's not just a "next year" guy like some thought he would be. Tyleik Williams was injured for much of practice. He went down with a tweak of the knee in the first practice of camp, but has since returned. He is the guy here, but there will be sharing.
Nose Tackle
51 Mike Hall, Jr OR
58 Ty Hamilton, rJr
93 Hero Kanu, rFr
56 Kayden McDonald, Fr
Mike Hall and Ty Hamilton are co-starters. You will also likely see Hall at three-tech as well. Hall could be an All-American if he stays healthy.
Weakside Defensive End
33 Jack Sawyer, Jr
97 Kenyatta Jackson, rFr
52 Joshua Mickens, Fr
20 Arvell Reese, Fr
Jack Sawyer and Kenyatta Jackson are going to be the two guys getting the most snaps here. Jackson has been getting the buzz all camp long. Sawyer should notch his first career start when the Buckeyes open the season. Arvell Reese was moved from linebacker a couple of weeks ago.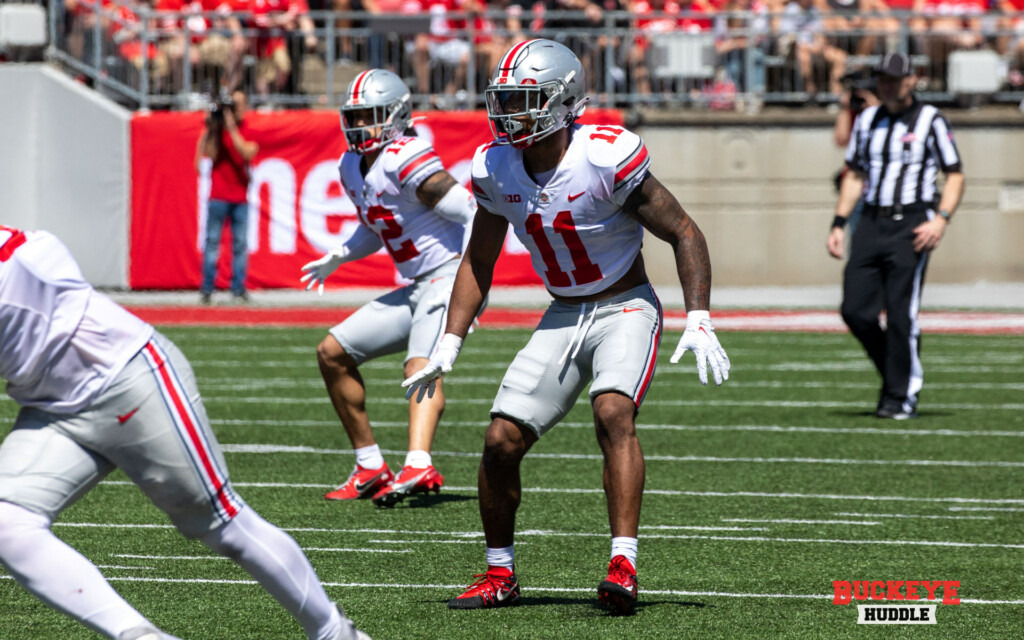 Jack
17 Mitchell Melton, rJr OR
11 CJ Hicks, Soph
It will be interesting to see how and when the Jack is used, and how and when defensive coordinator Jim Knowles chooses to delineate between his two very different options.
Will Linebacker
22 Steele Chambers, rJr
11 CJ Hicks, Soph
28 Reid Carrico, rSoph
37 Nigel Glover, Fr
Steele Chambers is looking for an All-Big Ten season. Jim Knowles has said he needs to find some snaps for CJ Hicks this year. There is a lot to like with this group.
Mike Linebacker
35 Tommy Eichenberg, rSr
30 Cody Simon, Sr
36 Gabe Powers, rFr
Tommy Eichenberg is a Preseason All-American. Cody Simon would be the starter if Eichenberg didn't return last year. Any time you can have two team leaders at middle linebacker, you've got a good situation on defense.
Sam Linebacker
6 Sonny Styles, Soph OR
30 Cody Simon, Sr
This just depends on what kind of offense or down or distance they see. Goal line and short-yardage may feature Cody Simon over Sonny Styles. But that doesn't mean Styles won't be on the field somewhere.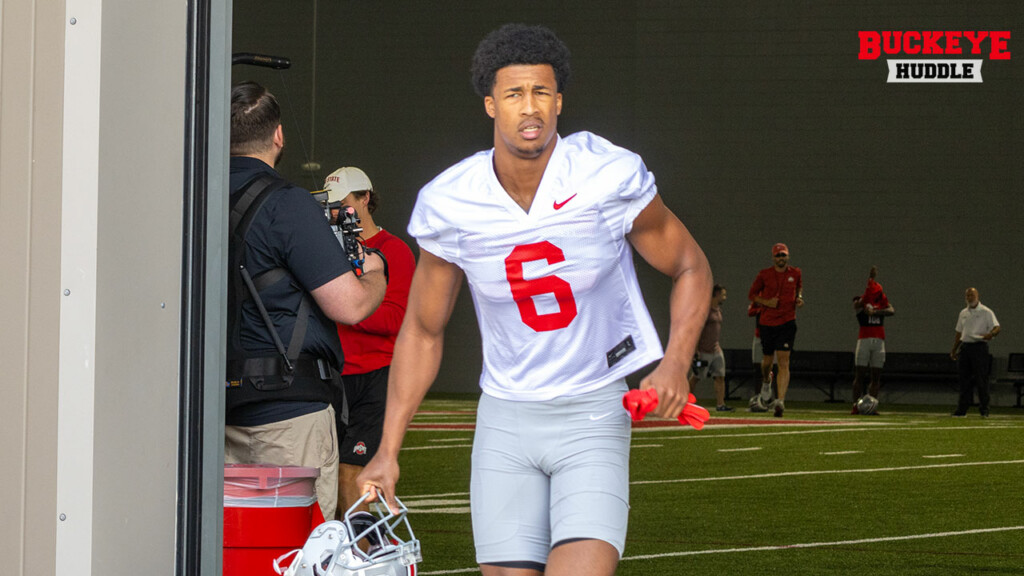 Nickel
6 Sonny Styles, Soph
3 Cameron Martinez, rJr OR
7 Jordan Hancock, Jr
12 Ryan Turner, rFr
Cornerback Jordan Hancock has gotten snaps at nickel, but if that continues into the season, it's likely going to be a situational, third-and-long type of deal. Sonny Styles is the No. 1 nickel. Jim Knowles was emphatic about that. Obviously Styles is not your typical nickel, so there will be some different things they do to use him and also perhaps protect him.
Cornerback
10 Denzel Burke, Jr
18 Jyaire Brown, Soph
24 Jermaine Mathews, Fr
By all accounts, Denzel Burke has stacked great months on top of each other from January until now. Jyaire Brown got more experience last year as a true freshman than most people expected. Jermaine Mathews has folks excited about the future.
Free Safety
14 Ja'Had Carter, Sr
41 Josh Proctor, Grad OR
25 Malik Hartford, Fr
26 Cedrick Hawkins, Fr
Ja'Had Carter is the favorite here, but a week ago Jim Knowles said this job was still up for grabs. The surprise here is true freshman Malik Hartford, who Ryan Day said is going to play a lot this year. This is Josh Proctor's sixth year, and it's the first time he's been in the same defensive system with the same defensive coordinator since high school. Expect Carter to start at Indiana, but don't be shocked if Hartford gets a start at some point this year.
Strong Safety
12 Lathan Ransom, Sr
41 Josh Proctor, Grad. OR
25 Malik Hartford, Fr OR
13 Kye Stokes
21 Jayden Bonsu, Fr
Jim Knowles said that whoever loses out on the free safety spot will be be involved with backing up Lathan Ransom. That indicates they have four top safeties right now, and Kye Stokes doesn't seem to be one of them. But the depth chart is going to open wide in a year.
Cornerback
7 Jordan Hancock, Jr OR
20 Davison Igbinosun, Soph
4 Lorenzo Styles, Jr., Jr
15 Calvin Simpson-Hunt, Fr
Just view this team as having three starting cornerbacks. They'll figure out the snaps.
Place Kicker
23 Parker Lewis, Sr OR
38 Jayden Fielding, Soph
Ryan Day declined to name a starter last week, as did special teams coordinator Parker Lewis.
Punter
29 Jesse Mirco, Jr
As long as Jesse Mirco is eligible and Australian, he's the starter.
Long Snapper
43 John Ferlmann, Jr
John Ferlmann has been solid in camp according to everybody who is talking about the long-snapping situation.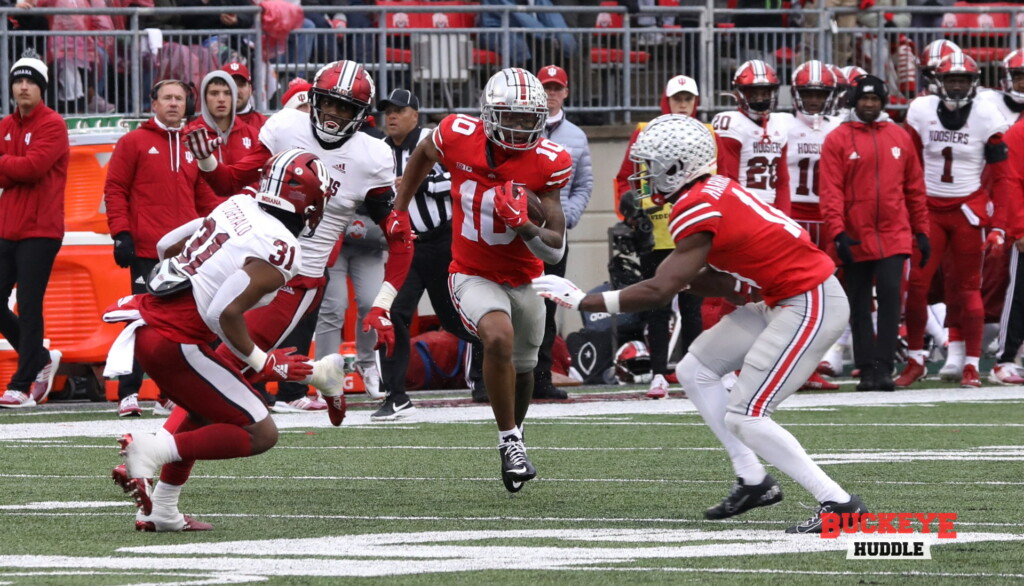 Kick Returner
10 Xavier Johnson, Grad
Parker Fleming has mentioned guys like Emeka Egbuka and TreVeyon Henderson here, but expect this to be Xavier Johnson because they don't like putting starters at kick returner. That being said, they're deeper at running back and receiver than they've been, so maybe that will change things.
Punt Catcher
2 Emeka Egbuka, Jr
9 Jayden Ballard
The job here will be to simply catch the ball and then underhand toss it to the ref.