"By an inch. By a second. Ohio State 17, Notre Dame 14."
That was the painfully poetic prose from Notre Dame public address announcer Chris Ackels at the end of the Buckeyes' last-second victory over the Irish Saturday night in South Bend.
The inch came from running back-turned-linebacker-turned-running back Chip Trayanum. And the second came following a third-and-goal from the 1-yard line against a Notre Dame defense that was suddenly suffering from a severe bout of hendecaphobia when the Buckeyes pushed their Chip all in.
Trayanum got the call, got the ball, and put it right on the goal line. Not past it. Not in front of it. Right on it. Giving Ohio State a 17-14 lead and leaving the Irish with one second of hope that would go unrequited.
Chip Trayanum has now left an indelible mark in Ohio State football history. A play that may one day have its own name in Buckeye lore. When the Buckeyes absolutely needed one yard, he found it.
Saturday night, Trayanum created a memory that Buckeye fans will never forget, and one that Notre Dame fans wish they could.
"Trayanum? Damn near killed 'em."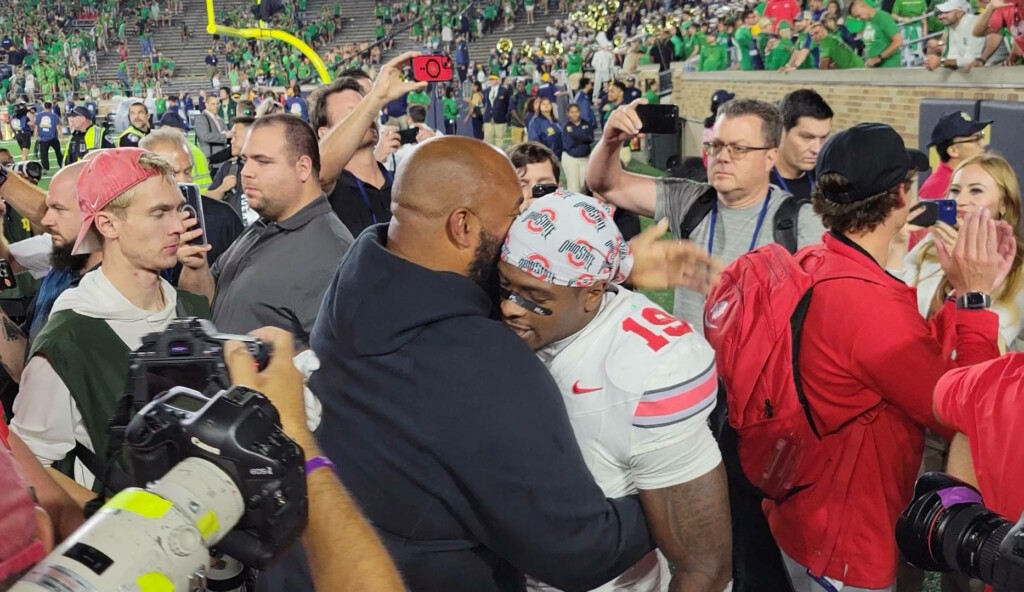 The next time you sing "I Wanna Go Back To Ohio State," go ahead and create a new stanza involving this game, and then dot it with an i.
"To silence the stadium and break the fans, by far the quietest in the land."
The Buckeyes woke up the echoes on Saturday and told them, "You don't have to go home, but you can't stay here."
That wasn't the only silencing going on, however.
The Buckeyes came into this game with pundits talking about their lack of physicality and their lack of toughness.
Two fourth quarters against Michigan had apparently trumped three decades of Notre Dame football. Of course, Ohio State didn't help matters by getting stopped on fourth-and-short situations twice.
For a while in the second half, those pundits thought they had this one nailed. But it was the Buckeyes who had the hammer.
Notre Dame grabbed the momentum. They were running the ball. The tide had turned. The crowd could taste an Irish victory.
But it was only a taste. A bittersweet bite of what could have been, topped with a dollop of what almost was.

The Buckeye defense buttoned down, held up, and forced one last punt.
The Ohio State offense was left with 86 seconds on the clock.
Quarterback Kyle McCord led the Buckeyes down the field with the kind of cold serenity that allows you to pick up three third downs and one fourth down all in one mind-puckering drive.
More lives than a video game.
Kyle "Konami Code" McCord.
The final drive didn't start off well. Two passes into the flats fell even flatter. McCord then found receiver Emeka Egbuka for 23 yards down the seam on third and 10.
Three plays later, the Buckeyes were faced with a fourth-and-seven. McCord flicked a pass to receiver Julian Fleming short of the sticks, but Fleming was able to pick up a couple of extra yards for the first down.
The next road block was a third-and-19 situation that was solved by a 21-yard completion to Egbuka down to the 1-yard line.
Nine seconds remaining. McCord clocked it with seven seconds remaining. Following an incompletion to receiver Marvin Harrison, the Buckeyes were left with just three seconds.
But not to worry, because it was third down again.
Up, up, down, down, left, right, left, right, B, A, Start.
McCord gave the ball to Chip Trayanum, and the rest is now the kind of history that ends up on murals.
The Buckeyes were given 86 seconds on their final drive but only needed 85.
"Keep the change," McCord could have said, running to the sideline to celebrate with his teammates.
One second. One inch.
All the time in the world. And just enough room to make everybody feel something.
There is a thin, white line between devastation and exhilaration, and Chip Trayanum crossed it.
Just barely.
But barely is always enough when it's all that is needed.
Ohio State didn't play a perfect game. They may not have even played a great game. But they had great moments, and they were good enough throughout.
And good enough is as good as great when it's attached to a win.