After two weeks atop the College Football Playoff rankings, Ohio State has dropped to No. 2 in the latest rankings released Tuesday night. The top spot now belongs to Georgia (10-0), who defeated then-No. 9 Ole Miss 52-17. The Buckeyes (10-0) won at home 38-3 against unranked Michigan State.
The rest of the top eight remained the same, with Michigan, Florida State, Washington, Oregon, Texas, and Alabama following in the Nos. 3, 4, 5, 6, 7, and 8 spots.
Following the release of the rankings, CFP committee chair Boo Corrigan spoke with reporters to discuss this week's rankings. You can find all of the highlights of what he had to say below the full rankings.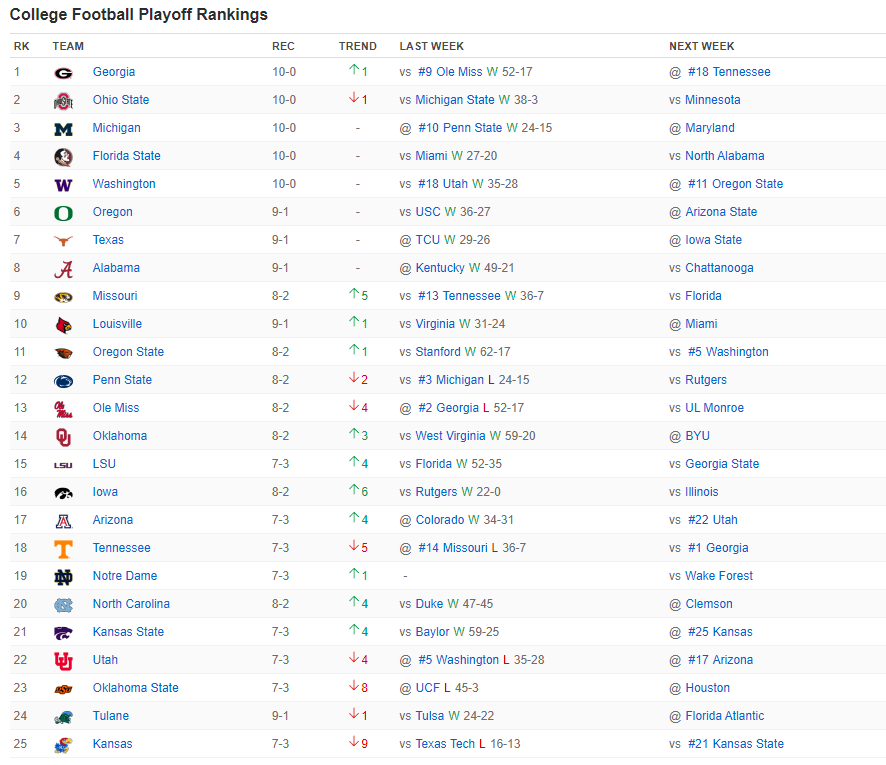 Boo Corrigan
Committee member Rod West was not available to join them this week. This did not impact the proceedings.
James Madison was asked about again this week. Executive director Bill Hancock said they aren't under consideration right now because they are not eligible. But they will be ready to consider any team that is eligible for postseason play.
ESPN's Heather Dinich asks how they weigh the head to head between Texas and Alabama when Alabama keeps getting better? Two really good teams. Jalen Milroe keeps getting better each week. The importance of the head to head is there, just as conference championships are there. The debate in the room is strong. More information is being gathered. Texas has Quinn Ewers back now, so they'll continue to look at it. "But head to head is certainly important."
How much is a concern is Washington's defense? It is a factor, as were the Arizona State and Stanford games, which were close.
What was the conversation between Ohio State and Michigan for two and three? Looking at Ohio State, the wins over Penn State and Notre Dame — and 5-0 against teams with winning records. Top 5 defense. The offense scored well. Michigan continues to come along and be dominant in the games played.
USA Today asks about Ole Miss and why did they fall to where they did? Their two losses are to Alabama and Georgia. Good wins over LSU and Tulane. Lots of respect in the room for Mississippi and how they play.
Why Georgia to No. 1? How difficult was the conversation? They go in every week with a clean sheet. The win over Missouri, then Missouri's win over Tennessee, then the win over Ole Miss last week, it's an added quantity of information. Ohio State has dynamic offensive players. It was an "active strong debate" for 1 and 2.
How much can one week change the perception when they have a performance like OSU's offense did in the first half against MSU? It's part of that but it's also what teams around the teams do. Players coming back from injury are key and they have to make sure they're aware of that. Ohio State has been hit by the injury bug and seeing them get back and playing well "continues to impress the committee."
"Can you justify…" Georgia at No. 1 and OSU at No. 2, and how much time did you spend on moving Georgia to No. 1 and Ohio State to No. 2? They spent a lot of time on it. There were strong debates around each one of the teams, then in comparison to the teams themselves.
RedditCFB asks about the drop of Utah to No. 22. All of their losses have come to ranked teams. They took No. 5 Washington to the brink on the road, so what went into the drop? Six of the ranked teams between 9-18 lost last week, so you have teams moving up and down.