We spend about eight months a year looking forward to the college football season because there is always so much to see with the Buckeyes and so many possibilities.
You have new stars taking off, old stars leaving a legacy, and transfers, transfers, transfers!
It's the best thing going, even in its current shifting-sand-like state.
For Ohio State, this could be a very special season, which means there is plenty to get excited about. Over the next eight days until the start of Game Week against Notre Dame, I'll be sharing 100 things for you to look forward to this year, along with the reasons why.
So let's get started.
---
---
80. Nick Herbig Vs. Dawand Jones
Nick Herbig is a junior outside linebacker in Wisconsin's 3-4 defense. He has 20 career starts and last year he posted 14.5 tackles for loss and 9.0 sacks. Herbig is not the biggest guy, measuring in at 6-foot-2 and 228 pounds, but he is fast and strong. Speed rushers were an issue at times for Dawand Jones last year in his first year as the Buckeyes' starting right tackle. Now a senior and in his second year of starting, Jones has to be one of the Big Ten's best tackles. The matchup with Herbig is going to be a huge test for Jones. If he handles this one, the rest may not seem so bad.
79. Zach Harrison In This Defense
Expectations have been attached to Zach Harrison like hungry remoras on a swimming shark ever since he was a high school recruit. They glide along, feed on scraps, and are always, always waiting. The pass-rush numbers haven't matched the excessive five-star expectations, but Harrison has always been a good run defender. In Jim Knowles' defense, there is more focus on the front four stopping the run than rushing the passer on early downs, which may suit his game perfectly. Harrison may not be a sack-a-game defensive end this year, but he could end up disrupting the line of scrimmage in a number of other ways.

78. Young Players Getting Their Shot Against Arkansas State
There are a number of young Buckeyes you'll get to see this season, but you're probably going to have to wait until week two before it starts happening. The Notre Dame opener isn't exactly the kind of game where freshmen are allowed the opportunity to make mistakes. By the third quarter of the Arkansas State game, however, you should get your first look at names like Kaleb Brown, Dallan Hayden, Kyion Grayes, CJ Hicks, Sonny Styles, and more. There is a decent chance that this will be a game where a future Ohio State legend makes his first notable play as a collegian. Or perhaps where a future great will make an error that gets remembered as part of his storybook journey as a Buckeye, like Eddie George's two fumbles on the goal line in an 18-16 loss to Illinois 30 years ago.
77. Xavier Johnson Recording His First Career Catch
Xavier Johnson was a three-star wide receiver at Summit Country Day in Cincinnati who turned down scholarship offers to the likes of Iowa State and Bowling Green in order to walk-on at Ohio State. Almost immediately he was moved to cornerback as a true freshman in 2018 and then played some running back the following year. Johnson has been a leader on special teams for a while now. And as a fifth-year senior with a degree, he is a leader in the receiver room. Despite all of this, he is still waiting for his first career reception. He does have four carries from his time as a running back and has also returned five kickoffs over the past three seasons. Johnson has nine career touches and eight career tackles. His unselfishness has been lauded by running backs Tony Alford and he has meant way more to this team than his statistics may indicate. But that first catch is still going to be a special moment for Johnson and everybody else who has appreciated his chosen path and the way he has walked it.
76. The First Impact Play From CJ Hicks
There is a non-zero chance that CJ Hicks gets ejected on the opening kickoff of the Notre Dame game because he has hit somebody too hard. Hicks has made some plays in coverage during camp, returning interceptions with a cavalcade of blockers to shield him. The same could happen at some point this season. More likely than that, however, is Hicks flashing into the backfield for a sack or a tackle for loss. Or perhaps running down the line of scrimmage to stop a running back for no gain. Hicks is a rare athlete and so you can't expect him to only make "everyday plays." Sometimes he's going to make the rare ones as well.
75. A More Punishing Running Game
The Buckeyes had their toughness questioned last year on both sides of the ball. Expect both of those sides to attempt to answer their critics this season. Head coach Ryan Day likes the makeup of his offensive line and has preached to his running backs the need to get extra yards out of each carry. He wants them to turn a 1-yard run into a 3-yard gain, and a 3-yard fight into a 5-yard win. New offensive line coach Justin Frye was brought in to improve everything about the running game, and he'll be helped by some talented running backs. TreVeyon Henderson and Miyan Williams may be trying to avoid tacklers this year, but that doesn't mean they'll be shying away from contact. After all, you can't impose your will from a distance. The players have heard the criticisms, now it's time for a rebuttal.
74. Mitchell Tinsley Vs. Denzel Burke
As one of the nation's top cornerbacks, sophomore Denzel Burke is expected to hold his own against all of the top receivers he is going to face this year. One of those receivers is Penn State's Mitchell Tinsley, who transferred in from Western Kentucky where he caught 87 passes for 1,402 yards and 14 touchdowns last year. Tinsley had six 100-yard receiving games last year, and four more over 80 yards. He has size (6-1 205) and speed, and when he catches the ball he can do something with it afterward. (Only two players had more than his four receptions of 60+ yards in 2021.) Burke is going to have to be at his best, and even then plays are still going to be made. That's the fun about these kinds of matchups. There will be some haymakers, but it may just come down to who throws the final punch.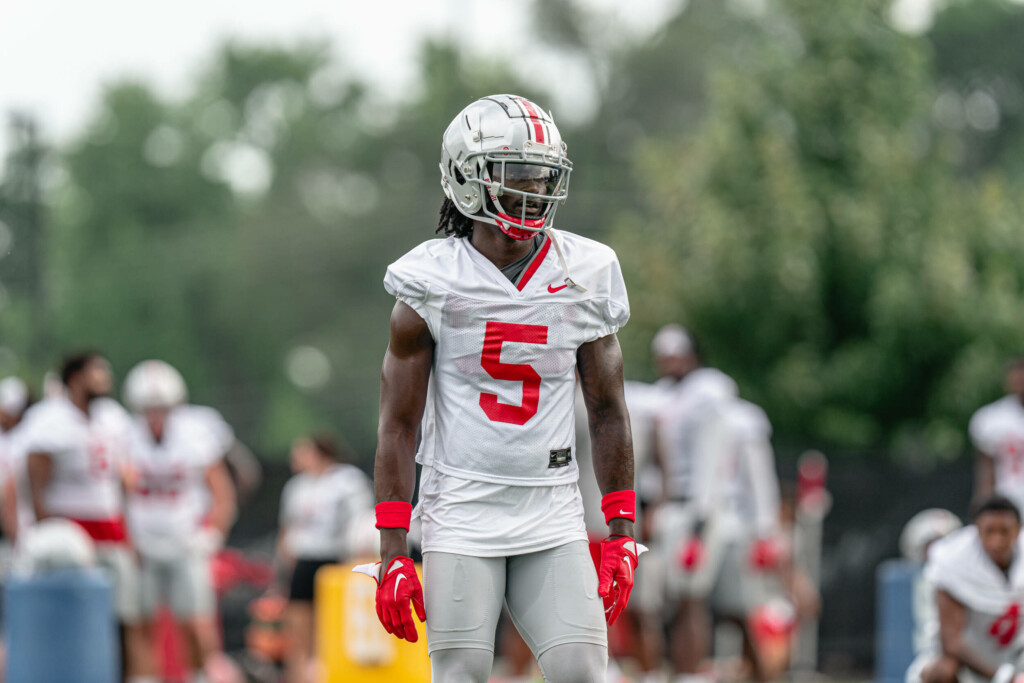 73. Kyle McCord Watching And Preparing
You can tell a lot about how good a starting quarterback is going to be by watching how he is as a backup. And that's not just measuring completion percentages and things like that. It's about being a leader even as a backup. Like dressing for the job you want, rather than the job you have. Sophomore Kyle McCord is taking that approach. He has learned from starter CJ Stroud and prepared like a starter so that if he is called on to start, he won't put himself or his team in a position they can't handle. Ryan Day has had a great line of quarterbacks at Ohio State. This season should provide some opportunities to watch the presumed next guy in line.
72. Young Offensive Linemen Emerging
There was a point early in the season last year when a Buckeye in a 41 jersey and no name plate lined up as an extra tight end and everybody was trying to figure out who it was. It was, of course, true freshman offensive lineman Donovan Jackson, who was used as an extra eligible blocker. That was an early indication that not only had Jackson been performing well in practice, but he could also handle doing something outside of his comfort zone. There's no reason to expect anything like that this year, but let's see which young guys step forward this year. It doesn't have to be a true freshman. It could be redshirt freshman left tackle Zen Michalski who maybe solidifies that depth chart and eases some coaching concerns. Nobody is asking Michalski to do what Luke Wypler did last year as a redshirt freshman and start every game, but if he can establish himself as the future at the position, that would be a significant development.
71. The Unicornicity Of Sonny Styles
Freshman safety Sonny Styles is listed at 6-foot-4 and 220 pounds, which is about the same size that defensive ends Javontae Jean-Baptiste and Sam Hubbard were when they arrived as true freshman at Ohio State. Safeties as big as Styles are an incredible rarity, and it's even rarer still if they're actually any good. Styles skipped his senior year of high school but didn't enroll until this summer, and yet by the end of the second week of camp he was repping with the twos at strong safety. None of this is normal, which is why it's going to be fun to see him on the field this season because there's no telling what is going to happen. Just be ready for anything and you won't be caught off guard.