Led by Jim Knowles' revamped defense, Ohio State overcame a slow offensive start, the loss of All-American wide receiver Jaxon Smith-Njigba, and an experienced, complex Notre Dame defense to win 21-10.
EDITOR'S NOTE: We have gone back and made this premium story free so everyone can have an opportunity to check out one of our most popular features from Ross Fulton. If you like what you see here, now is the time to sign up for BuckeyeHuddle.com, get all of our tremendous X's and O's coverage from our team on analysts along with all the best team and recruiting coverage along with the fastest growing community in all of Buckeye Nation.
Notre Dame opened by often bracketing Smith-Njigba. But with the wide receiver's injury, Marcus Freeman and Al Golden played principally cover 1 man mixed with boundary corner run blitzes on early downs, while switching between six-man "Hot" blitzes (which use a 3 deep zone with two underneath seam defenders watching the quarterback behind the blitz) and man and zone coverages on passing downs.
But Notre Dame did not settle for basic coverage principles. Instead, befitting a veteran, talented defense, Golden mixed variations within each concept. For example, Notre Dame repeatedly ran cover 1 "cross."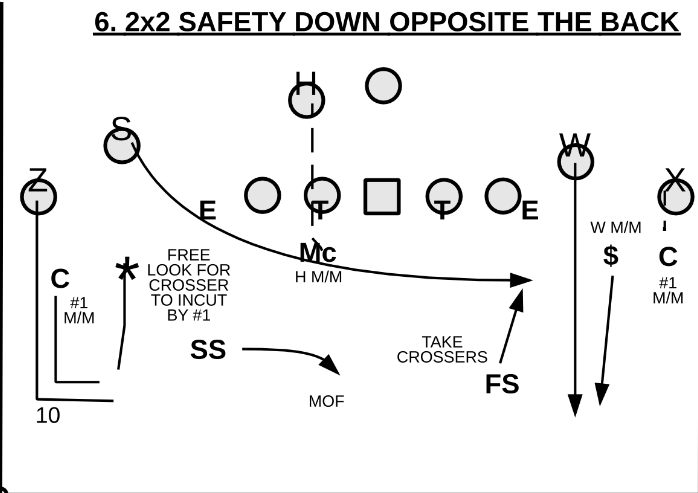 The backside safety would cut any crosser, limiting Ohio State's shallow routes against man coverage.
To counter Notre Dame's game plan, Buckeyes repeatedly called run-pass option plays, including both reliefs (such as bubble screens) and downfield concepts. C.J. Stroud repeatedly pulled from the run play for the throw, such as on this go route.
Ohio State did have some early success against Notre Dame's aggressive posture, most notably when Stroud hit Emeka Egbuka against a Fighting Irish hot pressure for the Buckeyes' first touchdown.
Yet Ohio State had difficulty connecting on potential explosive plays against Notre Dame's myriad of man and zone pressure coverages, with several near-miss end zone throws.

The Buckeye offense was also often inefficient, often because of imprecise execution. Stroud was less accurate than normal early, most notably when he bounced a football on a sprint out left in front of Marvin Harrison Jr. that would have been a chunk gain. The drive instead resulted in a punt.
The timing and route chemistry between Stroud and the Buckeyes' remaining inexperienced wide receives also seemed somewhat off. For instance, Ohio State missed an open touchdown opportunity on a mesh concept against cover one. Unfortunately for the Buckeyes, the receivers were still looking to the sideline at the snap, followed by Stroud expecting Egbuka to settle down behind the dropping linebacker while Egbuka kept running.
Ohio State also allowed sporadic pressure at times when downfield opportunities were otherwise available. For example, below, Stroud had the go route to the right open against man coverage, but he could not get to it with pressure.
The Buckeyes likewise had some early running success with split mid zone and tight zone.
But Ohio State similarly did not generate explosive plays out of the run game.
Yet the Buckeye offense righted the ship midway through the third quarter. As Ryan Day emphasized post-game, this partly resulted from an ongoing reliance on the run game. Ohio State had increased success with wide split zone from the pistol.
This was, set up, in part by the Buckeyes' use of split-zone play action from the formation—such as this naked bootleg—a welcome change from Ohio State's run heavy run tendencies from pistol last year.
This aided the Miyan Williams run above, as the backside linebacker was held by his man coverage responsibility for tight end Cade Stover.
Ohio State also featured a guard-tackle counter (GT counter) against Notre Dame's tite front.
But an increasingly efficient passing game was as important to the Buckeyes' late game improvement. Stroud became more accurate when throwing in rhythm—and the wide receiver timing improved—particularly when targeting Harrison on outside stem routes.
And Stroud made numerous critical throws when scrambling with accurate throws on the run (aided by crucial catches).
It cannot reasonably be expected that Ohio State would perform as well offensively without not only Smith-Njigba but also Julian Fleming—two of the Buckeyes' starting wide receivers who Stroud spent all offseason working with. Although Ohio State will need more explosive production—in particular out of the vertical passing game—the Buckeyes promisingly reached a better rhythm as the game progressed.
By contrast, outside of several explosive pass plays, Knowles' revamped Ohio State defense exceeded most expectations. Notre Dame often used multiple tight end sets featuring the creation of new gaps through tight end movement.
But Knowles did not respond by bringing in bigger personnel. Instead, Knowles stuck with his base three-safety scheme, with Ronnie Hickman, Lathan Ransom (once he replaced Josh Proctor after one series) and nickel Tanner McCalister playing nearly every snap.
Up front, Ohio State mixed a four down front with a three-man odd look that often placed Taron Vincent as the nose guard head up on the center, Mike Hall and J.T. Tuimoloau as 4i techniques on the inside legs of the offensive tackles, and Jack Sawyer as the stand up "Jack."
In the back end, Knowles mixed one-high and three-high safety looks (meaning one deep and three deep safeties pre-snap) The Buckeyes frequently played cover 1, with the man coverage safety following the split action.
To Knowles' benefit, all three Ohio State safeties—particularly once Ransom entered—are fairly interchangeable in man coverage, so the Buckeyes could simply rotate strong or weak depending on Notre Dame's formation strength.
As Knowles discussed post-game, perhaps the most promising sign for Ohio State was how well the Buckeye defense fit the run despite Notre Dame frequently moving gaps.
From there, Knowles countered Notre Dame's continual attempts to move gaps by repeatedly changing gap responsibility up front with slants, stunts, and run blitzes.
For example, below Ohio State slants down from the backside, including with the Will linebacker in the A-gap. Mike Tommy Eichenberg can then fit back off of the tight end's split zone block.
Behind those fronts—as is his wont—Knowles then tasked the Ohio State safeties with aggressively fitting the remaining gaps off the linebackers.
For example, in Knowles' three high looks, all three safeties can potentially quickly fill against the run. Below Ohio State aligns in a 3-high shell. Running cover 4, middle safety Hickman comes down at the snap, effectively becoming the third linebacker.
On passing downs, by contrast, Knowles mixed five and six man zone pressures with cover 4 or brackets to limit Notre Dame's interior receivers.
For instance, Knowles early on called a six-man overload hot blitz with four rushers to one side, freeing Eichenberg (who played superbly throughout) for a sack.
And in four down fronts, the Buckeyes received a stellar performance from Hall in his first start—such as on this sack in front of Ohio State's cover 4 scheme.
As noted, Notre Dame did have some success with overloading one side to create confusion. For instance, below, the Fighting Irish faked a quick toss against the Buckeyes' cover 1 to free a tight end seam route.
But even there, the Buckeyes adjusted, successfully handling a similar four verticals look from a bash play action fake by trading off man coverage responsibilities.
Knowles will be fairly opponent specific in how he approaches opponents, so he may feature other scheme elements in later weeks compared to playing Notre Dame's tight-end heavy, read option scheme. But Knowles demonstrated his penchant to limit personnel groupings, particularly in the back seven.
As noted, after Ransom entered the game, the back seven of corners Cameron Brown and Denzel Burke, safeties Hickman, Ransom, and McCalister, and Eichenberg and Will LB Steele Chambers played throughout, with the exception of Cody Simon rotating with Chambers.  The quick entrance of Ransom suggests that Knowles was eager to play him. Similarly, although Ohio State rotated more liberally up front, after Notre Dame's lone touchdown drive, the Buckeyes likewise used a more limited defensive line rotation—suggesting that Knowles knows who he wants to rely upon as he implements his scheme going forward.