The Ohio State men's basketball team is now one step closer to their regular season debut following a 101-57 win over Chaminade in their lone exhibition game Tuesday night in Columbus.
The Buckeyes were led in points by Wright State transfer Tanner Holden, who scored 25 points in 25 minutes off the bench. Holden hit 10-of-12 shots from the field, including both three-point attempts. He also added six rebounds.
The Buckeyes were without veteran forwards Justice Sueing and Eugene Brown. Brown is currently in concussion protocol and Sueing sat out as a precaution as he continues to progress from a sprained ankle.
The starting five for Ohio State were freshman point guard Bruce Thornton, West Virginia graduate transfer guard Sean McNeil, freshman forward Bryce Sensabaugh, Oklahoma State graduate transfer forward Isaac "Ice" Likekele, and junior center Zed Key.
Thornton led the Buckeyes with 11 assists in 26 minutes of action. McNeil hit 3-of-5 three-pointers on his way to nine points for Ohio State. Sensabaugh — who has drawn comparisons to departed forward EJ Liddell — scored eight points, grabbed eight rebounds, and dished out three assists in 25 minutes.
Key led the starters with 15 points on 7-of-9 shooting. His only misses were from three-point territory.
Freshman guards Roddy Gayle (14 pts) and Bowen Hardman (12 pts) combined to shoot 10-of-13 from the field and 6-of-8 from three-point territory. Hardman was 4-of-6 from deep. Gayle had a team-high +/- of 41.
True freshman center Felix Okpara played 20 minutes, grabbed nine rebounds, blocked three shots, and scored four points.
The Buckeyes shot 41-of-74 from the field (55.4%) and 12-of-23 from three-point territory (52.2%). Ohio State outscored Chaminade 18-7 in fastbreak points and handed out 24 assists on their 41 made field goals.
Ohio State will tip off its regular season Monday, November 7 at 7:00 pm against Robert Morris. The game can be seen via BTN+.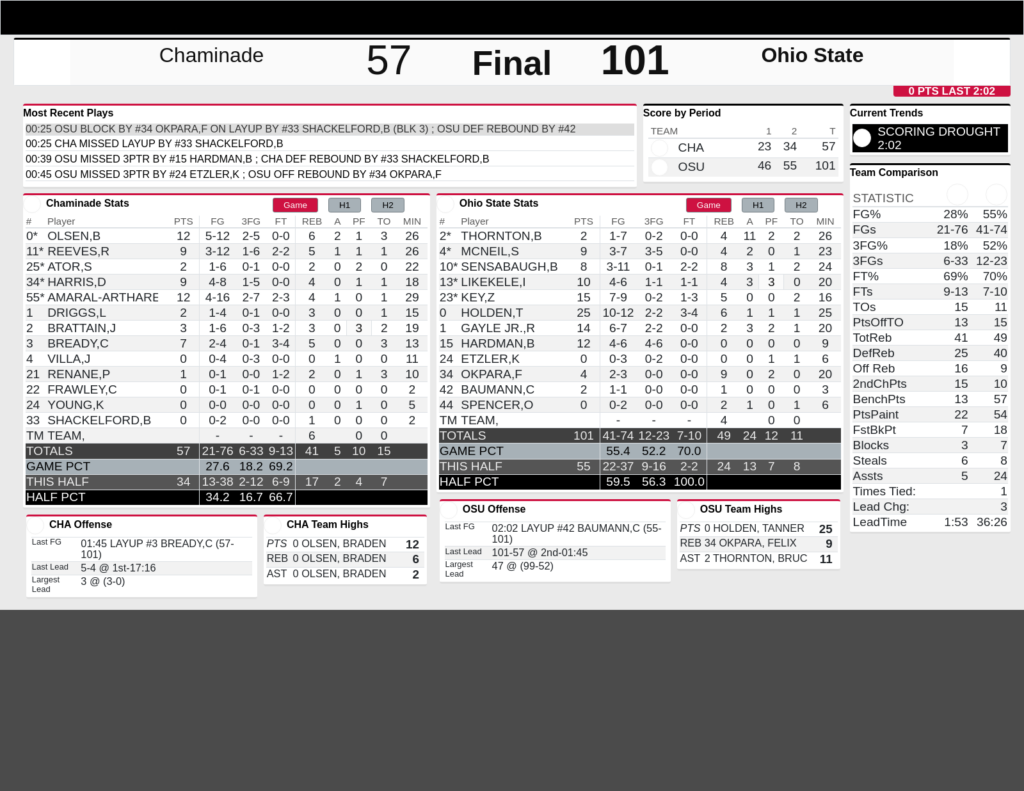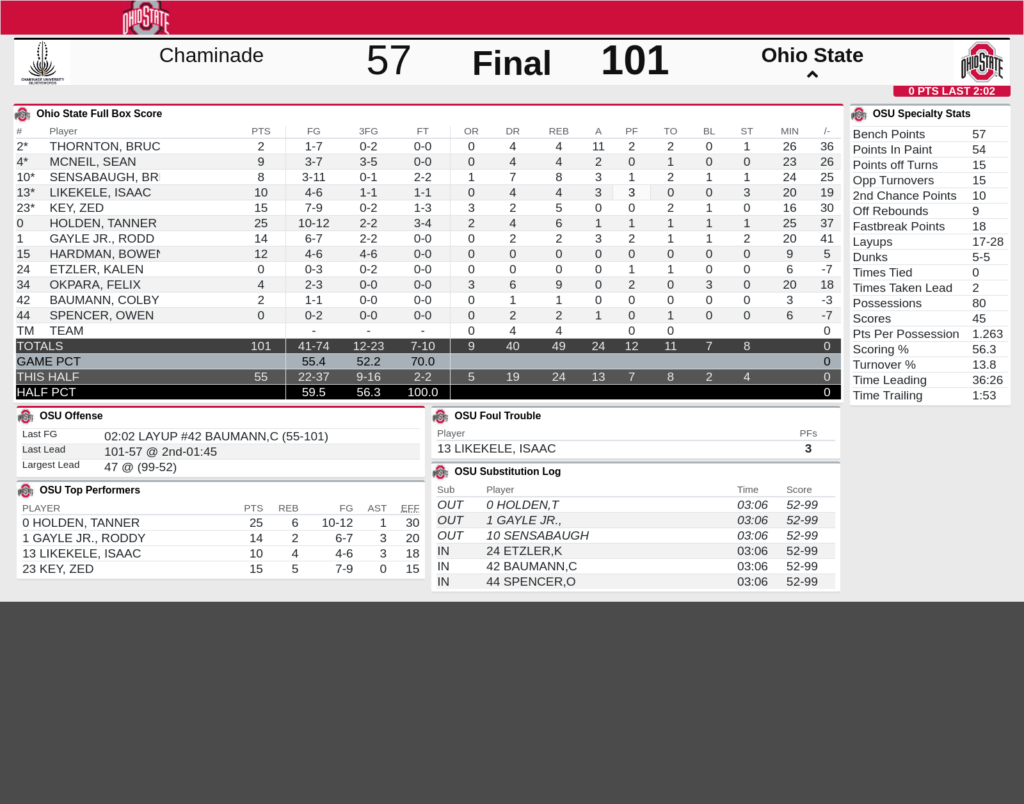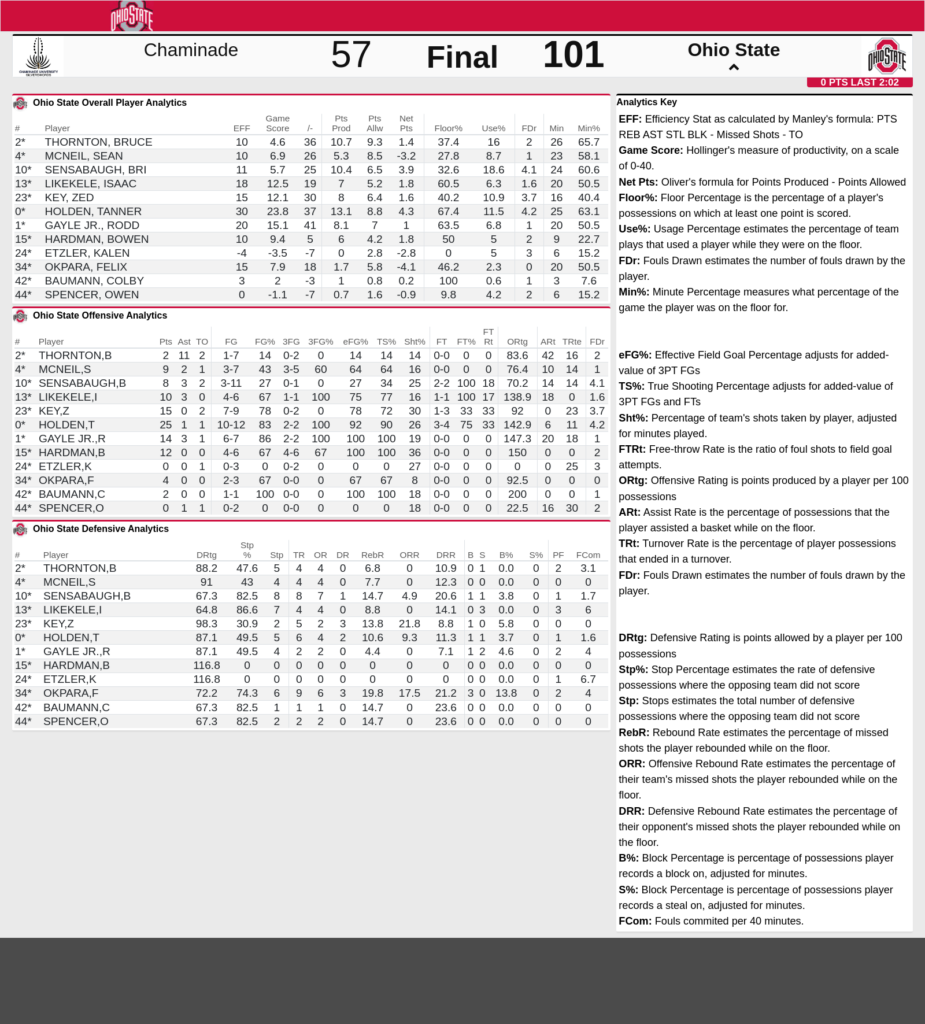 [Tanner Holden photo courtesy of the Ohio State Dept. of Athletics/Twitter.]