COLUMBUS — Ohio State will look to improve to 2-0 on the season Thursday night when they host Charleston Southern (1-0) for a 6:30 pm tipoff on BTN. The Buckeyes opened their season on Monday with a 91-53 win over Robert Morris. Charleston Southern also opened their season this past Monday, recording an 83-52 win over Toccoa Falls.
In Ohio State's opener, the Buckeyes were led by Justice Sueing's 20 points and Zed Key's third career double-double. Freshman forward Brice Sensabaugh scored 17 points in his 17 minutes of play.
Transfer guard Isaac "Ice" Likekele scored nine points, grabbed nine rebounds, and handed out six assists.
---
Notable
Ohio State and Charleston Southern have never met before, but OSU head coach Chris Holtmann is 4-2 against the Buccaneers in his coaching career. Half of those wins have come by five points or less.
Senior forward Justice Sueing returned to action this week after nearly two years off the court due to injury. He was in the starting lineup for the Buckeyes and scored 20 points in 24 minutes, adding three rebounds, three steals, two assists, and a block. Chris Holtmann said after the game that Sueing has been working off the rust in practice, but based on one game, it sure appeared as though Holtmann and Sueing sprung for the undercoating.
In the day and age of the transfer portal, of the 91 points scored in the opener by the Buckeyes, 47 were scored by players who transferred in to Ohio State and 44 were scored by players who signed with OSU out of high school. This will be an interesting number to watch throughout the season as Chris Holtmann has tried to strike the proper balance of transfers vs. recruiting.
Quotable
West Virginia transfer guard Sean McNeil on OSU's five-man freshman class: "Being around college basketball for a while, seeing this freshman class, it's super talented. Unlike anything I've seen before, honestly, in a group of freshmen. And then knowing the class that they have coming in next year, the next couple years of Ohio State Basketball could be really special."
McNeil on what stands out about the Ohio State freshmen: "None of the freshmen play like freshmen or really act like freshmen. Yeah, they're, they're 18, 19 years old, but they act like they've already been playing college basketball maybe a season already, or they play like sophomores or juniors. They have more experience. They don't play so sped up, they seem under control. Sure, they make freshman mistakes, that's gonna happen. They're young, they're still learning, but just the way that they handle themselves on the floor, they don't act like freshmen."
Chris Holtmann on why the Buckeyes are recruiting so well the last two classes: "I think it's probably a combination of things. I think people have looked at our program. We have been nationally relevant in our time here. So they've seen that you can win here. And then I think the fact that we have now had a couple guys drafted and more than a couple guys who are in the NBA is is also a factor. And our staff has done a really good job and a really thorough job in evaluating, recruiting and building relationships. I love the fact that we have a couple of Ohio kids with this group as well. So I think it's a combination of factors, really. And certainly the momentum of last year's class helped. And also the success that some of our guys have had individually. You look at that and you say that's probably a factor as well."
Chris Holtmann on Zed Key's green light to shoot threes: "I think for him, he's got to be able to shoot them when he's open. He's not a guy that's gonna shoot them like EJ [Liddell] did last year. It's going to be one of these, you know, as soon as he's open, he's shooting it. But I think if he's wide open — listen, he gets extra shooting every day with Coach Owens. And he's worked on it. And we've given him the freedom when open, time-and-space threes. It's the reality of contemporary college basketball, if you have a five man who has good touch, and I do think he's shown us over time to be able to make open threes, but they just need to be good ones. It was good to see him make that first one."
The Squad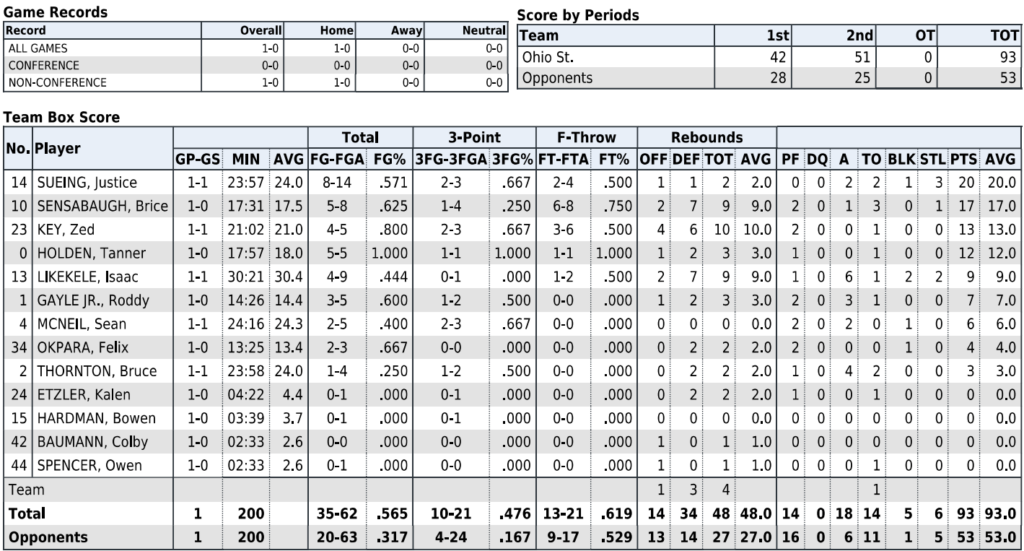 ---
The Opponent
Claudell Harris Jr. led the way for the Bucs in the season opener, as the sophomore dropped a career-high 26 points on 7-16 shooting from the field. Harris Jr. drew nine fouls and went 9-11 from the charity stripe.
Taje' Kelly picked up right where he left off in his breakout freshman campaign, scoring 12 points to add to his nine boards in the win Monday night. Kelly also collected two helpers and a block to add to his impressive box.
CSU found double-digits from four different Bucs Monday night, as Harris Jr. had 26, Cheikh Faye added 14 points, Kelly 12 and Kalib Clinton finished with 11 points.
Sharing the wealth was on full display Monday night, as the Buccaneers recorded 19 assists on 30 made field goals.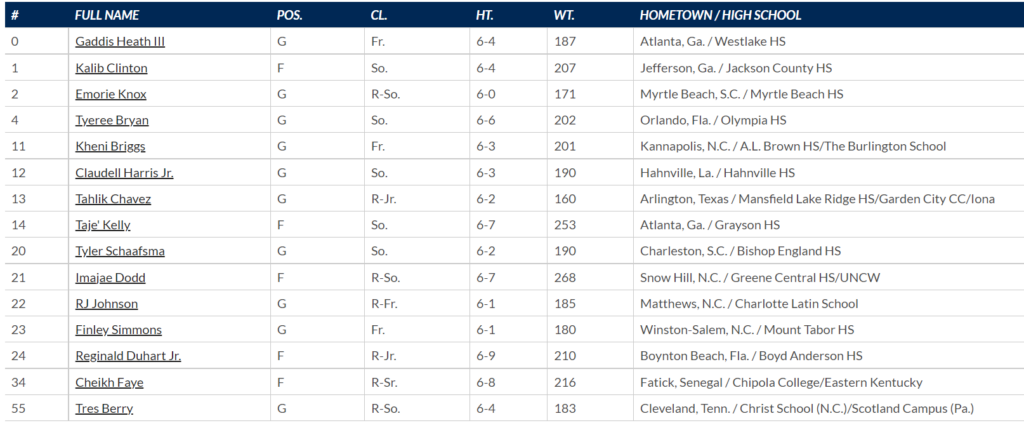 [Isaac Likekele photo courtesy of the Ohio State Dept. of Athletics.]