Ohio State head coach Chris Holtmann knew his team was going to be tested this week in the Maui Invitational, and he was correct because Monday night's opener saw No. 17 San Diego State (4-0) hand the Buckeyes their first loss of the season in an 88-77 final.
Ohio State was led by guard Sean McNeil's game-high 22 points. He connected on 9-of-14 shots from the field and 3-of-7 from three-point territory. Freshman forward Brice Sensabaugh continued his solid scoring, adding 17 points and five rebounds in 26 minutes off the bench.
Freshman point guard Bruce Thornton was the only other Buckeye in double figures, scoring 13 points before fouling out very late in the game. He also added three rebounds, three assists, and two steals.
The 88 points allowed was the most by the Buckeyes since the 2021 Big Ten Tournament Championship Game where Illinois defeated OSU 91-88 in overtime. The last time they gave up at least 88 points in regulation was February 21, 2021 when they lost to Michigan 92-87.
The Buckeyes were able to make some runs in the game, but those runs were always answered by the veteran Aztec squad. San Diego State shot 18-of-30 from the field in the second half, and they needed all of it because Ohio State was beginning to find some success offensively.
McNeil went through a stretch of 11-straight points early in the second half. He scored 16 total in the first nine minutes. But even with all of that scoring, the Aztecs still led 61-52 with 11:18 remaining.
San Diego State's five fifth-year seniors kept the Aztecs grounded and it paid off for them whenever the game got within arm's reach.
Quick Thoughts
Chris Holtmann wanted Sean McNeil to be more aggressive in this game, and he was. He did a bunch of catching and shooting, but he also put the ball on the court and forced San Diego State to guard him. McNeil is no wallflower on offense and the more he makes a defense work, the better for the OSU offense.
This game was an exhibition in age vs. inexperience. The Buckeyes are certainly younger than the Aztecs, but they do have veterans. But those veterans and those freshmen have not been playing together as long as San Diego State's upperclass-laden squad has. But as San Diego State head coach Brian Dutcher said, this tournament is going to make everybody better, and Ohio State is not going to be the same team in a month.
The Buckeyes struggled with San Diego State's physicality but they never flinched. They played hard. They kept swinging. They would cut leads, but they just couldn't stop the Aztecs when they absolutely had to. Defensively, there is still a lot of work to do here, but Chris Holtmann has been saying that since before the season ever got underway.
The Buckeyes got 19 total points from seniors Isaiah Likekele (2), Tanner Holden (4), Justice Sueing (6), and junior Zed Key (7) on 7-of-27 shooting. Their freshman counterparts Bruce Thornton (13), Roddy Gayle (2), Brice Sensabaugh (17), and Felix Okpara (4) combined for 36 points on 12-of-25 shooting from the field.
Chris Holtmann Postgame Comments
The Buckeyes gave up too many second-chance points. They need to rebound better.
How did he see SDSU's experience play out? The ability to play harder and longer is something you can do when you're older. They have strong, physical bodies. They were able to play through contact better than OSU at times.
SDSU has a better feel for each other than OSU right now, which is to be expected. Don't want to make excuses. The coaches and players have to defend better.
The second half was really the issue defensively. The game got up and down, "which is fine" but SDSU got some threes off of some odd plays. "That ultimately might have been the difference because it kept some distance from us."
This will be one of the best teams OSU plays this year. They are a very good defensive team and are better offensively than they were last year. They are very physical.
Bruce Thornton was really good. Great to see Sean McNeil break out and play like he did. "I thought we had some really, really good stretches of play." It was a solid game for Thornton against terrific competition.
The Box Score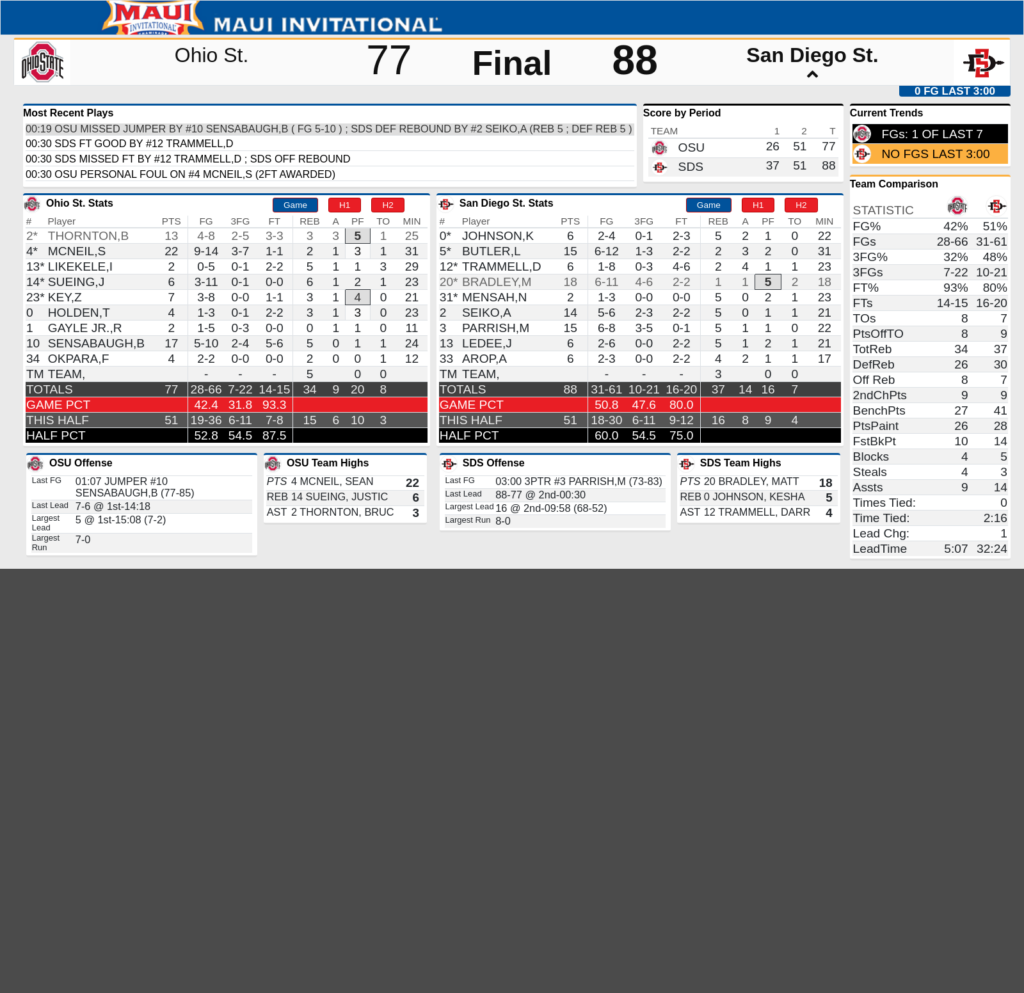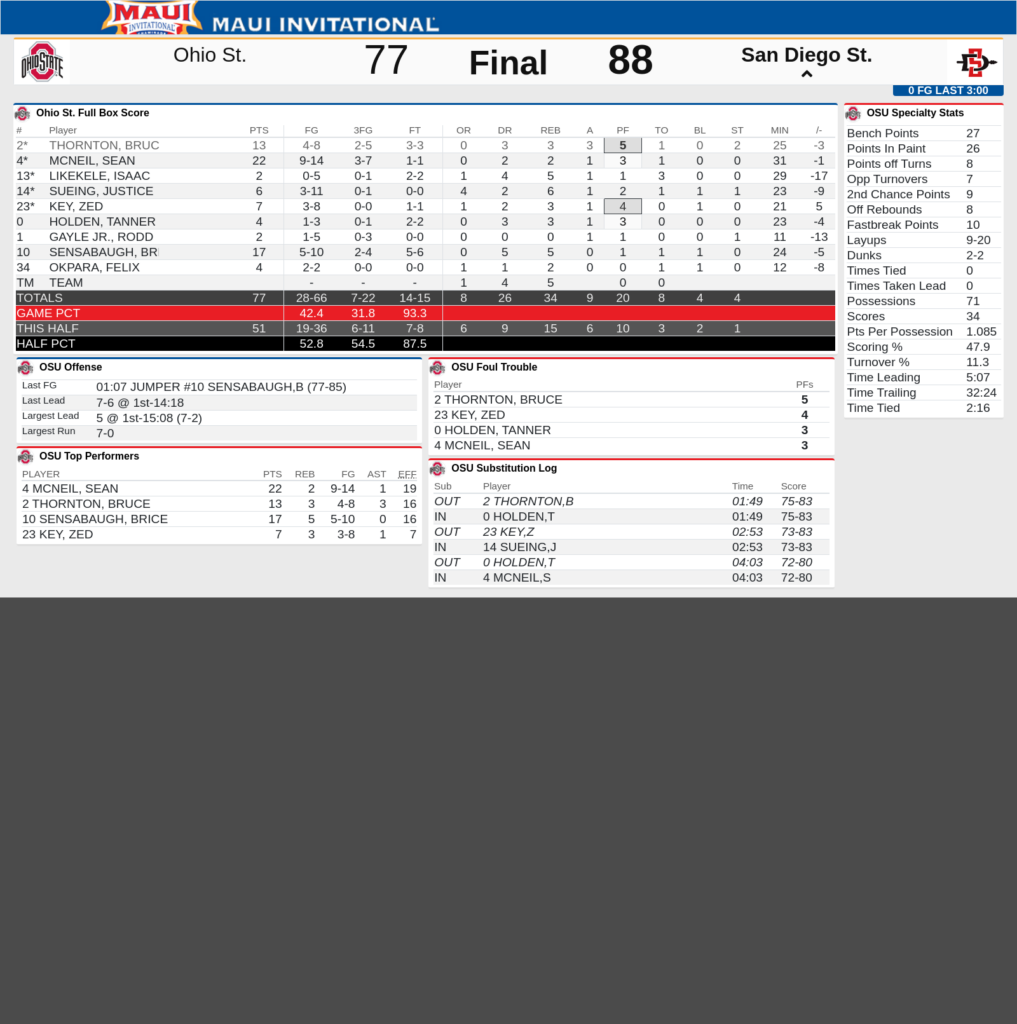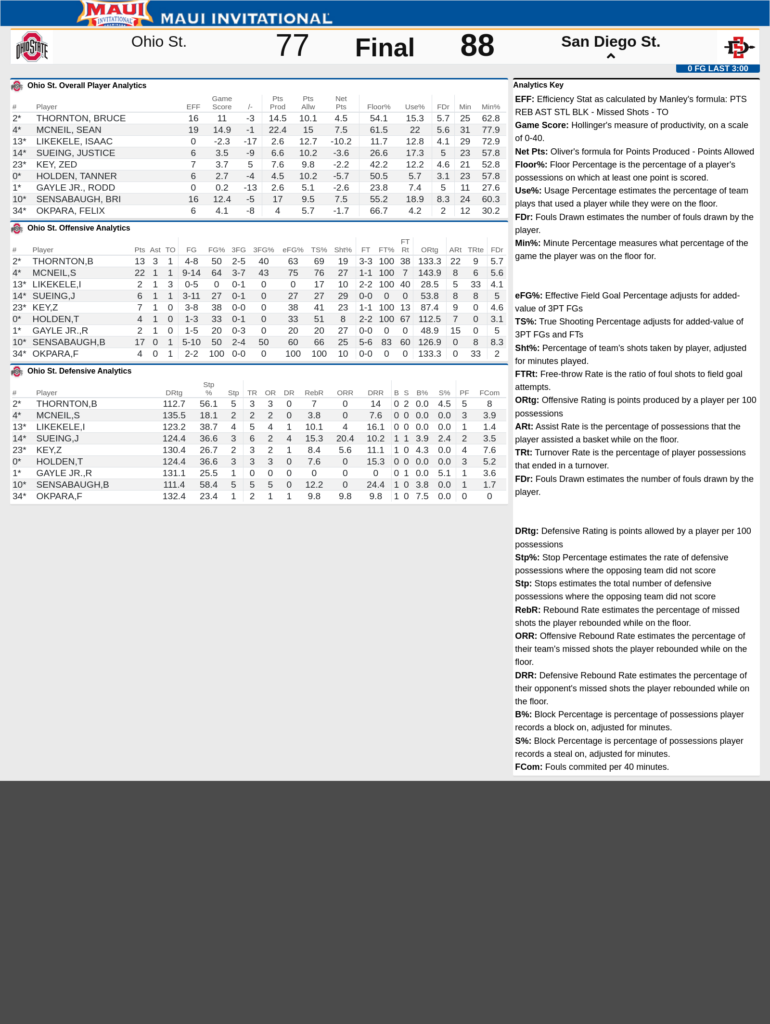 [Ohio State header photo courtesy of OSU dept. of athletics / Twitter.]