The 25th-ranked Buckeyes (5-1) continue their recent stretch of tough opponents away from home by kicking it up another notch Wednesday night at No. 17 Duke (6-2) in the final edition of the ACC/Big Ten Challenge. The series is ending this season due to television contracts and the Big Ten's move away from ESPN and their networks.
Duke last played on Sunday, losing 75-56 to No. 5 Purdue in the Phil Knight Legacy men's tournament championship game. The Blue Devils' other loss this season came to Kansas in Indianapolis. Ohio State, meanwhile, is back stateside following a trip to Maui that saw them go 2-1 in the Maui Invitational. Their last game out was an 80-73 win over then-No. 21 Texas Tech a week ago.
---
Notable
This will be the fifth meeting between Ohio State and Duke in the ACC/Big Ten Challenge. Duke won the first meeting in 2002 which was played in Greensboro, N.C. The teams split the meetings in 2011 and 2012, with each team winning on its home court and then the Buckeyes collected the big win last year in Columbus. Not that this is a coincidence, but each of the last two times the Ohio State football team has lost to Michigan (2011 and 2021), the Ohio State basketball team has followed just days later with a win over Duke in the ACC/Big Ten Challenge.
Senior forward Justice Sueing is coming off a career performance vs. Texas Tech. In front of friends and family in his home state, Sueing scored a career-high 33 points. Sueing scored 23 of his 33 in the second half, scoring 15 consecutive points down the stretch. He was 8-of-8 from the free throw line and also finished with eight rebounds, five assists and two steals.
Freshman point guard Bruce Thornton started to show why he was the Georgia High School Player of the Year last season. He averaged 13.0 ppg and had just three total turnovers while playing nearly 30 minutes per game in OSU's three games in Maui. He also led the team from the floor, shooting over 56 percent and was 7-of-12 from long range.
Freshman Brice Sensabaugh came to Ohio State known as a scorer. He has started the season doing just that. Sensabaugh has been in double figures in each of the first six games of his career and is averaging a team-high 15.8 ppg. Over the last 40 years, just two other Buckeye freshmen have scored 10 or more points in each of their first six collegiate games. Michael Redd reached double-figures in his first 12 games in 1997 and Jimmy Jackson had 10 or more in his first seven games. Not putting anything on Sensabaugh too early but Redd and Jackson both went on to have great careers at OSU and in the NBA.
---
Quotable
"I think Maui was important for our older guys to perform well, and I think Justice [Sueing] is still finding his way a little bit. We've challenged Zed [Key] with consistency. And I think to have Sean [McNeil] kind of play the way he did in that three-game stretch, we really hadn't seen that even as coaches. We knew it was coming. We just hadn't seen it. But I thought he and ice provide some really good things." — Chris Holtmann on what the team got from playing in the Maui Invitational
"We're looking to see how they respond to this environment. And I think it's going to require great poise. I don't think we'll be perfect in our first go-round playing in an environment like this. I just don't think we will. I think this will be good learning for us as we move forward. And like I said, I'm sure they're going to be angry from from the recent loss. And from from losing to us last year. They've got a really competitive group, a really talented group. They're well coached. My wife told me last night it's going to be a white out for the first time in years, which was nice of her to tell me. Right before I went to bed, so, you know, it's gonna be a great environment." — Chris Holtmann on playing at Duke.
"We're in talks right now with a few what will be marquee home-and-home games to kind of replace that ACC/Big Ten Challenge. I apologize. This year, we just weren't able to get it done. Typically, we've been able to with a Villanova or a Duke, or even scheduled Cincinnati when we first got here. I'd like to try to do that every year. I apologize to our fans, we just weren't able to get it done this year for for a variety of reasons. Some of it was what we already had scheduled with Maui and some other things. We're looking potentially at doing two home-and-homes, maybe one on the road and one at home next year. But definitely one, whether we can get that started here or we'll have to return in a year, we'll figure that out." — Chris Holtmann on the ACC/Big Ten Challenge ending and what that means for the future of quality non-conference scheduling for OSU.
---
The Squad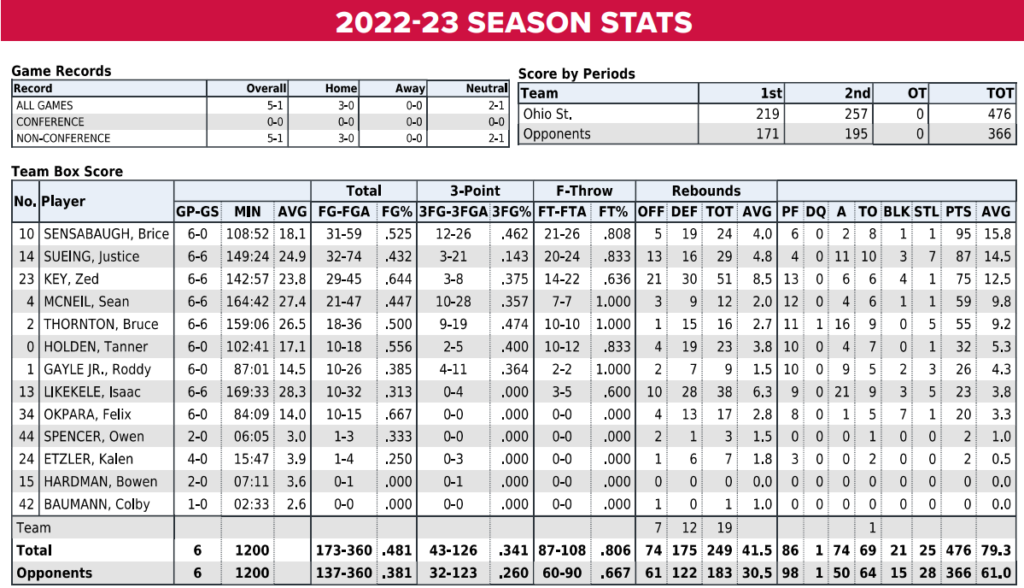 ---
The Opponent
Duke has ushered in the Jon Scheyer era with a priority on defense and rebounding, ranking 19th nationally in scoring defense and 23rd in rebounding (41.9) after out-rebounding seven of its first eight opponents — the eighth best rebound margin in the nation (+11.9). Duke has posted a positive rebounding margin in seven of its first eight games, including a double-digit margin in each of the first six — the longest such stretch in program history.
The ACC Rookie of the Week in each of the season's first three weeks, Kyle Filipowski has scored in double figures in all eight games. His 15.4 points and 9.4 rebounds lead the team. Filipowski is fourth in the ACC in rebounds and has more boards than any Division-I freshman.
In total, Duke has 11 newcomers on the roster — seven freshmen — all recruited and signed by Scheyer which comprise the nation's No. 1 recruiting class, and four graduate transfers. Of the newcomers, graduate transfer Ryan Young is 10th nationally in offensive rebounds (4.1) and is rated by KenPom as No. 4 nationally in offensive rebound pct. (21.2).
Duke practiced for much of the preseason without the services of its top-two ranked freshmen in Dereck Lively II and Dariq Whitehead. Lively, the No. 1 ranked incoming freshman, made his debut against USC Upstate after missing the exhibition and first game with a calf injury sustained in practice. Whitehead, the No. 2 ranked incoming freshman, made his debut in the Delaware win, playing 15 minutes with six points, two rebounds and two steals. Whitehead underwent surgery to repair a fracture in his right foot on Aug. 30.
Freshman guard Tyrese Proctor was originally committed to Duke's 2023 class, but made the decision to reclassify for this season in June 2022. The five-star guard, who hails from Sydney, Australia, is one of 14 known foreign-born Blue Devils, including one of three from Australia (Jack White, who played from 2016-20, and Kyrie Irving, who played in 2011).