The 25th-ranked Buckeyes (5-2) come back home following a long trip to Maui and a road trip to Duke. Ohio State will face off against St. Francis (2-6) for a 12:00 pm tip at Value City Arena today. The game will air on BTN.
The Buckeyes fought, but fell 81-72 at Duke on Wednesday. St. Francis also last played on Wednesday, losing 89-65 at Bucknell. This will be the second meeting all-time between the two schools. Ohio State won the first meeting 110-47 in 2009. Jon Diebler and Evan Turner combined for 33 points in that game, shooting 12-of-14 from the field.
---
Notable
Ohio State missed eight free throws in the season-opener against Robert Morris on Nov. But in their last four games, the Buckeyes have missed just nine of 73 attempts and enter Saturday ninth in the country in free throw percentage at 80 percent.
Ohio State is also in the Top 20 in the country in rebounding margin, pulling down nine more rebounds per game then its opponents. The Buckeyes have been out rebounded just twice and it was by three rebounds each time. Those games (San Diego St. and Duke) are the only two losses on the year. SFU sophomore Brandon Scanlon's grandfather Gary Milliken was a member of Ohio State's 1960 national championship team.
Four Buckeyes are averaging in double-figures and another is real close. Justice Sueing and Brice Sensabaugh have both scored 99 points (14.1 ppg) to lead the way. Zed Key is scoring 13.7 ppg and tops the team at 8.4 rebounds per game. Sean McNeil has been in double figures in three of the last four games and is averaging 10.4 ppg while point guard Bruce Thornton has also scored in double figures in three of the last four and is at 9.4 ppg.
McNeil enters Saturday's game just 27 points shy of 1,000 for his career. He has made 167 career three-pointers and is shooting over 36 percent from long range
---
The Squad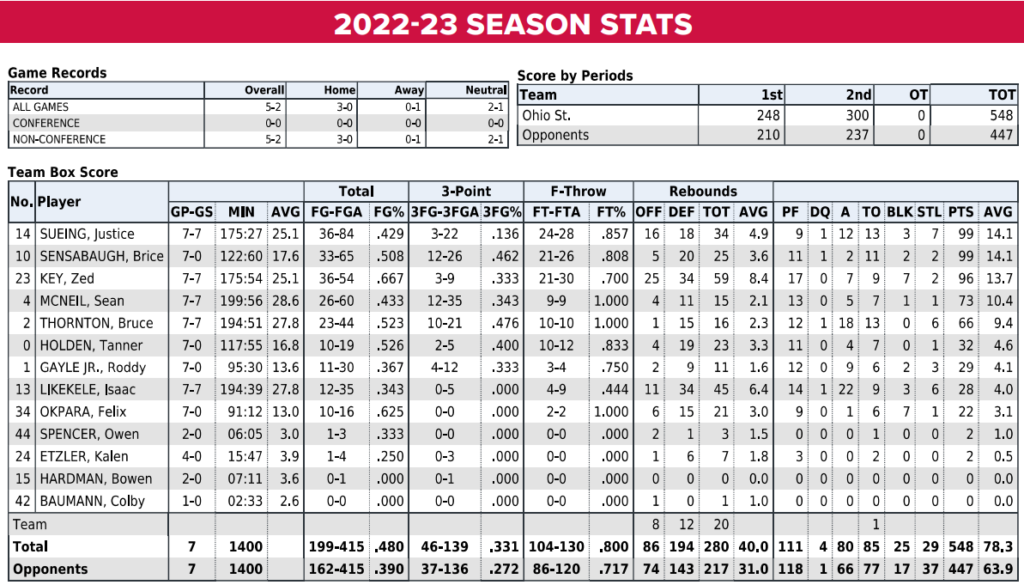 ---
The Opponent
Saint Francis is looking for its second competition win against the Big 10 after defeating Rutgers 73-68 in 2014-15. The Red Flash is also credited with a win against Michigan from the 1994-95 season due to the Wolverines using an illegal player. Michigan had won the game 84-52.
With Ohio State currently ranked No. 25 in the AP Poll, Saint Francis will be playing a ranked opponent for the 62nd time dating back to the 1953-54 season. The Red Flash is 2-59 against a Top-25 team all-time. The squad is looking for its first win against a Top-25 opponent since the Red Flash downed No. 13 St. Bonaventure 92-81 on January 25, 1959. An 82-72 victory against Duquesne, the second ranked team in the country at the time, on January 8, 1955 is also on the squad's resume.
Saint Francis athletics is looking for its second win against a ranked Ohio State team in 2022 after the Red Flash downed the No. 13 Buckeyes 3-1 in Loretto on March 12, 2022 in men's volleyball action.
Saint Francis sophomore Brendan Scanlon is the grandson of Ohio State graduate Gary Milliken, who played seven games for the Buckeyes from 1958-61. Milliken was a member of the 1960 national championship team.
Junior Maxwell Land has started every game he has played and is the only player on the roster to start the last 38 games. He has started all 55 games he has played. Land notched career performances in each of his first three games this season, notching his first career double-double against St. Bonaventure on November 7 and then a career-best 26 points against Hartford on November 12. He posted his second double double against Cornell on Nov. 14 and hauled in a career-best 11 board. The junior added 17 points against Butler on November 17.
Freshman Landon Moore became the first Saint Francis freshman to post double figures in points in his first five collegiate games since Darshan Luckey in 2002-03. Moore has registered double figures in six of his first eight collegiate games, including all six games when he plays more than 24 minutes in a game. Moore has posted a career-high 16 points, two 15-point games, a 14-point performance, a 13-point performance and 10-point game in his first seven games. Moore currently leads the team in assists (27) and ranks third in scoring (13.0 ppg.) and fifth in rebounding (3.0 rpg.).