The No. 25 Buckeyes (6-2) open Big Ten play Thursday night at home against Rutgers (6-2, 1-0). The game is set for a 7:00 pm tip on ESPN2.
Ohio State comes into this game following a 96-59 win over St. Francis on Saturday. The Buckeyes will take an 11-day break following Thursday's game. The Scarlet Knights were last on the court Saturday as well. They defeated No. 10 Indiana 63-48 at home.
---
Notable
The teams have met 13 times previously, with all but one of those meetings coming since Rutgers joined the Big Ten in 2014. Ohio State leads the all-time series 10-4 and is 10-2 in Big Ten Conference games. Rutgers won the lone meeting last year, overcoming an eight-point deficit in the final 3:48, to steal a 66-64 victory in Piscataway. The win snapped a four-game win streak in the series for the Buckeyes. The Buckeyes are 6-0 all-time in Value City Arena against Rutgers.
Something will have to give Thursday night. According to Kenpom, Ohio State is fourth in the country in offensive efficiency and Rutgers is sixth in defensive efficiency.
Ohio State has gotten great contributions off the bench this season, especially from freshman Brice Sensabaugh, who is leading the team in scoring at 14.3 ppg. The Buckeye bench is averaging 32.3 ppg which is in the Top 25 in the country and second in the Big Ten.
The Buckeyes are coming off a win over St. Francis last Saturday that saw six players finish in double figures, led by Sensabaugh's 15 points. Four Buckeye freshmen were in double-figures, which was the first time since 2014 that that happened in a game. Freshman Felix Okpara was one of those in double-figures as he also notched his first double-double with 10 points and 12 rebounds. It was the first double-double off the bench by a Buckeye in nearly six years.
Ohio State has had the same starting five in every game this season. (Freshman point guard Bruce Thornton, graduate transfer guards Sean McNeil and Isaac Likekele, senior forward Justice Sueing, and junior center Zed Key.)
---
Quotable
"They're disruptive, they turn you over, they're great on the glass, on both the offense and defensive glass. They're long, they're physical, really good. They have a terrific big who has now kind of grown into his own as a third-year player. And they've just got great positional size and length. So that allows them to be really good." — Chris Holtmann on what makes Rutgers' defense so effective.
"I think that's one of the challenges in front of us in this particular game is the glass, for sure. Both offensively and defensively, that is definitely one of the challenges. So, I'll be interested to see if we can do that over the course of a number of teams that are going to challenge us on that end, but certainly Rutgers is one of the best offensive rebounding teams we'll play. Duke was as well. But Rutgers is right there." — Chris Holtmann on the need to rebound well on Thursday.
---
The Squad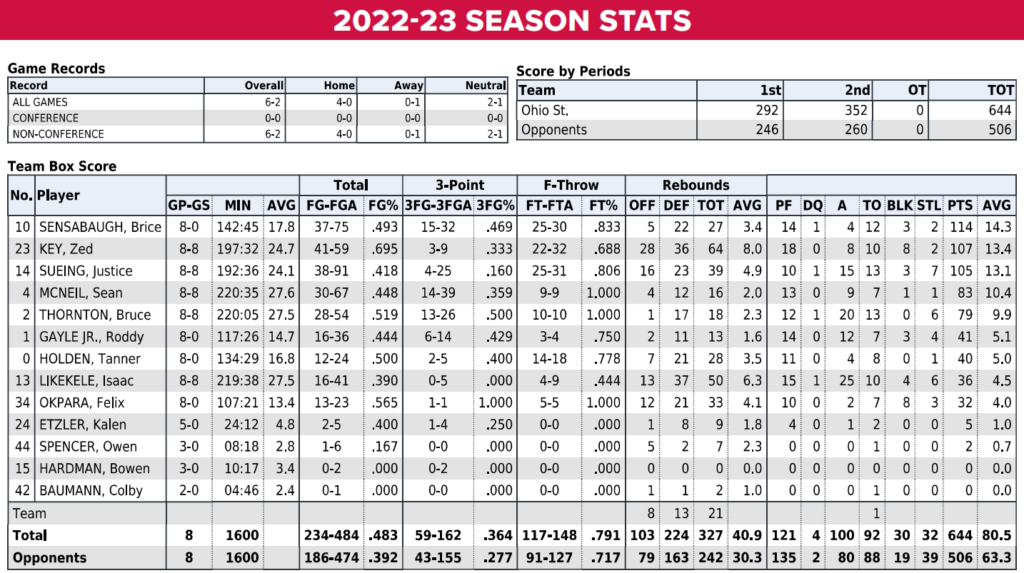 ---
The Opponent
Rutgers picked up a top-10 and Quadrant I win on Saturday at Jersey Mike's Arena, with a dominating defensive performance against a team that entered the day in the top-10 nationally in scoring. The Scarlet Knights held down No. 8/10 Indiana for a 63-48 win. The Scarlet Knights claimed their sixth straight win over the Hoosiers, with Steve Pikiell's third top-10 win at Rutgers coming by a 15-point margin that was the second largest margin of victory over a top-10 team in program history, and most since 1977.
RU held IU, who entered the day averaging 87.1 points per game, to its lowest output in over two years, and held them to just 30.4% shooting from the field. The team was sparked by freshman Derek Simpson, who posted 14 points in the second half, and propelled RU in a 19-0 run that erased the final Indiana lead of the day. The Scarlet Knights out toughed the Hoosiers, claiming a 47-33 rebounding margin that included a 17-9 margin for RU on the offensive glass for a season-high 47 boards overall.
Rutgers boasts the top three-point defense in the NCAA, holding opponents to 20.6 percent shooting from behind the arc. RU is also seventh in scoring defense (54.1 ppg), eighth in field goal percentage defense (35.4%), 12th in steals (10.9 spg) and 15th in turnover margin (+5.6) and 25th in turnovers forced (18.0). RU leads the Big Ten in offensive rebounds (14.75, also seventh in the nation), scoring defense, steals per game, three-point percentage defense, turnover margin, and turnovers forced. Per Ken Pom, RU is fifth in the nation in effective field goal percentage (39.5%), fifth in steal percentage (15.6%), sixth in defensive efficiency (87.8%) and 13th in turnover percentage (25.8%).
Junior center Clifford Omoruyi has continued his success from last season being one of the nation's top dunkers. He led the country in dunks heading into the NCAA Tournament last season and is off to another hot start in 22-23. Omoruyi has 19 dunks in eight games thus far (2.375 per-game). That is good for fifth-best in the country.
Junior guard Cam Spencer has 24 steals. He currently is fourth in the nation at 3.00 steals per game and fifth overall in total steals, just four behind the NCAA's leader. The Davidsonville, Md. Native is posting 13.8 points-per-game and 3.6 assists. Spencer is shooting 95.5 percent from the free throw line, seventh best nationally and the best mark thus far of any Big Ten player.
Clifford Omoruyi is leading RU with 9.8 rebounds per game and has three double-doubles. Omoruyi has scored a team-best 15.4 points-per-game and has been a force to be reckoned with in the paint thus far. Omoruyi is shooting 50.5 percent from the field.
Senior forward Aundre Hyatt has been a huge contributor on the offensive side of the ball averaging 11.3 points. He's averaging 5.0 rebounds in 28.0 minutes thus far. After entering the year with just four career double-figure scoring games, he has scored in double figures six times thus far this season and had a career-high three made three-pointers at Miami.