The Buckeyes will not have their starting center back next year as redshirt sophomore Luke Wypler announced that he is foregoing the rest of his collegiate eligibility and declaring for the 2023 NFL Draft.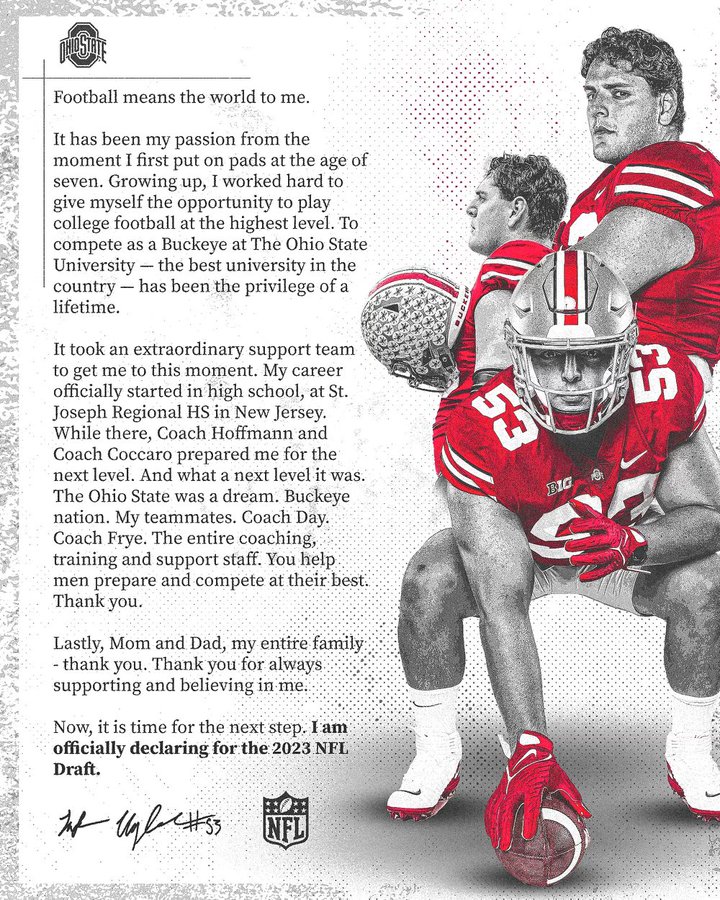 Wypler has been a two-year starter for the Buckeyes, earning Honorable Mention All-Big Ten honors as a redshirt freshman in 2021, and then Third-Team honors this past season.
It's no surprise that he is ready for the next step, considering how hard he worked to get to this one.
Wypler was famously back in the OSU football facilities the day after Ohio State's national championship game loss to Alabama in 2020 with designs on winning the starting job the following season. Which he did.
"The national championship game ends and those kids had a chance to go home," explained then-offensive line coach Greg Studrawa. "I'm home the next day and Luke calls me and he's in the indoor [practice facility]. And he's filming drills and sending them to me. It's not 24 hours since [the game ended]. And he's in the Woody doing drills, filming a drill and saying, 'Coach, take a look at this and critique me, man, because I want to work on this.' And that's what I love. That kid stayed here the entire time. Most guys went home for two weeks, saw their families. This kid's in here doing that every single day. That's how important it is to him."
Wypler had just finished up his freshman season and he didn't want to spend another year on the bench.
"Well, after the national championship game, obviously there was a really sour taste in everyone's mouth," Wypler said the following spring. "I mean, that was a tough loss and a tough pill to swallow," Wypler explained. "And for me, I know what I'm up against this year. And with Josh Meyers leaving for the NFL draft and Wyatt Davis leaving for the NFL Draft, there's two open jobs on the O-line and I wanted to make sure that I put myself in the best position to be in the best shape and be working on my tools and everything that I could personally do to be the best player I can be."
The Buckeyes will also likely be replacing both starting tackles from this season. Paris Johnson has already announced, while the expectation is that Dawand Jones will be following shortly.
The offensive line at Ohio State is going to look much different in 2023, and Wypler's departure makes things all the more challenging for OSU offensive line coach Justin Frye.