COLUMBUS — Ohio State trailed for nearly 35 minutes in their 70-67 loss at home to Minnesota (7-8, 1-4) Thursday night. It was the Buckeyes' (10-6, 2-3) third loss in a row, and the Gophers' first win in Big Ten play.
Minnesota forward Dawson Garcia scored a game-high 28 points on 9-of-15 shooting in 38 minutes of play. Freshman forward Brice Sensabaugh led the Buckeyes with 18 points, but did it on 6-of-18 shooting.
Ohio State shot just 24-of-64 (37.5%) from the field. They had just five assists on their 24 field goals. Both teams turned the ball over nine times, but the Buckeyes were outscored 13-2 off of turnovers.
Ohio State started out with a 2-0 lead thanks to a layup from Justice Sueing, but that was their only lead of the first half as Minnesota quickly established their brand of deliberate basketball.
Buckeye head coach Chris Holtmann pleaded with his squad throughout the first half to maintain defensive intensity through entire possessions, but it often fell on deaf ears. The Gophers held a 19-10 lead after the first eight minutes of the game, with nine of those points coming from behind the three-point line.
The Buckeyes kept chipping, but Minnesota had answers throughout the first 20 minutes of the game. When Brice Sensabaugh hit a three to make it 26-21 Minnesota, Garcia responded with a three of his own 22 seconds later.
A Sean McNeil three-pointer with 1:41 left in the half cut Minnesota's lead to 35-32. Then after an empty Gopher possession, McNeil was fouled shooting a three and ultimately tied the game at 35-35 with three free throws. Minnesota guard Ta'lon Cooper hit a jumper with 39 seconds left to give the Gophers a 37-35 halftime lead.
Buckeye center Zed Key scored six points on three shots in the first half and grabbed six rebounds in his early return to action following a shoulder injury. Minnesota shot 15-of-27 (55.6%) in the first half.
The two teams opened the second half trading threes with Garcia dropping in the first, followed by Bruce Thornton with the second. Thornton then drained another three nearly three minutes later to cut the lead to 46-44 Minnesota with 16:17 to play.
Ohio State finally grabbed a lead when Sensabaugh was fouled putting up his own miss and created a three-point play that gave OSU a 51-50 lead with 13:06 remaining. Minnesota then immediately responded to this insolence with a 10-0 run featuring a pair of layups and a pair of threes.
Trailing 64-53 with 5:15 to play, the Buckeyes finally went on a run. Sensabaugh began things with a three-point play, followed by baskets from Sueing and McNeil to make it 64-60. The Gophers led 67-62 with under a minute to play when Sensabaugh hit a three and then tied the game on OSU's next possession by hitting a pair of free throws to make it 67-67 with eight seconds remaining.
On Minnesota's ensuing possession, Ta'lon Cooper got by Sueing on the baseline and went up for a layup and had his shot blocked cleanly by Bruce Thornton. Thornton was whistled for a foul, however, with just over one second remaining. Ta'lon missed his first free throw, but made his second. OSU's inbounds pass was a baseball throw that went untouched to the other end of the court and effectively ended the game.
The Buckeyes are back on the court at Rutgers on Sunday for a 2:15 pm tip on BTN.
Huddle Notes
This was obviously the Buckeyes' worst game of the year. The fact that they came back to tie the game late and had a call go against them is a frustrating piece of the pie, but it doesn't take away from the fact that Ohio State was a two-touchdown favorite in a game against a team that had yet to win a Big Ten contest. Head coach Chris Holtmann made a point this week to remind folks that Minnesota was finally fully healthy and they were better than they'd showed to this point. While reporters got the message, it's not clear if his team did.
Even in their previous losses this season, the Buckeyes have played an entertaining brand of basketball. There were still some redeeming qualities to the games. This one, however, was played in Minnesota's style, and nobody has ever been aesthetically blown away by any kind of Minnesota basketball.
This was another instance of the Buckeyes not collapsing in a loss, which isn't nothing. But it's still six losses, and it could be more if not for a desperation three-pointer at the buzzer against Rutgers not too long ago. This team has fight, as it showed once again, but things would have gone better for them if they hadn't waited until the final five minutes to prove their grit.
That all being said, these are the kinds of games that young teams have. Or at least teams that are flawed and also rely heavily upon young players. Freshman point guard Bruce Thornton didn't have an assist until the final minute, and freshman forward Brice Sensabaugh missed twice as many shots as he took. They are two of the best freshmen in the Big Ten, but they're still freshmen.
That being said, the Buckeyes could've gotten more from their veterans. Sean McNeil forced shots throughout the game. Zed Key turned the ball over at inopportune times as he shakes off the rust. Justice Sueing gave up the drive at the end of the game that led to the game-winning free throw. Isaac Likekele and Tanner Holden combined for three points and three rebounds in 28 total minutes played. The freshmen shouldn't have to carry as much of the load as they do.
---
The Box Score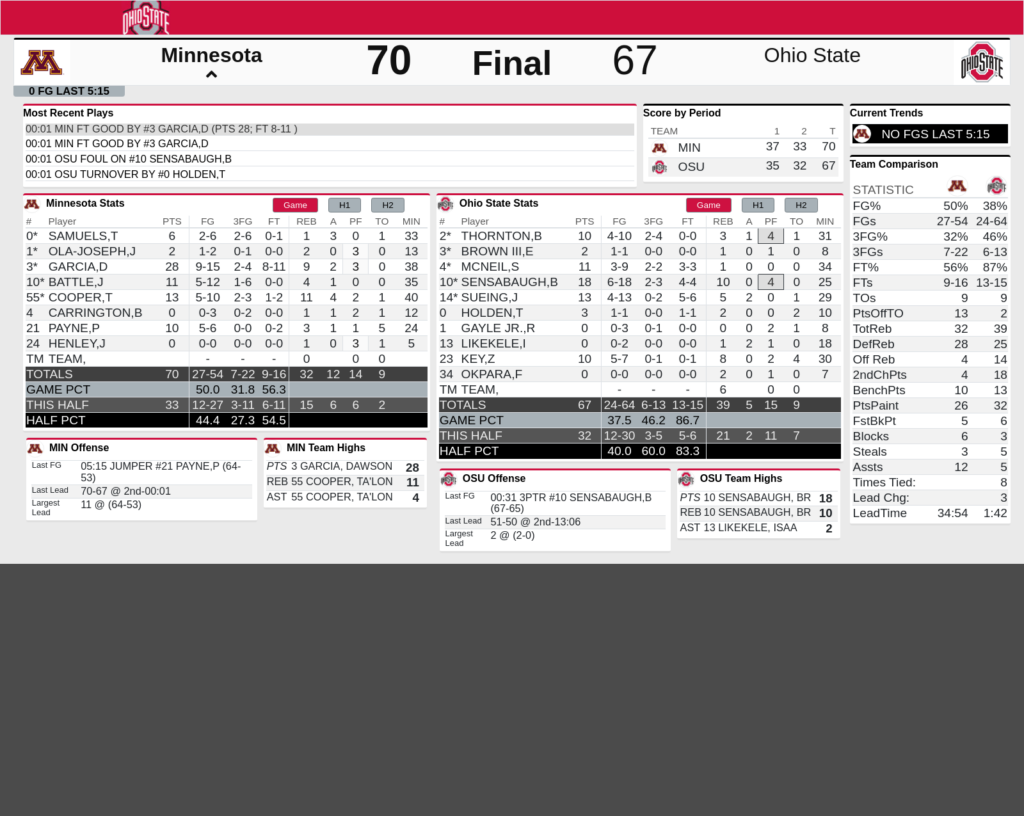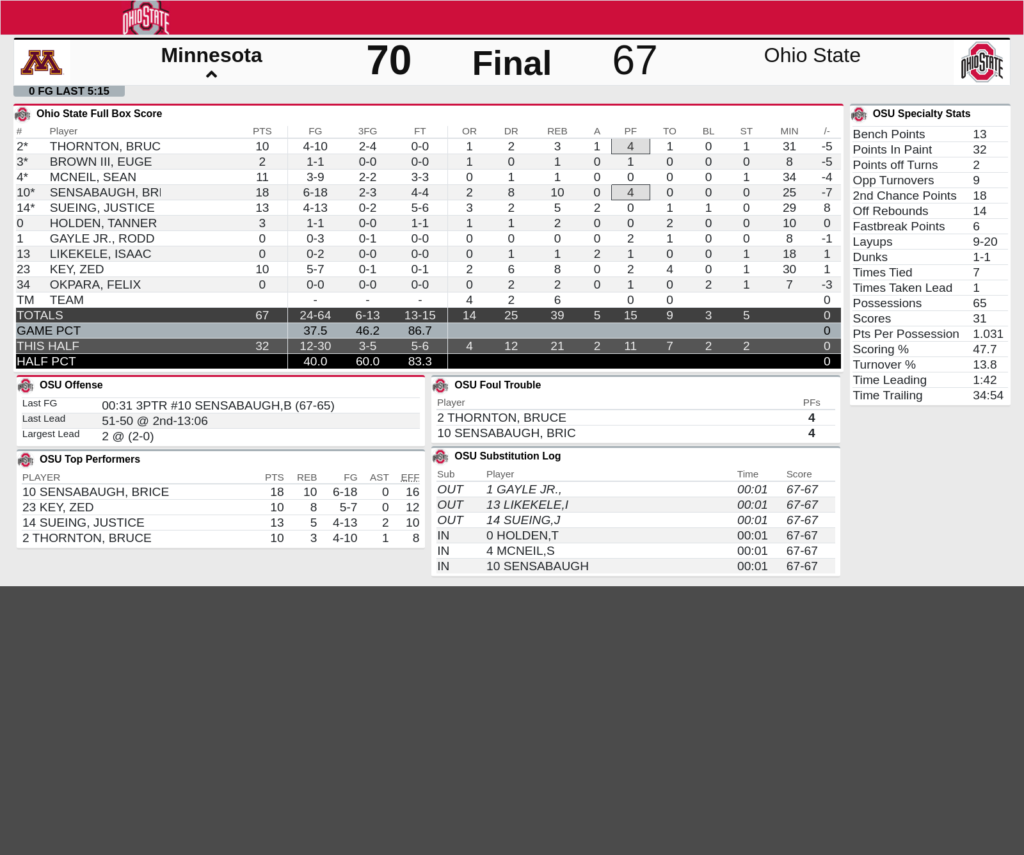 [Ohio State header photo courtesy of the Ohio State Dept. of Athletics.]