COLUMBUS — The Buckeyes (10-5, 2-2) have lost two in a row, and will be looking to end that skid Thursday night at home against Minnesota (6-8, 0-4). The Gophers are in last place in the Big Ten standings. They are the only B1G team yet to win a conference game.
Ohio State was last on the court on Sunday at Maryland where they lost 80-73. A few days prior to that, the Buckeyes lost at home to No. 1 Purdue 71-69. The Gophers lasts played Saturday, losing to Nebraska at home 81-79 in overtime. Tonight's game tips off at 6:30 pm and will air on FS1.
---
Notable
Starting center Zed Key is still dealing with a shoulder injury. Chris Holtmann had no update on Monday on when Key would be returning.
The Buckeyes and Golden Gophers are meeting for the 156th time with the Buckeyes officially leading the all-time series 90-60. The Buckeyes swept the season series last year, winning 75-64 in Minneapolis and 70-45 in Columbus. Ohio State has won the last three meetings with the Golden Gophers.
The Buckeyes are No. 14 in the NET rankings and have the most efficient offense in the country according to Kenpom.
The Buckeye offense is led by freshman Brice Sensabaugh who is averaging 16.7 points per game. In fact, the freshmen group is averaging almost 46 percent of the OSU scoring and 42 percent of the minutes played this season. Both averages are in the Top 10 in the country.
Ohio State leads the Big Ten in three-point shooting percentage (38.4) and is second in overall field goal percentage at 48.9 percent. Despite being out-rebounded by 14 at Maryland on Sunday, the Buckeyes are second in the Big Ten in rebounding margin at +6.5 per game.
Brice Sensabaugh, who is a three-time Big Ten Freshman of the Week has been the team's leading scorer in seven of the last eight games. He is averaging 19.4 ppg over the last seven games since joining the starting lineup and his 16.7 ppg is third-best among freshmen nationally this season.
---
The Squad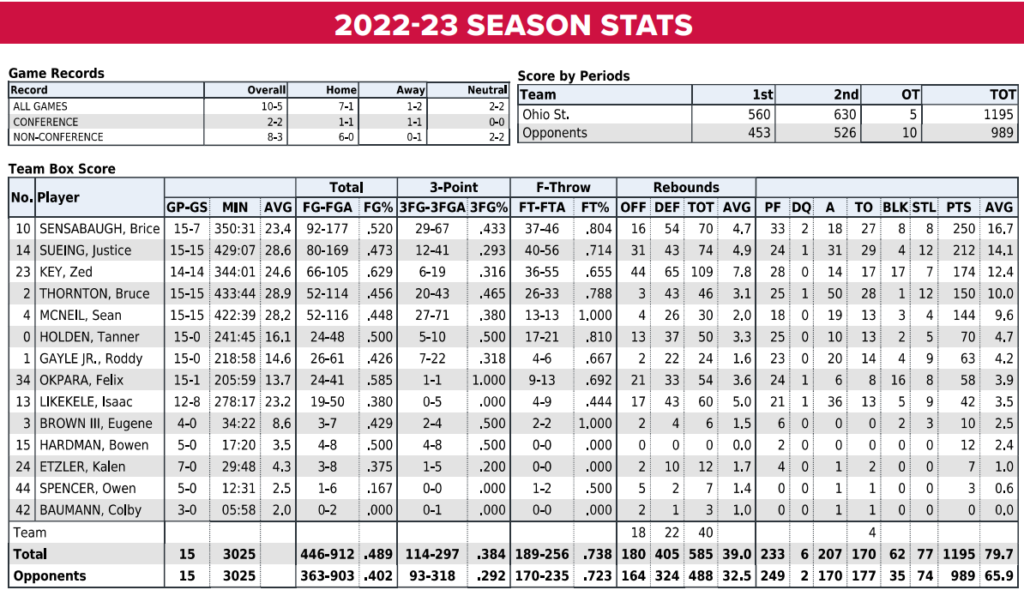 ---
The Opponent
Minnesota opened the year 4-1 but has since lost seven of its last nine, including all four of its Big Ten games. The Golden Gophers have recently returned to full strength health-wise and only fell at Wisconsin 63-60 last week followed by an overtime loss to Nebraska last Sunday.
The Gophers are coming off an 81-79 overtime loss to Nebraska last Saturday at Williams Arena. Dawson Garcia had 19 points and 15 rebounds. Jamison Battle scored 20, while Ta'Lon Cooper and Joshua Ola-Joseph added 12. Minnesota had 10 three-pointers in the game, the second time this season to reach that mark and first against a conference opponent. The 79 points for the Gophers were also a season high. Minnesota also scored 39 in the first half, another season high.
Dawson Garcia registered his first double double of his Gopher career Saturday and fifth collegiately. It was Minnesota's first 15-point, 15-rebound game from a Gopher since Daniel Oturu, March 4, 2020 at Indiana. In the past two games, Garcia has scored 33 points and 24 rebounds against conference opponents. Garcia's 15 rebounds marked a career-high and was also Minnesota's third double double of the season, second in points/rebounds. The first was Pharrel Payne's vs. California Baptist with 15 pts, 13 rebs.
Minnesota has three freshmen that average nearly 20 minutes played this season in Braeden Carrington (23.0), Pharrel Payne (21.1) and Joshua Ola-Joseph (19.1). In fact, Minnesota has four freshmen who average over 18 minutes with Jaden Henley (18.5). No Big Ten team has more than two freshman playing 20+ minutes per game and Minnesota is the only team that has four freshmen average over 18. Purdue (Smith/Loyer), Ohio State (Sensabaugh/Thornton) and Illinois (Clark/Epps) also have two freshmen over 20 minutes. In fact, within the Big Ten, only six schools have a single freshman that averages over 20 minutes played this season.
Ta'Lon Cooper has picked up where he left off last year in assists. The Roebuck, S.C., product ranks third in the Big Ten in assists and second in assists per games through 14 contests this season. Cooper's 90 assists and 6.4 apg ranks 16th and sixth nationally. He also ranks eighth in the league in assist/turnover ratio at 2.25. His 497 career assists ranks 24th among active leaders nationally, while his 4.56 apg ranks 34th. Cooper also ranks first in the Big Ten in minutes played, averaging 35.3 per game.