This is the first of a series looking at how the Buckeyes will be replacing their departed starters. The nickel back position previously handled by Tanner McCalister will lead us off.
---
Say what you want about the Ohio State defense down the stretch this season, but for 75% of the year, it was almost what everyone had hoped for. Throughout his career as a defensive coordinator, Jim Knowles' defenses get better year after year, which is good news for next year, but it requires new starters to step up and play better than those they are replacing.
One of the starters being replaced for 2023 is graduate senior nickel back Tanner McCalister. McCalister came with Knowles from Oklahoma State and played a sizable part in getting the rest of the defense up to speed on the new system. He started 12 of the Buckeyes' 13 games and played pretty well throughout the year, leading the Buckeyes with three interceptions on the season.
McCalister's ability to cover against spread teams and then also help out on the ground against the run made him a versatile piece of the defensive puzzle. Replacing him will require somebody who can do the same. The Buckeyes will be looking for somebody who can play against all offenses, and at times play bigger than his size.
But there will also be some situational substitution patterns that will be different than what the Buckeyes run in their base defense. All of it will need to marry well, which it should in Year Two of Jim Knowles' defense.
The Candidates
The first place to look would be Cameron Martinez, who was McCalister's backup this year as a redshirt sophomore. Martinez finished with 15 tackles, and saw meaningful minutes throughout the year. A high school quarterback, Martinez is still rounding into form in the secondary, but he's now had two full years under his belt in the two-deep. He has three career starts over the past two seasons and will likely factor in somewhere.
The Buckeyes haven't been overly active in the transfer portal, but they did go out and land Syracuse safety Ja'Had Carter. Carter has been a three-year starter for the Orange. This past season he posted 36 tackles and three interceptions. Carter has good size at 6-foot-2 and 198 pounds, and he's played all over in the secondary for Syracuse. Most of his snaps last year, however, came in the slot, which is where the Ohio State nickel is positioned.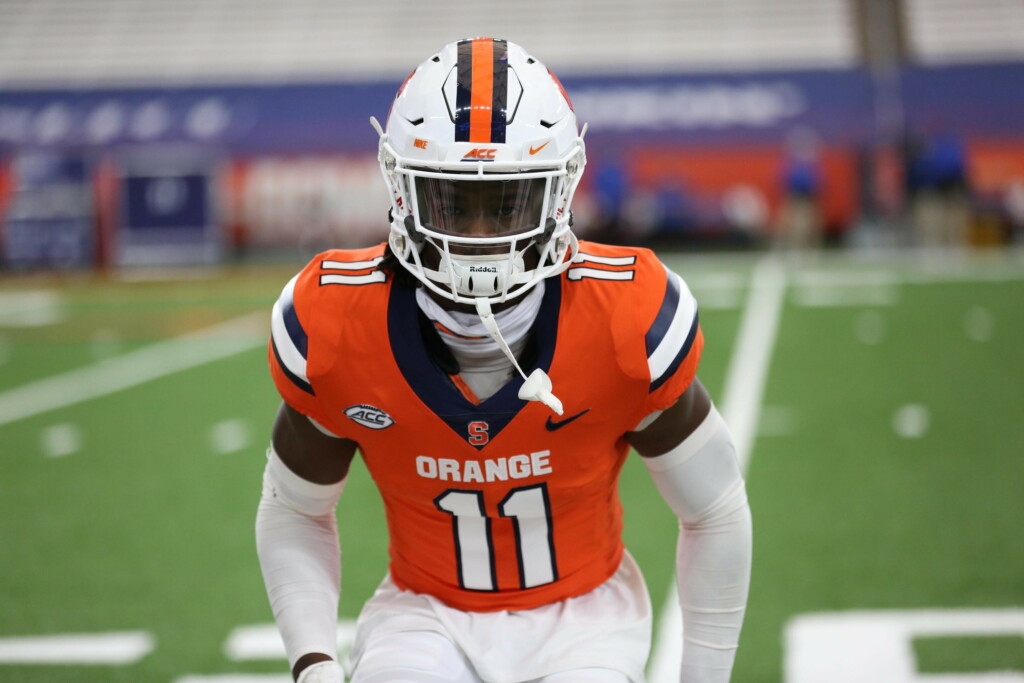 Carter is a bigger option than Martinez, but the position needs be able to cover the speedier slot receivers that defenses face from week to week. That requirement may also see a cornerback or two get a look. Could second-year corners Ryan Turner or Jyaire Brown see some time at nickel in the spring?
When Martinez missed a game back in early October, it was freshman safety Kye Stokes who stepped in as the No. 2 nickel and played his most snaps of the season. Knowles lauded him for his performance afterward as well. The staff loves Stokes' range as a deep safety, but if both the free and strong safety positions are spoken for, could Stokes be a contender at nickel?
Looking at the true freshmen entering the picture this year, the Buckeyes signed five defensive backs. Two of those five are cornerbacks Jermaine Mathews and Calvin Simpson-Hunt, who should both stay outside and battle for a spot in the two-deep. Of the three safeties, Cedrick Hawkins is the most likely to end up in the slot, unless you want to look at the larger side of the position requirements and throw 6-foot-1, 210-pound Jayden Bonsu into the picture.
As Ohio State showed against Georgia's 12-personnel offense, they will go bigger at this spot when required. Being the nickel, it can be swapped out for a third linebacker or a bigger safety. Against Georgia, they went with freshman safety Sonny Styles. That was perhaps a glimpse at what the Buckeyes will be next year against bigger offenses. You can also throw Kourt Williams into this mix as well.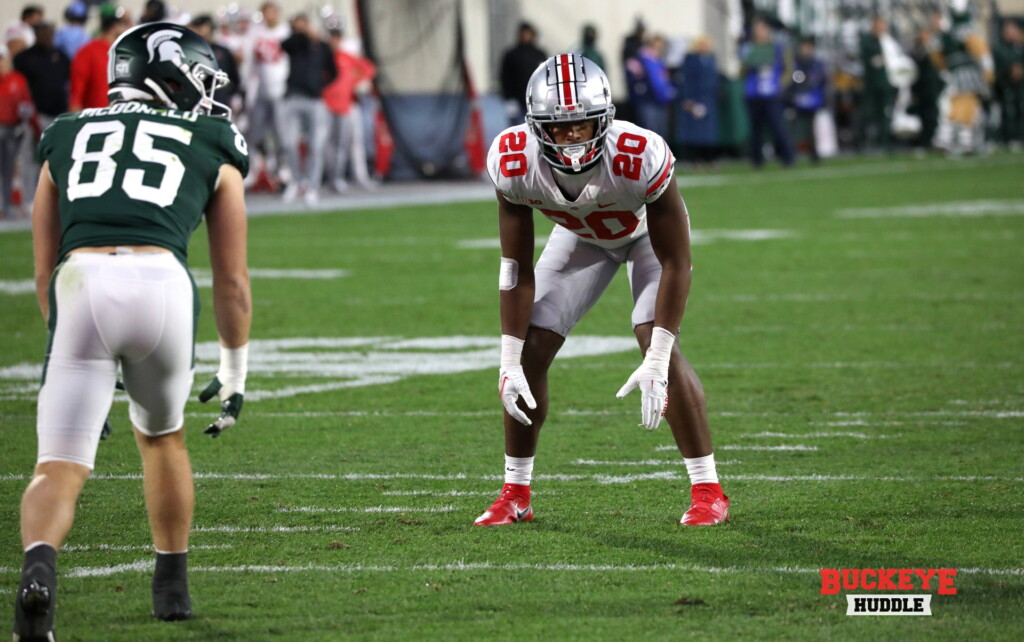 Spring Outlook
The eventual winner of this job will almost certainly be taking part in spring ball for the Buckeyes in two months. Ja'Had Carter is currently assimilating into the Ohio State culture. Workouts will take over, and by the time practice gets here, he'll be hitting the ground running.
Cameron Martinez is well aware of his ups and downs this past season, but the best way to correct your mistakes is by knowing what they are. There is an open job in this defense, and it's one that asks a lot of whoever plays it. Martinez likely sees himself as the next man up, but also knows the job won't just be given away. Somebody is going to have to take it, and that process starts in the spring.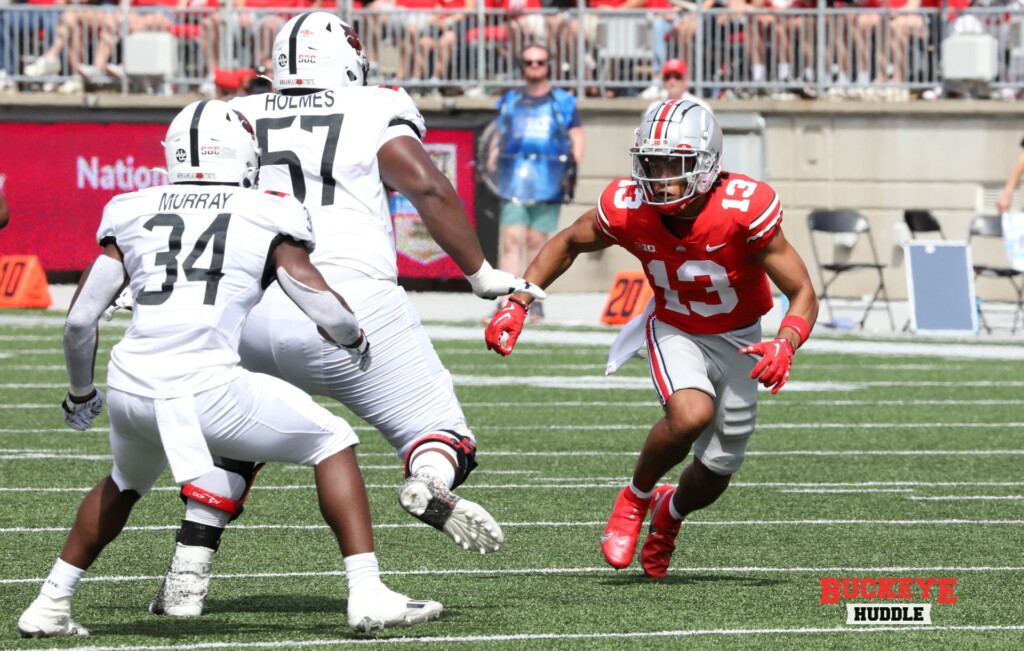 Being the spring, the coaching staff is going to try a number of other players at this position as well. They'll want to see how everybody reacts to it. Could this be an opportunity to get somebody on the field who is behind a sure starter like Lathan Ransom? It's a position that requires versatility, but it's also a position that can be subbed in and out for particular strengths.
Don't expect Ransom to be involved here as he's already done that in the past and it was not his favorite experience as a Buckeye.
Best Bet
The most likely scenario next year has Cameron Martinez and Ja'Had Carter competing for the starting spot at nickel, but both of them seeing time in the defense regardless. Martinez repped some at cornerback this past season, and has also played other safety spots in his time at OSU. Carter, meanwhile, has played all three safety spots, sometimes lining up as a de facto linebacker.

Depending on how things shake out with the rest of the secondary, there is a scenario where both Martinez and Carter are on the field together. Keep in mind, however, that when Ohio State goes to the portal for somebody, they end up starting. It may not happen right away, like with Trey Sermon, or it may, like with everybody else. But they didn't add Ja'Had Carter just for him to play in the fourth quarter of blowouts, and he definitely didn't sign up for that either.