This is the second in a series looking at how the Buckeyes will be replacing their departed starters. The left tackle spot handled exceedingly well by Paris Johnson this past season is up next.
---
Paris Johnson came to Ohio State to be an All-American left tackle, and he got there this year as a junior. In his only year starting at left tackle for the Buckeyes, he earned consensus All-America honors, and now projects as a first-round NFL draft pick after just three seasons at Ohio State.
Johnson was a 5-star prospect at Cincinnati Princeton High School and the No. 1 offensive line recruit in the 2020 class. As a true freshman he was one of Ohio State's top reserves and saw action in five games during the Buckeyes' COVID-shortened year. As a sophomore, Johnson started at right guard for the Buckeyes and earned Second-Team All-Big Ten honors.
With Johnson now off to the NFL, there is no sure-fire "next man up" like there was a year ago when Johnson was waiting in the wings. This is going to be an important offseason for Ohio State as they search for three new starters on the offensive line.
The Candidates
As things stand now, left tackle is probably a two-man race between Donovan Jackson and Zen Michalski. Both were second-year guys in 2022, but Jackson was a First-Team All-Big Ten selection at left guard for OSU, and Michalski was Paris Johnson's backup at left tackle.
One of the reasons the Buckeyes had Jackson on the left side this past season was in case they needed to kick him outside to play left tackle at any point. They wanted him to already be accustomed to the footwork and handwork. Jackson was the second left tackle in OSU's spring game last April, but it was Michalski who was the No. 2 left tackle in the seven blowouts where he saw action this past season.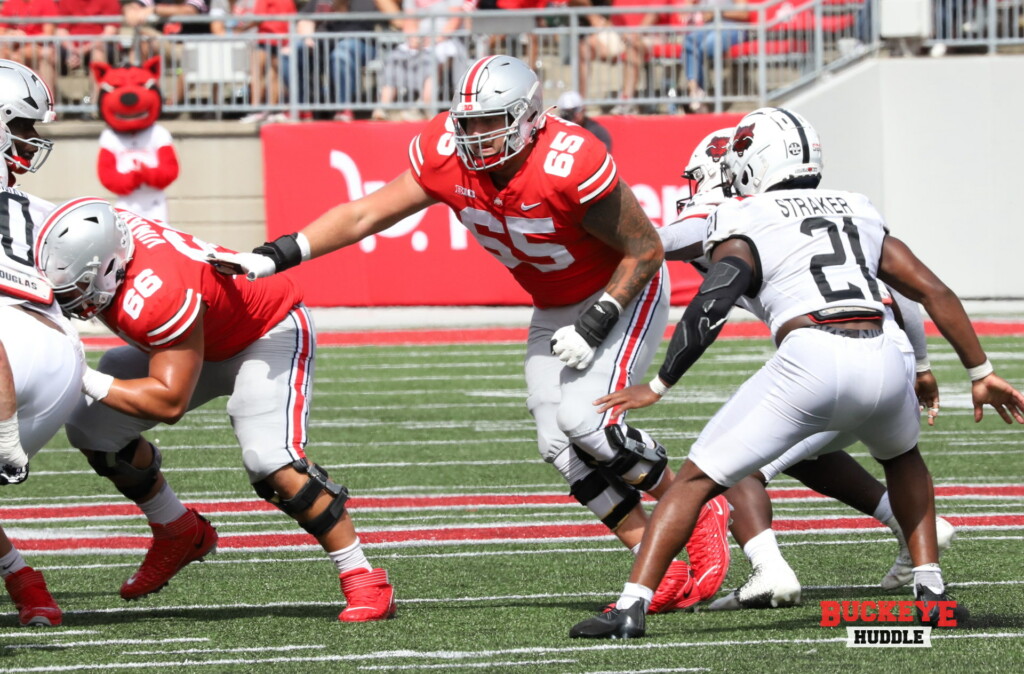 Aside from Michalski and Jackson, the Buckeyes also have redshirt freshman George Fitzpatrick as a possibility. He was in early for spring last year but is still wearing his black stripe, so there's clearly still some room to grow. Classmate Tegra Tshabola will likely stay at guard — especially if Donovan Jackson moves to tackle. A recent bone cancer diagnosis for redshirt freshman Avery Henry has put his playing on hold for the moment. He has begun treatment and all thoughts and prayers are with him as he takes care of first things first.
Redshirt freshman Carson Hinzman is also a possibility, but he didn't see the field last year. There is also the thought that Josh Fryar is expected to take over at right tackle, but if he is the surest thing as a tackle, should he maybe instead be at left tackle? The Buckeyes have also signed a pair of freshmen tackles in Luke Montgomery and Miles Walker, but Ohio State hasn't started a true freshman at left tackle on opening day since Orlando Pace in 1994, so it's probably not best to expect it to happen again for the first time in 30 years.
There will be the post-spring transfer portal search as well. If the Buckeyes come out of spring ball without a starting left tackle, they may become an attractive option for an established starter in some other program.
Spring Outlook
Just about anybody with a helmet may be given a look at left tackle in the spring, but offensive line coach Justin Frye can't waste too much time trying to find candidates because those candidates need to be getting as much run with the ones and twos as possible.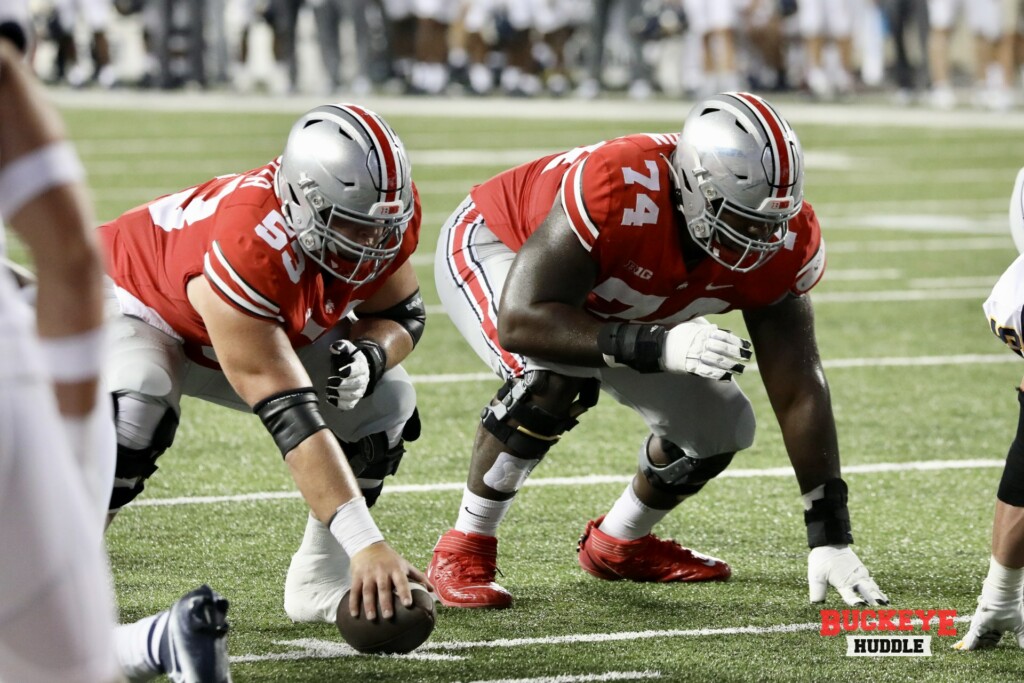 It will be interesting to see who opens with the ones and follow through over 15 practices to see if that's the same person who closes with the ones. If Zen Michalski plays well enough to keep Donovan Jackson at left guard, that would be the best outcome. But even if Jackson doesn't move to tackle in the spring, that may just be about getting everybody else as many reps as possible to see if they can hold the job.
Maybe the biggest surprise of the spring would be if somebody definitively wins the job. Given the level of defensive ends they'll be going against, the film that gets put out should provide plenty of answers one way or the other.
Best Bet
The betting favorites to win the left tackle job are probably Zen Michalski and Donovan Jackson, but neither would be even money at this point. There are still too many questions surrounding the position, how Justin Frye sees things, what moving Jackson would mean to the rest of the line, and who else might be out there looking to enter the portal when it opens back up in May.

Given his experience, length, and athleticism, Donovan Jackson gets the nod for now, but we're still seven weeks out from the start of spring ball, so this is most definitely a projection.
If it is Jackson, don't worry about his 6-foot-4 height because he's got long arms and good feet. The Buckeyes have started a 6-foot-4 left tackle before when Jamarco Jones manned the position for two years and he was perfectly fine.
---
Previously
Replacing Tanner McCalister: Buckeyes In Search Of Shinier Nickel