Ohio State trailed by as many as 31 points in an 82-55 blowout loss at No. 3 Purdue (24-4, 13-4) on Sunday. It was the eighth loss in a row for the Buckeyes and their 13th in 14 games. Ohio State has now dropped to 11-16 on the season and 3-13 in Big Ten play.
The Buckeyes were without starting center Zed Key, which is not great news when facing Purdue's 7-foot-4 All-American center Zach Edey. Key missed the game with his ongoing shoulder injury, and the Boilers took advantage. Edey was unstoppable, scoring a game-high 26 points in just 25 minutes. He also added a game-high 11 rebounds and a team-high three blocks.
Ohio State head coach Chris Holtmann started freshman center Felix Okpara in place of Key, but he picked up two fouls in his first two minutes of action. Eugene Brown was also utilized at center, giving Edey a 10-inch advantage against the Buckeye swingman. Even former walk-on Owen Spencer got involved, picking up four fouls in six minutes.
And yet, despite the fouls and the lack of a post presence, the Buckeyes only trailed 26-20 with just over six minutes left in the first half. From there, however, Purdue guard David Jenkins was fouled by Roddy Gayle while shooting a three-pointer. He made all three of his free throws. That was then followed by an Edey hook shot to make it 31-20 with 5:33 remaining in the first half.
Sensabaugh dropped in a wing three around a screen to cut the lead to seven points, but Edey scored with another hook shot. Edey then capped the scoring with a put-back dunk at the halftime buzzer to give Purdue a 38-29 lead at intermission.
The Boilers opened the second half with a quick five points before Bruce Thornton hit a pull-up jumper to stop the run. But it was only temporary. Following a Roddy Gayle three to make it 53-38 with 12:22 left in the game, Purdue went on a 6-0 run to secure their first lead of 20 or more points in the game.
The lead then grew to as much as 31 points as the Buckeyes simply had no answers on offense or defense.
Purdue shot 50% from the field (27-of-54) on the afternoon, including 7-of-16 (43.8%) from three-point territory. They outrebounded the Buckeyes 44-21 and outscored them 40-20 in the paint.
Ohio State next plays Thursday at home against Penn State for a 6:30 pm tip-off on FS1.
The Box Score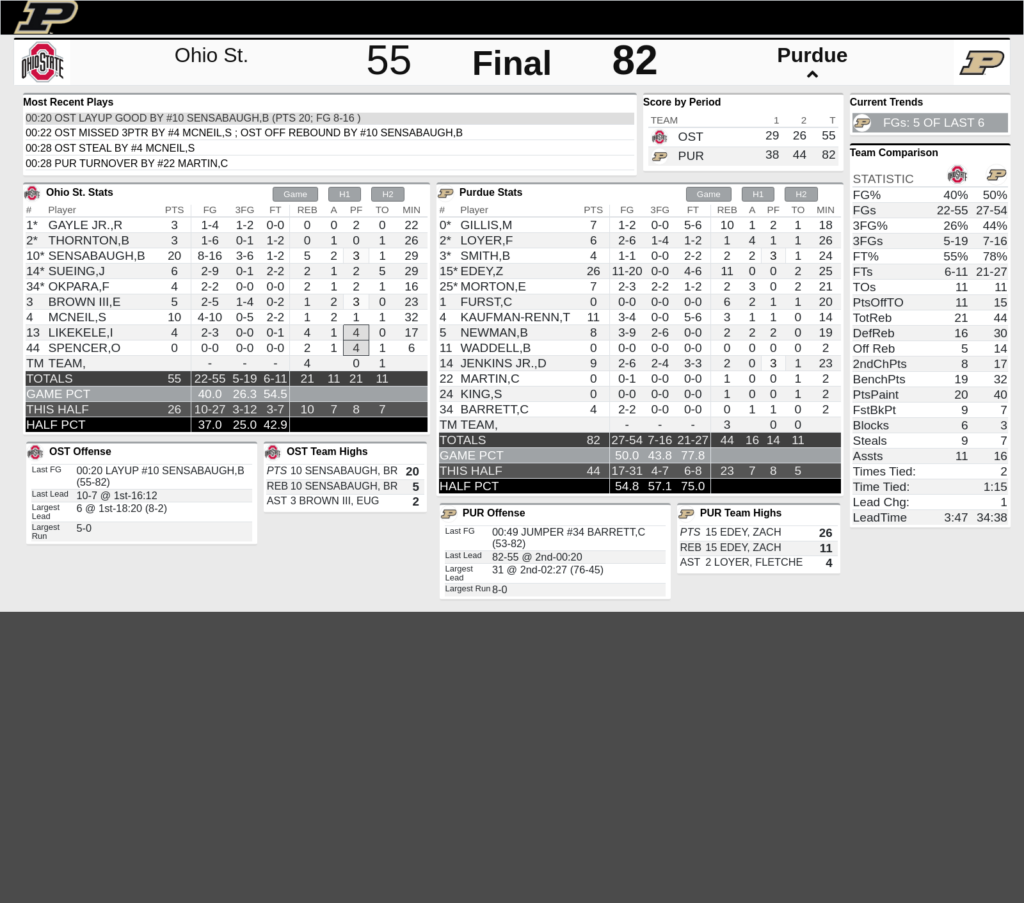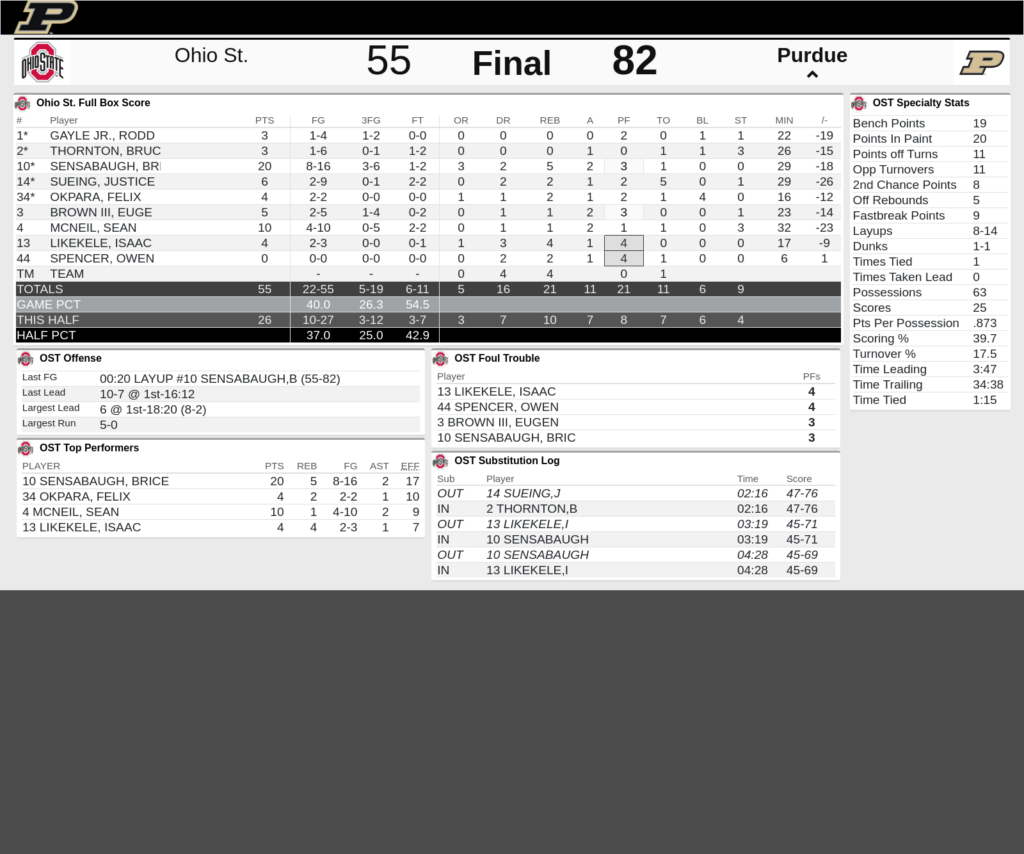 [Bruce Thornton header photo courtesy of the Ohio State Dept. of Athletics.]