COLUMBUS — Freshman center Felix Okpara scored 12 points, grabbed a game-high 12 rebounds, and blocked three shots in helping Ohio State (13-17, 5-14) to a 73-62 win over Maryland (20-10, 11-8) Wednesday night at Value City Arena.
Okpara was one of six Buckeye scorers in double figures. On Senior Night, OSU seniors Justice Sueing (game-high 16 points), Isaac Likekele (11 points), and Sean McNeil (10 points) all started and combined for 37 points on 10-of-14 shooting. Freshman forward Brice Sensabaugh scored 12 points and freshman point guard Bruce Thornton added 10 points and three assists.
Trailing 4-2 early, the Buckeyes went on a 12-0 run via three-pointers from Justice Sueing and Sean McNeil, a layup from Felix Okpara, and a pair of layups by Isaac Likekele. The Terps eventually stopped the bleeding with a jumper by Julian Reese and a three from Jahmir Young to make it 14-9 OSU with 14:25 left in the first half.
Leading 20-15 with 8:00 minutes remaining, Ohio State built the lead back up to 10 with five quick points from Likekele. Maryland responded with a 6-0 run, capped by a three-pointer from Donta Scott. A jumper by Brice Sensabaugh and a three from Bruce Thornton built the lead back to 30-21 with 3:43 remaining in the first half.
A little over a minute later, Scott made it 32-26 with a layup. That was answered by another three from McNeil. The Buckeyes then went the final 2:07 of the half without scoring as Maryland cut the intermission score to 35-29. Both teams shot over 50% from the field in the first half.
With a 37-31 lead just over a minute into the first half, the Buckeyes went on a 9-2 run to build a 13-point lead with under 16 minutes to play. That run featured a flagrant foul on Hakim Hart on a breakaway that led to a pair of free throws by Sensabaugh, and then on the ensuing possession Sensabaugh hit a baseline jumper to make it a 13-point game.
The Buckeyes maintained a good distance for the next nine minutes or so. Maryland got it down to 58-50 with 6:33 to play, and then nearly forced a turnover on a full-court press, but it turned into a break for the Buckeyes and an alley-oop from Sensabaugh to Okpara to make it a 10-point game again.
From there, Ohio State opened up as much as a 15-point lead before finally settling in for the 73-62 final score.
The Buckeyes out-rebounded Maryland 32-24 and hit all 20 of their free throws.
Up next for Ohio State is the regular-season finale at Michigan State on Saturday. The game is set for a 12:00 pm tip on ESPN.
The Box Score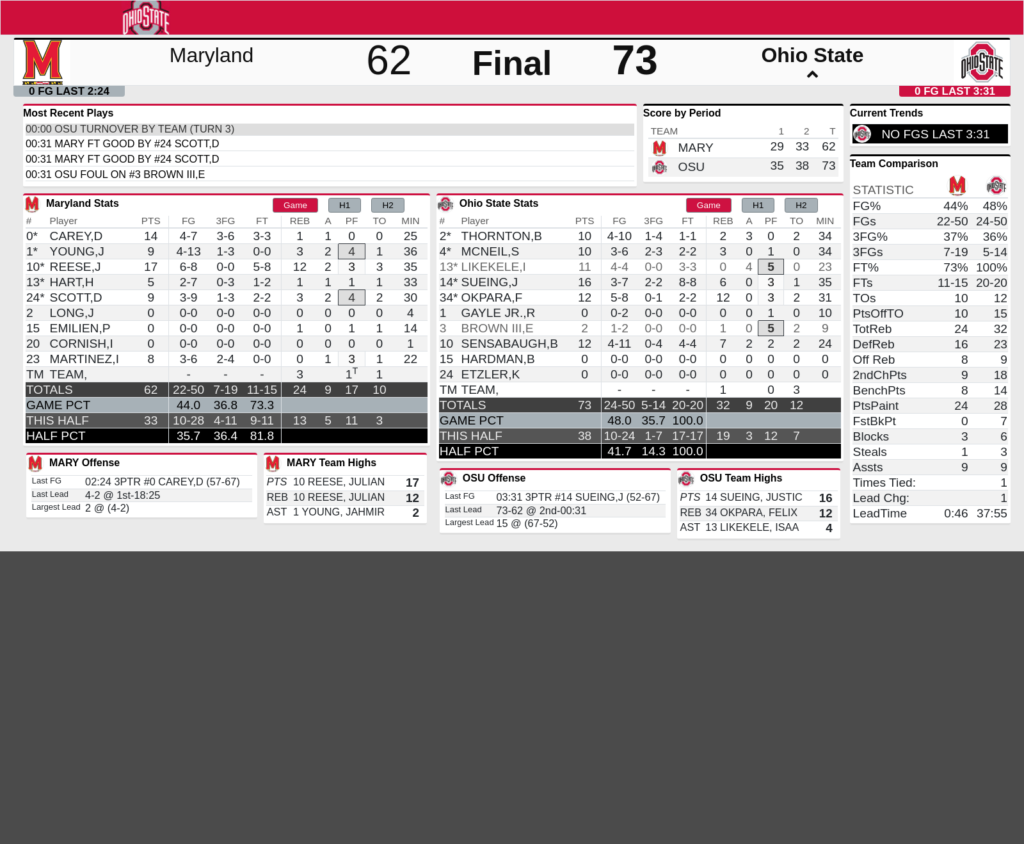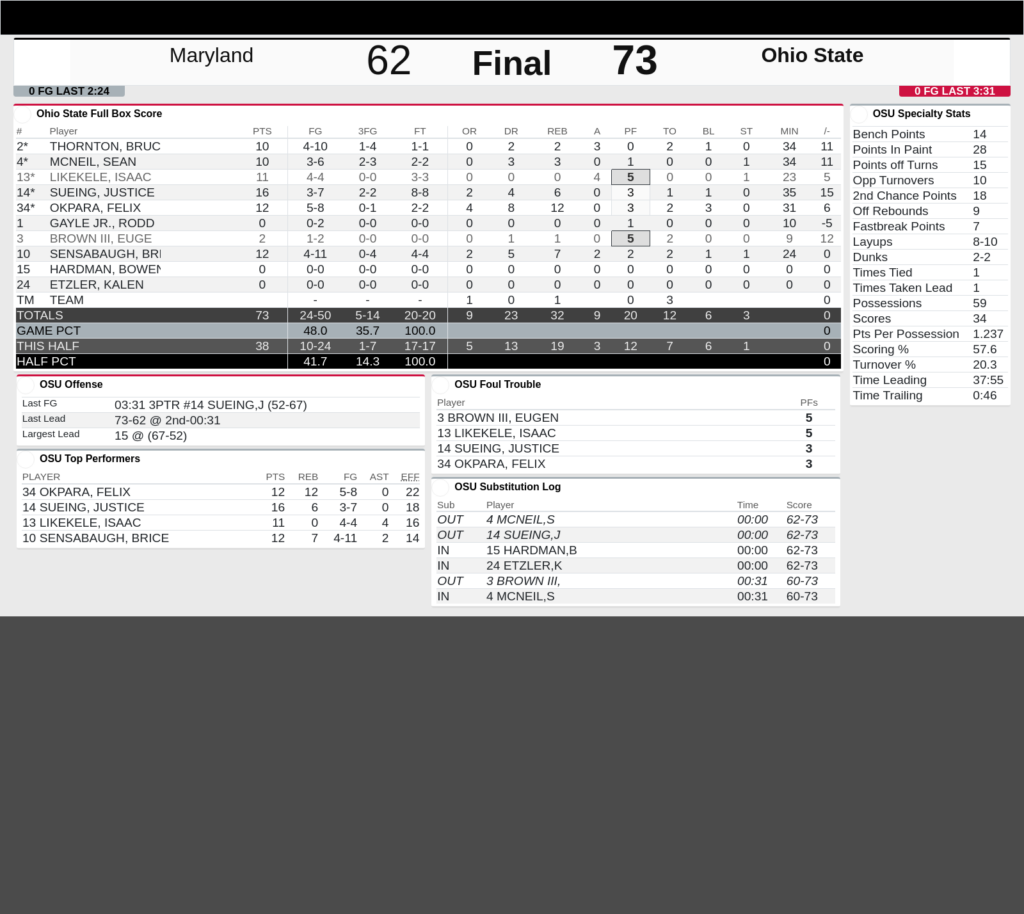 [Felix Okpara header photo courtesy of the Ohio State Dept. of Athletics.]