Michigan State guard AJ Hoggard paced all scorers with 23 points in leading the Spartans (19-11, 11-8) to an 84-78 win over Ohio State (13-18, 5-15) in Saturday's Big Ten regular season finale in East Lansing.
Hoggard was one of five Spartans who scored in double figures. Michigan State shot 29-of-53 (54.7%) from the field and 12-of-20 (60%) from three-point range.
The Buckeyes were led by their dynamic freshman duo of point guard Bruce Thornton and forward Brice Sensabaugh. Sensabaugh scored 21 points and Thornton added 20 points as both players shot 7-of-15 from the field.
Senior forward Justice Sueing added 10 points and a game-high nine rebounds and game-high seven assists.
Ohio State began the game with a 4-2 lead, but it didn't last long as the Spartans went on a 15-0 run spanning nearly six minutes. Hoggard, Malik Hall, and Tre Holloman all had three-pointers during the run, and Joey Hauser added a pair of two-point jumpers as well.
A baseline hook from OSU center Felix Okpara stopped the bleeding, and then threes from Thornton and Isaac Likekele sandwiched a Tyson Walker jumper, cutting MSU's lead to 19-12 with 10:23 remaining. Hoggard put the lead back up to 10 points with a three nearly a minute later.
The Buckeyes cut it to 25-21 with free throws by Sueing, an alley-oop dunk by Okpara, and a three-pointer from Sean McNeil. Hall responded with a quick five points to make it 30-21 with 5:28 left in the first half. The two teams basically traded points and possessions for the rest of the half, leading to Michigan State's 43-34 lead at intermission.
The Spartans shot 17-of-30 (56.7%) from the field in the first half, while the Buckeyes managed just 12-of-27 (44.4%). Seventeen of MSU's 43 points came via the fast break. Michigan State also scored eight points off of OSU's four first-half turnovers.
After a Hoggard layup to start the second half, Brice Sensabaugh hit consecutive threes to make it 45-40. Those were then answered by a three from Tyson Walker less than 30 seconds later. Trailing 56-46 with under 15 minutes remaining, Sueing grabbed an offensive rebound off of a Thornton miss and then kicked the ball back out to Thornton for a three-pointer to make it 56-49 with 14:35 left.
Trailing 61-49, the Buckeyes went on a 15-6 that featured a pair of McNeil threes. Thornton's three from the top of the key made it 67-64 with 5:40 remaining. A driving layup from Walker built the lead back up to five points less than a minute later. From that point on, OSU never got it any closer than those five points.
Up next for Ohio State is a first-round game in the Big Ten Tournament on Wednesday. The Buckeyes will be the No. 13 seed and will be facing the No. 12 seed. That game will tip-off at 6:30 pm in Chicago on BTN.
The Box Score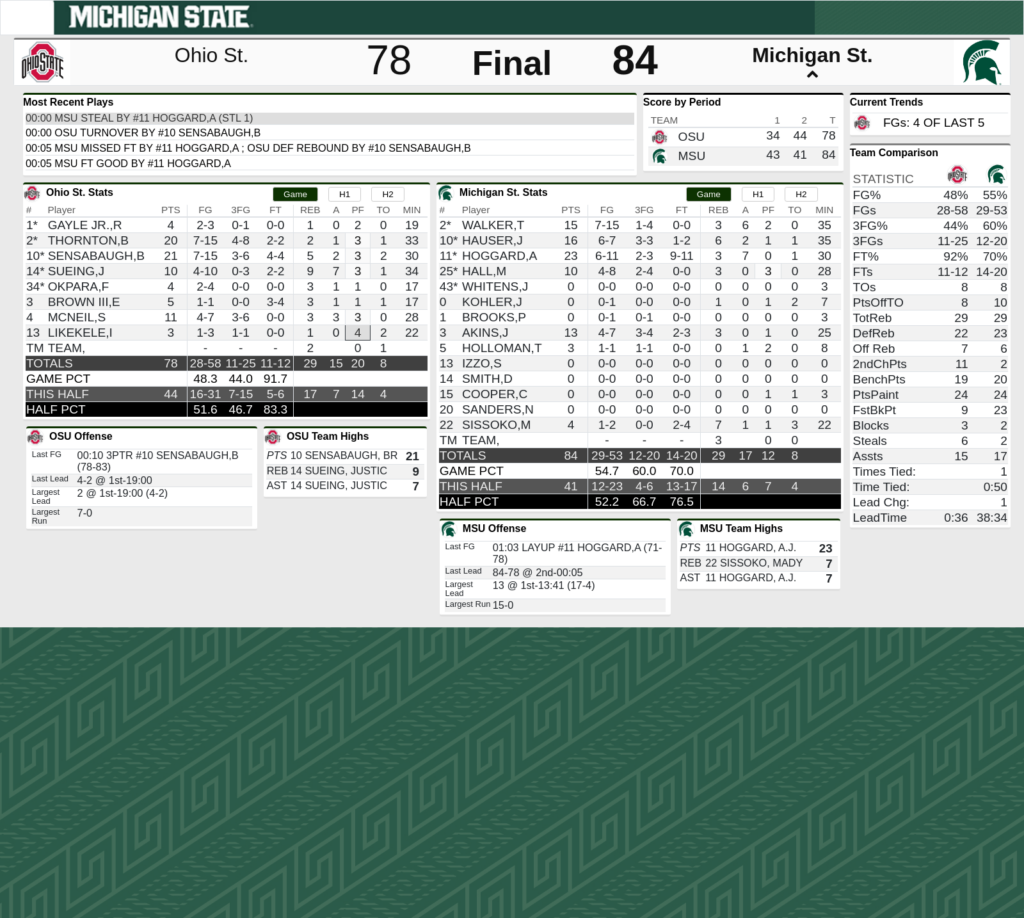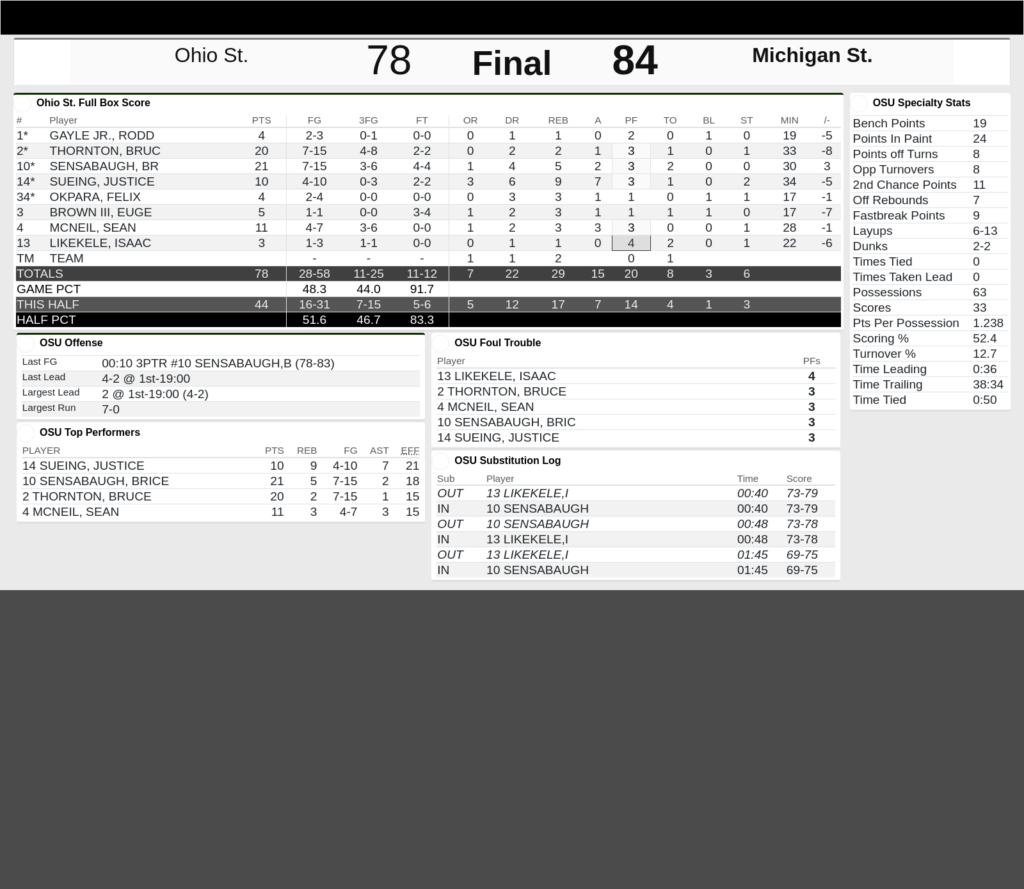 [Bruce Thornton header photo courtesy of the Ohio State Dept. of Athletics.]