The lucky 13-seeded Buckeyes (15-18, 7-15) are now 2-0 in the Big Ten Tournament following Thursday's 73-69 upset win over 5-seed Iowa (19-13, 11-10). Freshman point guard Bruce Thornton led all Ohio State scorers with 17 points. He also had a game-high six assists.
The Buckeyes had 17 assists on their 29 made field goals.
Freshman forward Brice Sensabaugh scored 16 points, senior forward Justice Sueing added 14, and senior guard Sean McNeil dropped in 13 points, including a couple of key three-pointers in the second half.
Freshman guard Roddy Gayle scored all nine of his points in the second half as head coach Chris Holtmann used Gayle's quickness to get to the basket on a couple of occasions.
Iowa forward Filip Rebraca led all scorers with 20 points and a game-high seven rebounds. Forward Kris Murray also added 17 points for the Hawkeyes, who now wait to find out their expected seeding in the NCAA Tournament next week.
The largest lead in the first half for either team was a six-point margin for the Buckeyes with just under eight minutes remaining. It was a hard-fought first half for both teams, and mostly prep for what was an outstanding half of basketball over the final 20 minutes of action.
The largest lead in the second half was just four points, and that never lasted longer than two possessions. Iowa's last four-point lead came following an Isaac Likekele turnover and Payton Sandfort dunk to make it 55-51 Hawkeyes with 8:59 remaining.
That dunk was immediately answered by a Sueing three-pointer to cut the lead to one point. Trailing 57-55, Gayle drove the basket and tied the game up with a layup with six minutes left in the game. Two minutes later, Gayle tied it up again with a drive and a short jumper.
Following a missed shot by Rebraca on the ensuing possession, Thornton found Gayle near the top of the key for a three-pointer to give Ohio State a 64-61 lead with 3:23 remaining. Iowa head coach Fran McCaffery immediately called a timeout to stop the momentum swing.
The Hawkeyes responded following the timeout with a driving layup by Tony Perkins, but that was answered one minute later by another three from Sueing, who bobbled the ball just long enough to give Iowa hope.
The next time down the court, Rebraca was fouled by freshman center Felix Okpara. Rebraca made both, cutting the lead to 69-67 with 1:47 to play. Thornton then went down the floor and scored on a layup with 1:16 remaining.
Following a driving layup by Murray, Gayle was fouled on a drive of his own. He hit both of his free throws with 33 seconds left, giving Ohio State a 71-67 lead. Sandfort was then fouled on Iowa's possession and made both of his free throws with 20 seconds on the clock. Sueing was then fouled on an inbounds pass and made both of his free throws to ice the Hawkeyes and end the scoring.
The Buckeyes outscored Iowa 44-41 in an entertaining back-and-forth second half that saw OSU shoot 17-of-32 (53.1%) from the field, with 12 assists on those 17 made baskets.
Up next for Ohio State is a matchup against No. 4 seed Michigan State on Friday for a 2:30 pm tip-off on BTN.
The Box Score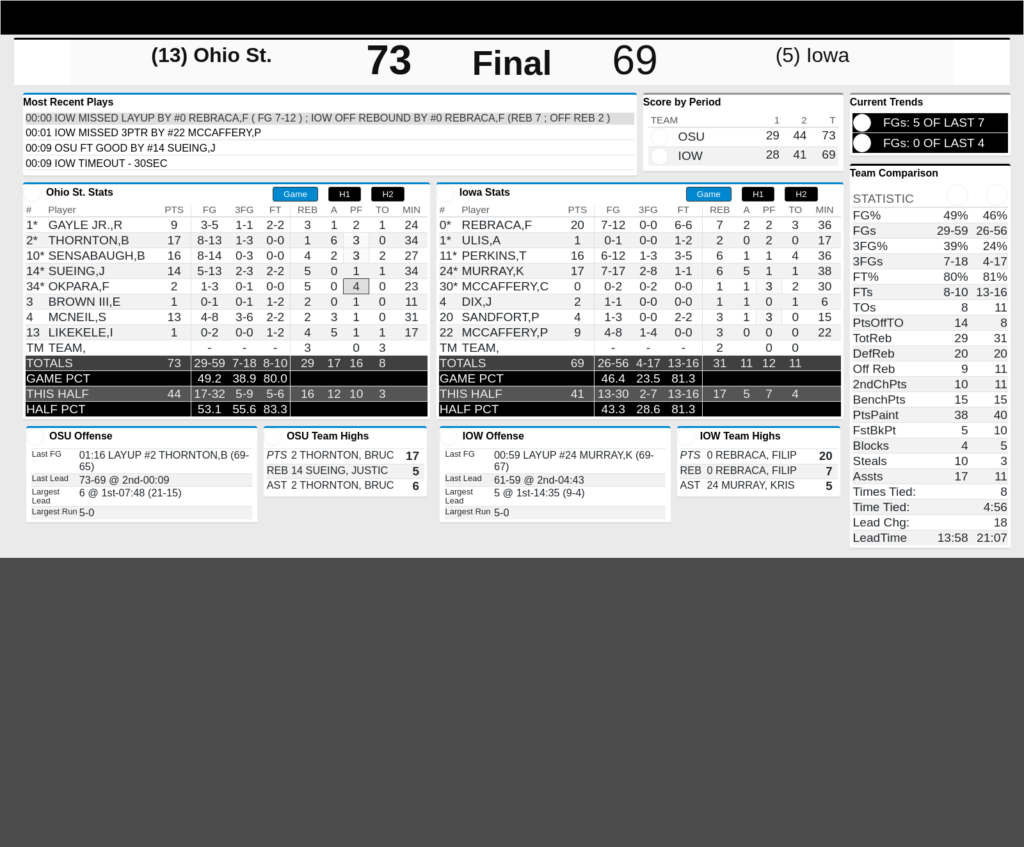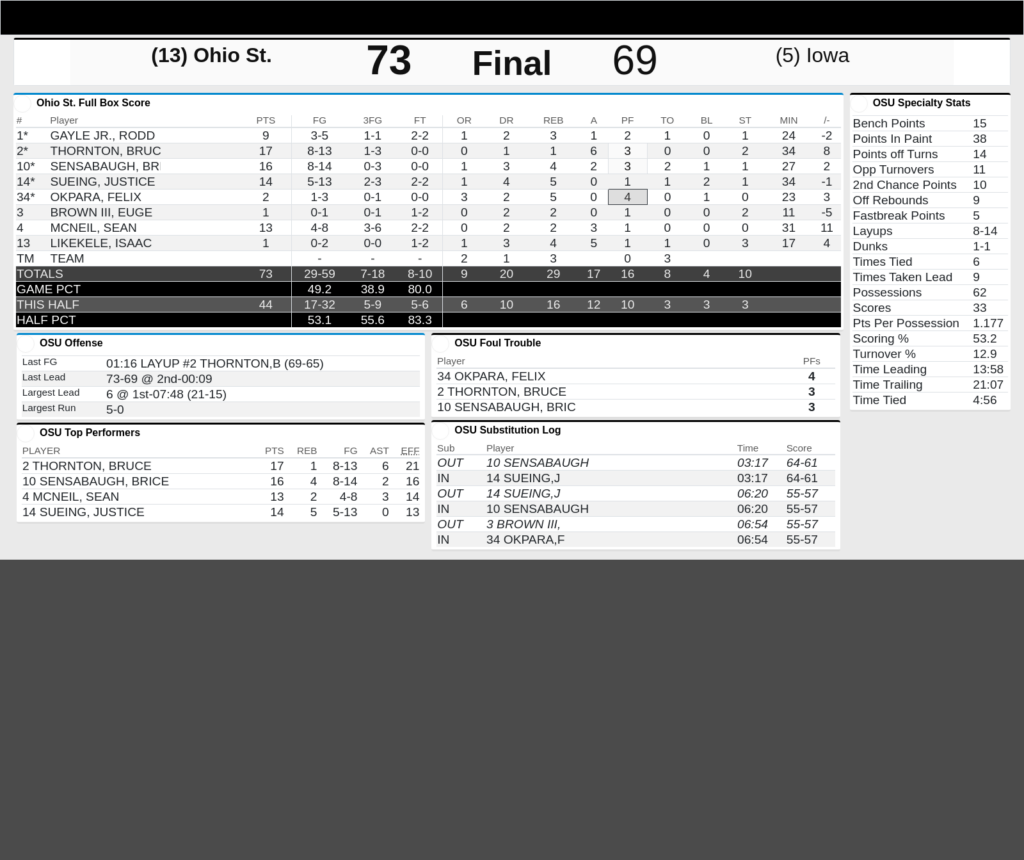 [Brice Sensabaugh header photo courtesy of the Ohio State Dept. of Athletics.]