Ohio State is now two wins away from an NCAA Tournament berth. Freshman guard Roddy Gayle scored 15 points, making all three of his three-point attempts, and hit several key baskets down the stretch in Ohio State's 68-58 Big Ten quarterfinal win over Michigan State (19-12).
Freshman point guard Bruce Thornton led all players with 21 points and six assists, and senior forward Justice Sueing added 15 points.
The 13-seeded Buckeyes (16-18) have now become the lowest-seeded team to ever make the semifinals of the Big Ten Tournament. They face No. 1 seed Purdue at 1:00 pm Saturday on CBS.
With Ohio State playing without leading scorer Brice Sensabaugh, the first 12 minutes of this game were never separated by more than five points either way. It wasn't until a Felix Okpara dunk with 7:04 left in the first half that a lead was extended to at least seven points. A pull-up jumper by Sean McNeil three minutes later made it 28-19 Ohio State with 3:54 remaining.
A dunk by Okpara less than a minute later made it 30-20, and then a three-pointer from Gayle 30 seconds later made it 33-22. The final basket of the half came via a jumper from Tyson Walker to make it 33-24 Ohio State.
The Buckeyes held Michigan State to 9-of-29 (31.0%) shooting and just 1-of-9 from three-point territory in the first half. Ohio State, meanwhile, shot 14-of-27 (51.9%) from the field. Michigan State attempted eight free throws to the Buckeyes' zero.
The Spartans opened the second half with more assertiveness offensively, which led to an initial 10-3 run over the first 3:35 of the half. Michigan State managed three baskets in the paint and a three-pointer. The final basket resulted in a timeout by Ohio State head coach Chris Holtmann.
The timeout worked, as OSU responded with back-to-back threes from Thornton and Sueing to make it 42-34 with 15:00 remaining. The lead eventually grew to 10 points following a Thornton layup with 11:29 left. Michigan State cut it to 46-39 with a jumper from Jaden Akins a little over a minute later.
Roddy Gayle put the Buckeyes back up by nine with a jumper in the paint. He then made it 51-39 with a three-pointer from the top of the key on OSU's next possession. A three-pointer from Sueing gave Ohio State a 54-41 lead with 7:37 remaining.
Michigan State then responded with a 9-2 run over the next two-plus minutes, featuring a pair of jumpers from AJ Hoggard and four free throws by Joey Hauser. It was at this point that Roddy Gayle snuck into a phone booth and came out swinging. After two Gayle free throws to make it 58-50, he dropped in another three to give OSU a 61-50 lead with just 3:13 remaining.
Gayle then added another jumper to answer a basket from Akins. Thornton then closed things out for the Buckeyes with five points in the final two minutes to keep Michigan State at arm's length.
Ohio State led for over 33 minutes in this game.
The Box Score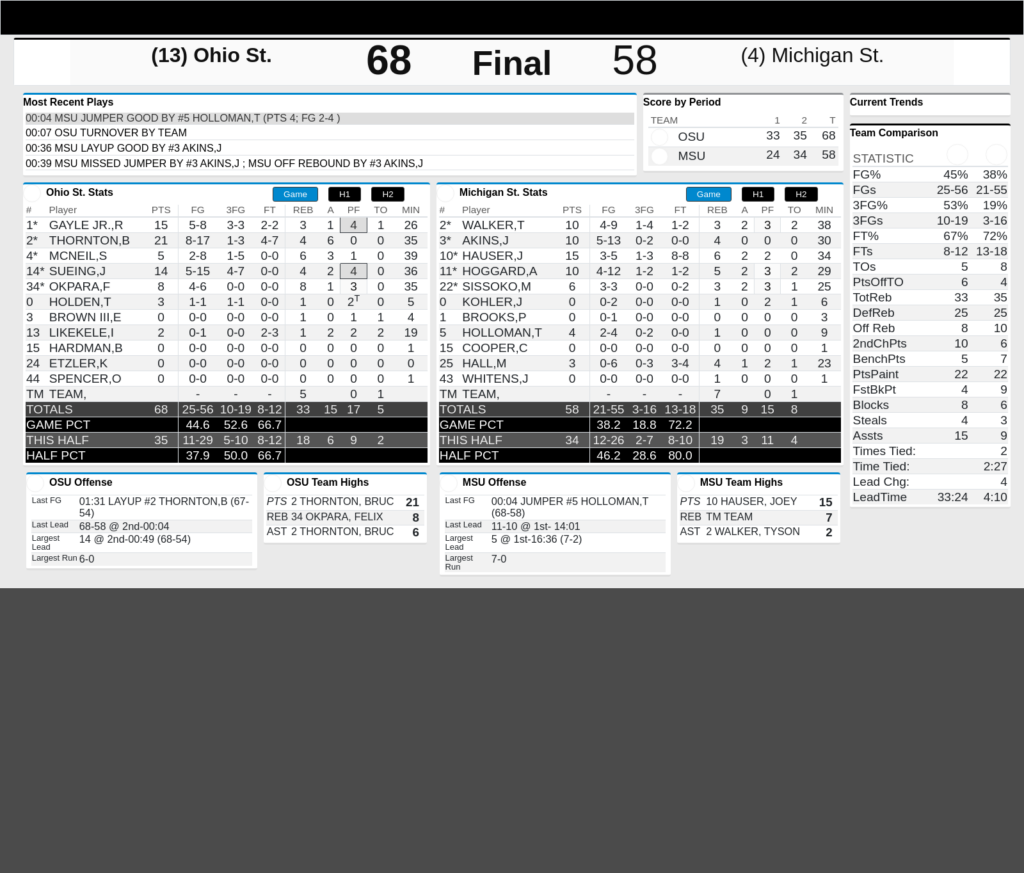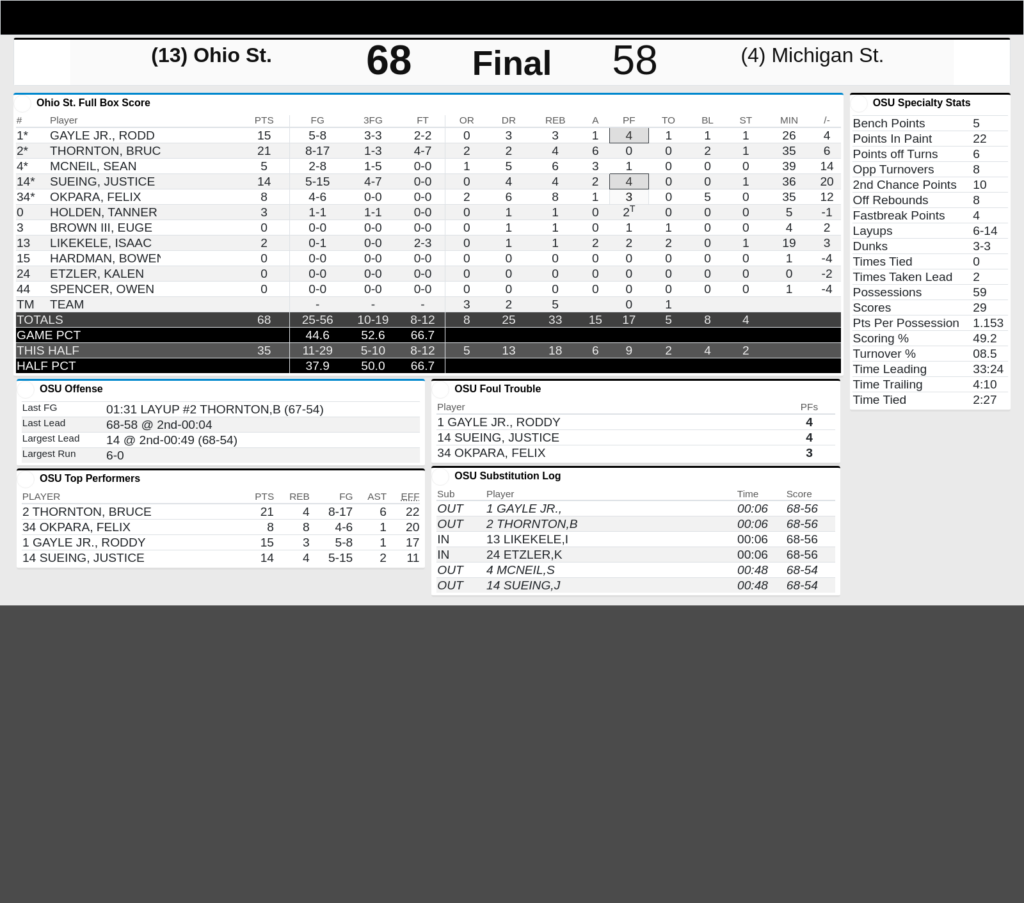 [Roddy Gayle header photo courtesy of the Ohio State Dept. of Athletics.]