With spring football now in the rearview mirror for Ohio State, it's time to look back at what happened with each position group and where things currently stand for the Buckeyes. Up next will be the running backs.
[Previous: Defensive Ends]
Quick Position Overview
The Buckeyes have five scholarship running backs on the roster, four of whom have rushed for at least 500 yards in their respective careers. TreVeyon Henderson was a Freshman All-American in 2021 but dealt with injuries last year in rushing for 571 yards. Fourth-year junior Miyan Williams led the Buckeyes with 825 yards rushing last year. Sophomore Dallan Hayden surprised everybody by rushing for 553 yards last year as a true freshman. Chip Trayanum transferred to Ohio State from Arizona State to play linebacker, but made the move back to running back late last season because of injuries to almost everyone else. Redshirt sophomore Evan Pryor missed last season with a knee injury.
Expectations Going In
The expectations going in were that TreVeyon Henderson and Evan Pryor would both miss the spring as they continued to recover from their respective injuries. Miyan Williams was also expected to be given a lighter load in the spring given his experience. That would also allow Dallan Hayden and Chip Trayanum to get the bulk of the work, which would be good since they were the two who needed it most.
Reality Coming Out
As far as expectations go, it's pretty easy to nail them when the options aren't many. Evan Pryor and TreVeyon Henderson were both limited, though Henderson was fully cleared following the conclusion of spring ball. Miyan Williams was given limited reps, but his status as one of the top two backs on the team remains. Dallan Hayden and Chip Trayanum, as well as a couple of walk-ons, got most of the reps throughout camp. Both Hayden and Trayanum had very good moments, further cloudying the carry distribution plans for running backs coach Tony Alford.
Any Surprises?
After most of a year on defense last season, Chip Trayanum once again looked like a natural running back this spring. He has added a little bit of weight while improving his speed and regaining his tailback instincts more and more each day. The full Trayanum won't be known until the tackles are live and defenders are wearing different uniforms. He showed this spring that he shouldn't be an afterthought, however.

Unanswered Question
On a team full of talented offensive weapons, can Evan Pryor show in fall camp that he needs to be added to the list? Expectations were high last year prior to his ACL tear in fall camp. Can he get back to that same spot in just 12 months? Or will he need a little more time? He will no doubt be itching to get involved as quickly as possible, but it may take some time for him to get his timing back. Will that happen in fall camp, or the first month of the season?
So Now What?
TreVeyon Henderson gets back to 100% and shows everybody that he's still one of the best running backs in the Big Ten, if not the country. Henderson was held out from contact this spring, but was still one of the more upbeat guys around. He wants to put last year in the rearview and remind everybody that when he's healthy, he is a touchdown waiting to happen.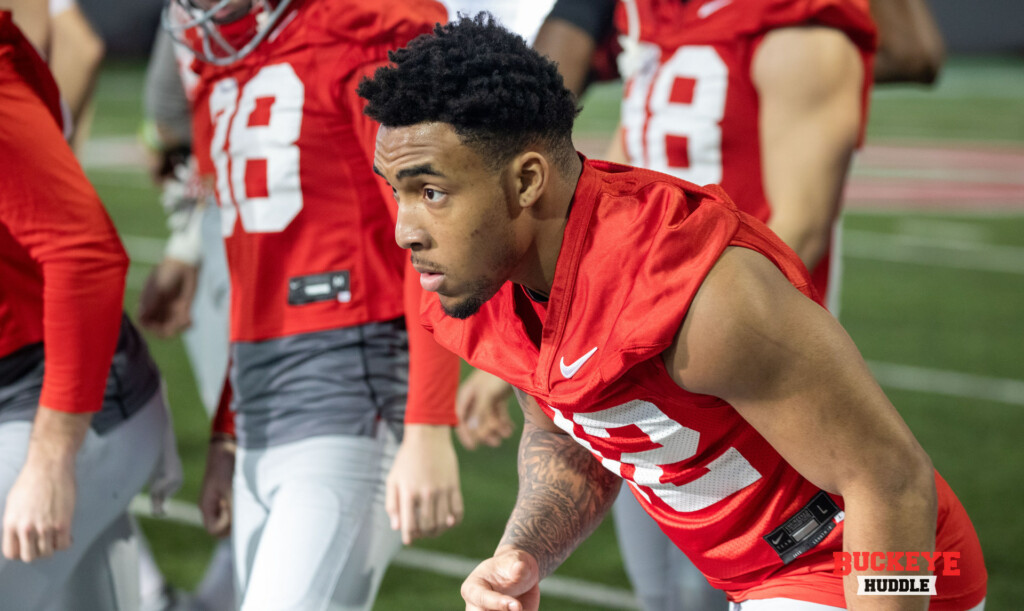 One Concern
Staying healthy is the biggest concern here. The Buckeyes didn't sign a running back in the 2023 class, but they'll still be okay with their numbers as long as they stay healthier than they were a year ago. The question is whether they actually can stay healthy, especially since there were so many odd injuries popping up week to week last year.
Are We Sure?
Are we sure there are enough carries to go around for these guys? While the Buckeyes may rely more on the run this year than they have the past couple of seasons, finding carries for five talented backs isn't exactly possible. The key for Tony Alford will be finding roles for the guys who may not be in the regular rotation. Does that mean some packages for Evan Pryor? Short-yardage situations for Chip Trayanum? Two backs in the backfield together? It's a good problem to have, but it's a problem that could use a solution. The last time the Buckeyes had four players average at least five carries per game as part of the regular rotation was 2011, and one of those players was quarterback Braxton Miller.
Quotable
"Well, I think Tre's got to get back out and start playing again, and that confidence will come back. Tre's a very confident guy and he's a very goal-oriented guy. And I know, for lack of a better term, it bothered him greatly not to be able to play and perform at a high level. He'll use that as a motivation, just knowing the young guy like I do. He'll use that as big motivation to come back. The biggest thing we've got to guard against with him is making sure that he's taking the time that he needs to take, with the doctors telling him not trying to do too much too fast and setting himself back. Because he's ready to go, and he's very excited to kind of get going again." — Tony Alford on TreVeyon Henderson building confidence again once he's healthy.
Depth Chart
32 TreVeyon Henderson, Jr OR
3 Miyan Williams, rJr
5 Dallan Hayden, Soph OR
19 Chip Trayanum, Sr
21 Evan Pryor, rSoph
Reading List
Insider Notes: Defensive Line Shows Its Teeth At Saturday Scrimmage
10 Observations: 2023 Spring Wrap Up Edition
Ohio State Spring Practice Insider: A Through Z Takeaways From Saturday's Scrimmage