The Buckeyes will open fall camp on Thursday with the first of 25 practices before they head to Bloomington to take on the Indiana Hoosiers on September 2.
Like any season, there are knowns and unknowns with this Ohio State football team. Today, we will take a look at the unknowns on the Buckeye offense.
1. Will a quarterback separate himself?
Fall camp has never failed to produce a starting quarterback for the Buckeyes. When the Ohio State offense takes the field for the first time in the season opener this year, there will be a quarterback on the field. But will that quarterback be looking over his shoulder? Will the competition be so close during camp that it will actually take a couple of games to determine who will be the Buckeyes' starter when they head to South Bend to take on Notre Dame? Expectations are that both Kyle McCord and Devin Brown would be successful as the Ohio State starting quarterback this year, but will one of them be able to clearly separate himself from the other? And if not, how long into the season does this remain a situation?
2. What will Jakob James' presence mean for the center battle?
This is Jakob James' fourth year at Ohio State and he has played about one game's worth of snaps on offense (80 total) so far in his career. He was out this spring, so he wasn't one of the three centers competing for the starting job initially. He will, however, be involved now. What will his presence mean for that competition? Can he beat out redshirt freshman Carson Hinzman? Even if he doesn't, does his presence move Louisiana-Monroe transfer Victor Cutler to another position on the line?
3. Can any of the freshman receivers carve out a spot in the rotation?
Six of Ohio State's 11 scholarship receivers this year have freshman eligibility. Just by numbers alone, the Buckeyes would be better served to have some young guys emerge in fall camp as game-ready receivers. True freshman Carnell Tate moved into the two-deep quickly in the spring, but the Buckeyes were without several receivers at the time. With a healthy room now, how close are the true freshmen to seeing the field. The same can be asked of redshirt freshmen Kyion Grayes and Kojo Antwi. They have been pushed by a talented true freshman class. How are they going to respond this month?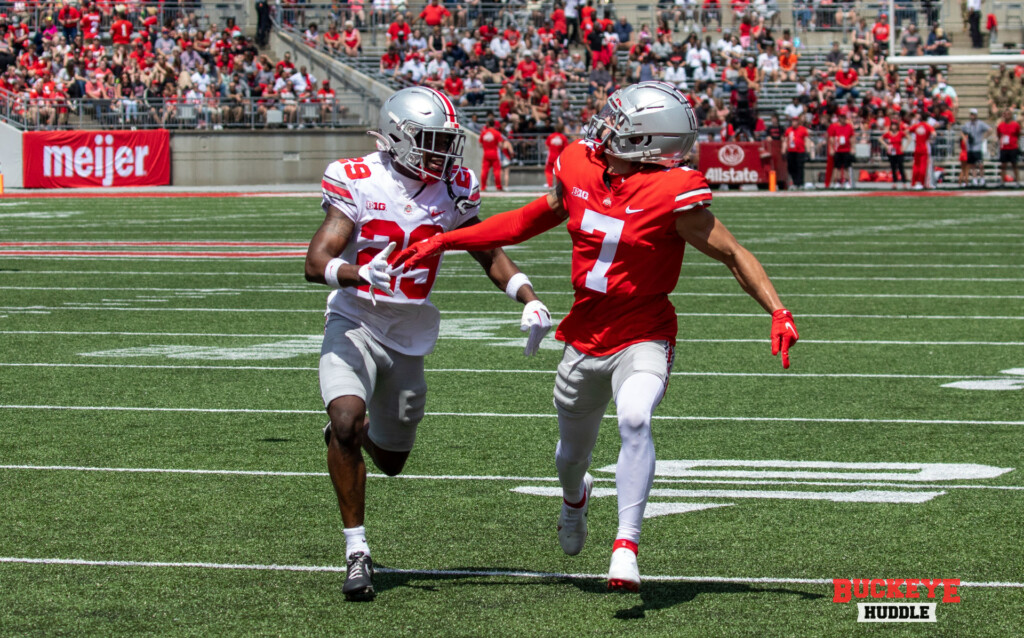 4. Is Josh Fryar the answer at left tackle?
At Big Ten Media Days last week, Buckeye head coach Ryan Day said that Josh Fryar has dropped some weight over the summer. That was clearly part of the plan put in place after seeing him at left tackle for the entirety of spring. Has that drop in weight made a difference in some of the issues that offensive line coach Justin Frye wanted to get cleaned up? Or will that happen during fall camp. Fryar has really been the only viable option to this point at left tackle. Will that change if the staff gets a good look at San Diego State transfer Jimmy (formerly Josh) Simmons at left tackle and decides that he's the better option?
5. How quickly does Evan Pryor get up to speed?
On a team full of playmakers, redshirt sophomore Evan Pryor is a forgotten man for many people. Heck, most Buckeye fans probably don't even know who he is. He only played in four games in 2021 and then missed last season with a patellar tendon tear. Pryor was held out of spring ball, but is now full speed. The question for Pryor is now not whether he can get to full speed, but rather how quickly he can get back to full football speed. That includes the feel, the timing, the violence of cutting without thinking about whether or not the knee will hold up. The time it takes to recover from the physical aspect of that kind of knee injury is usually 9-12 months, but the time it takes to recover mentally is different from player to player.

6. Can Brian Hartline find a true receiver rotation?
The college football magazines will tell you that the Buckeyes have the top group of receivers in the nation. The top group of Marvin Harrison, Jr., Emeka Egbuka, Julian Fleming, and Xavier Johnson is enough to earn magazinal accolades, but can receivers coach Brian Hartline build a true rotation? The most difficult part of that equation may not even be finding the fifth or sixth or seventh receiver to rotate into the game, but rather how, when, and why you would ever take Harrison or Egbuka off the field.
7. Will a viable right tackle be found?
If you're in a situation where you have to replace a starting right tackle, you could do worse than the five guys the Buckeyes may have battling for the job. In the spring, redshirt sophomore Zen Michalski and redshirt freshman Tegra Tshabola split the job fairly evenly. No winner emerged from the competition, however. As evidence of that — and also as evidence of some concern — the Buckeyes went into the transfer portal to land San Diego State right tackle Jimmy Simmons. At media days, Ryan Day also mentioned true freshman Luke Montgomery as a possibility, as well as Victor Cutler. The two guys with the most experience are the two transfers, who both started at right tackle for the respective schools a year ago. Will somebody emerge and stand out, or will this be a position that has three different starters over the course of the season?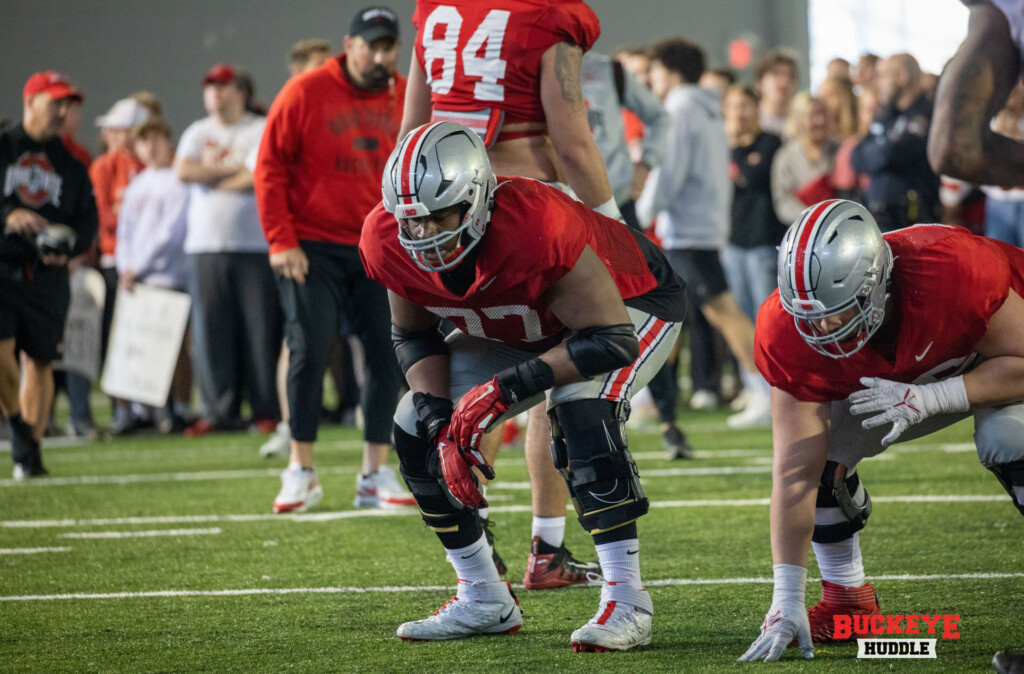 8. Can Carson Hinzman handle the job at center?
Carson Hinzman handled the first-team reps at center all spring long. Ryan Day still seems pretty confident that he has the potential to lock the job down in camp. Hinzman's demeanor is reminiscent of last year's starter Luke Wypler, and like Wypler did in 2021, Hinzman is trying to win the job as a redshirt freshman. It's not clear how much he was really pushed in the spring. Victor Cutler was with the twos, and true freshman Joshua Padilla was with the threes. Those two guys were still learning the playbook, so how much could they really compete for such a crucial job? That will change in fall camp as both players know the offense much better than they did four months ago, and so does fourth-year junior Jakob James. This will be a brand new competition for Hinzman. How will he handle it?
9. How many game-ready linemen can Justin Frye develop this month?
After spring ball, Justin Frye said that fifth-year senior guard Enokk Vimahi played well enough to be among the starting five. The problem with that, however, is that the two positions that don't need to be filled are at guard, where junior Donovan Jackson and sixth-year Matthew Jones return as starters. Vimahi will likely be in the top eight for the Buckeyes, but who else can get into that mix? The competition at three positions will make everybody better and could make this a very deep group overall. Could Ohio State end up with an entire second unit that Frye would be comfortable playing during a game like Jim Tressel used to do back in the day?
10. Will the Buckeyes once again have an elite quarterback?
The Buckeyes will have a starting quarterback this year, but how good will he be? Every starting quarterback at Ohio State since Ryan Day arrived in 2017 has been First-Team All-Big Ten and named the Big Ten's Quarterback of the Year. The standard now is future first-round NFL draft pick and Heisman finalist. That's a lot of pressure and expectations to put on a quarterback, but that's also why Kyle McCord and Devin Brown chose to become Buckeyes. You likely won't see anybody picking McCord or Brown to be All-Big Ten right now, but based on history, it would take a larger leap of faith to believe that it won't happen than it will. But even then, just being All-Big Ten is not really the standard. It's much more than that. The Buckeyes have had the best six years of quarterback play in Big Ten history. Will they make it seven years in a row? Don't bet against it.