With spring football now in the rearview mirror for Ohio State, it's time to look back at what happened with each position group and where things currently stand for the Buckeyes. We finish our series with the offensive line.
[Previous: Quarterbacks | Running Backs | Receivers | Tight Ends | Defensive Tackles | Defensive Ends | Linebackers | Cornerbacks | Safeties]
Quick Position Overview
The Buckeyes lost three starters from last year's team to the NFL Draft, and all three still had eligibility remaining. The search for two new starting tackles and a starting center has begun, and the hope was that offensive line coach Justin Frye would be able to find those starters from the players already on campus. Starting guards Matt Jones and Donovan Jackson return, but the pieces around them are still being sorted out.
Expectations Going In
The expectation going in was that fourth-year junior Josh Fryar would be running with the ones at one of the two left tackle spots. He was a valuable reserve last year and performed well at right tackle when given the opportunity. The other tackle spot was a bit of a mystery, but redshirt sophomore Zen Michalski was expected to be in the mix somewhere. The Buckeyes went into the portal and grabbed Louisiana-Monroe left tackle Victor Cutler to compete or the open center job. Matt Jones and Donovan Jackson were expected to be just fine on the interior, though there was a thought that Jackson could end up at left tackle if needed.
Reality Coming Out
Josh Fryar was with the ones at left tackle throughout camp, while Zen Michalski and redshirt freshman Tegra Tshabola battled at right tackle. Matt Jones and Donovan Jackson stuck at the two guard spot, providing the line with a veteran foundation. Redshirt freshman Carson Hinzman began with the ones at center, and that's where he ended spring as well. Victor Cutler got some reps with the ones here and there as he learned the offense.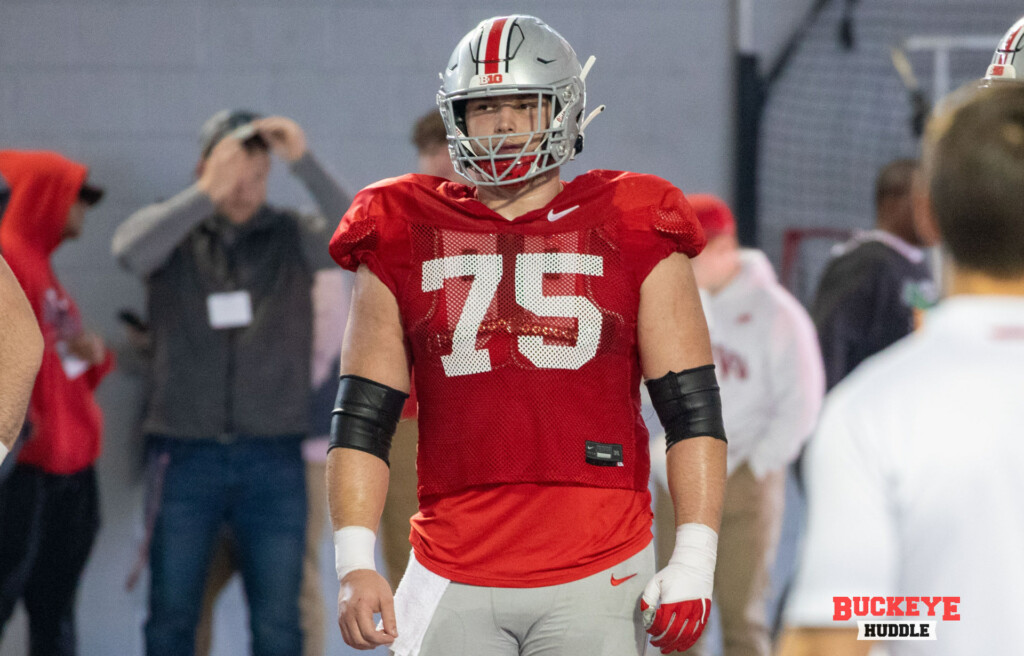 Any Surprises?
Redshirt freshman Carson Hinzman wasn't talked about much heading into spring ball, but on day one, he was there as the first center for the Buckeyes. He repped with the ones throughout spring camp and never looked out of place when the media was watching. Hinzman certainly had an advantage to begin the competition because the three other competitors were a) still learning the offense after transferring in (Victor Cutler); b) injured (Jakob James); or c) a true freshman (Josh Padilla). This competition will ramp way up in fall camp, but there is no doubting that Carson Hinzman got a ton of good work this spring.

Unanswered Question
Can Josh Fryar handle the left tackle job? Fryar did his job well last year with spot duty as an extra tight end, right tackle, and right guard, but left tackle is a brand new animal. The Buckeyes are breaking in a new starting quarterback this season, and the last thing they want is a QB looking over his left shoulder rather than down the field.
So Now What?
The Buckeyes are currently hosting San Diego State right tackle Josh Simmons, who is visiting Ohio State this weekend. Simmons started every game for the Aztecs last season as a redshirt freshman and is now making the rounds as a coveted portal prospect. He has also visited Oklahoma. Simmons was a four-star prospect in the 2021 recruiting class who committed to SDSU over offers from Georgia, Michigan, Oklahoma, Miami, and many others. He also held an offer from UCLA and their offensive line coach Justin Frye, who is now Ohio State's offensive line coach.
One Concern
Is this an offensive line of just guards and centers? Is Josh Fryar a better fit at guard than tackle? Tegra Tshabola came over from guard to compete at right tackle. Zen Michalski may be a true tackle, but he's still inexperienced. With the NFL Draft going on right now, it's not out of line to project where the current Buckeyes may end up. Tackles in college routinely end up as guards in the pros. The good news there is that you're still at least working with future professionals. The Ohio State offensive line is still a question mark in terms of positional personnel, let alone their respective professional futures. The most experienced tackle is Victor Cutler, who is 6-foot-3 and working at center right now.
Are We Sure?
Are we sure the best version of this Ohio State offensive line wouldn't instead have Matt Jones at center, Donovan Jackson at left tackle, and Josh Fryar at right tackle? And if the Buckeyes can land Josh Simmons, maybe Fryar moves inside to guard, which he has played before. Ideally, nobody would move from where Justin Frye put them in the spring. Those are the positions the players want to play, after all. But if things aren't working out, then at some point the "wants" have to give way to the needs.
Quotable
"Zen was at left tackle and Tegra was at right guard, so now they've both kind of taken on that right tackle position. We spent a lot of time figuring out if that was the right move, but we felt like making Josh the left tackle, and then really having those guys compete at right tackle was the right play. It'll take a little bit of adjustment for them. Certainly for Tegra, making the move from inside to outside and then Zen from left to right, but Tegra will be into year two. Tegra got a lot of two reps for us last year. We see a lot of potential in Tegra, and I think every rep you get in, Tegra is gonna to pay off in the long run. I think it's a really good investment. Hoping that he can make a push." — Ryan Day on the thought process on which positions to put the guys at the beginning of spring.
Depth Chart
Left Tackle
70 Josh Fryar, rJr
68 George Fitzpatrick, rFr
51 Luke Montgomery, Fr
Left Guard
74 Donovan Jackson, Jr
66 Enokk Vimahi, rSr
67 Austin Siereveld, Fr
69 Trey Leroux, rJr
Center
75 Carson Hinzman, rFr
59 Victor Cutler, Sr OR
78 Jakob James, rJr
62 Josh Padilla, Fr
Right Guard
55 Matt Jones, Grad.
66 Enokk Vimahi, rSr
54 Toby Wilson, rSoph
73 Grant Toutant, rJr OR
64 Quinton Burke, rJr
Right Tackle
65 Zen Michalski, rSoph OR
77 Tegra Tshabola, rFr
76 Miles Walker, Fr
Reading List
Ryan Day Keeping His Mind On The Ohio State Offensive Line
Late Nights, Early Mornings Nothing New For Carson Hinzman In Quest For Starting Job
Finding Two New Tackles A Work In Progress For Buckeyes
Josh Fryar Alright With Move To Left Tackle
Closer Look: Do The Buckeyes Have Their Center In Vic Cutler?