Notre Dame head coach Marcus Freeman met with reporters for his weekly media session on Monday. He spoke a bit about Saturday's win over Central Michigan, but the bulk of the time was spent talking about this weekend's matchup with Ohio State. Following Freeman, Notre Dame quarterback Sam Hartman fielded questions about the Buckeyes. The highlights of everything that was asked and answered can be found below.
Marcus Freeman
"It's always great to be able to win and learn." They did that against Central Michigan on Saturday. It's not victory that you're chasing, it's the chase for your full potential. "It wasn't perfect. We know that. You guys watched the game." It was good to go in the half with a 7-point win and then finish with a 41-17 win.
Regarding some tackling issues against Central Michigan this past weekend: "We have to improve tackling. We know that. We can't miss tackles."
ND had a special teams advantage of 45 net yards, which is very much a positive.
"Obviously we have a great opponent coming in. We're excited to go against a top-tier opponent for sure." Excited about the environment for the week. "Finally wearing the green uniforms. They talked me into wearing a green jacket today." Going to be a cool opportunity on Saturday night.
Have to continue focusing on what it will take to have a great Saturday, and that starts with a great Monday.
Ryan Day has done an unbelievable job leading Ohio State. "We know it's going to be a really good opponent with a great coaching staff."
How much different is this game for you than last year as your first time as a head coach? You have a year under your belt. It's not the first game of the season. This team now has an offensive identity. They know what they can do.
What do they do to improve on the tackling and elimination of penalties? There's an element of safety that requires you to not tackle live in practice. You do drills. Notre Dame missed three tackles on one drive and only a couple of others after that on Saturday. You have to show your guys how to improve without going live. As far as the penalties, is it a selfish penalty or fundamentals? They have to continue playing with good technique.
How do you guide QB Sam Hartman through this week since he's never played in a game like this? He has played in big games. You'll see when you talk to him. "The moment won't be too big for him at all."
How are they preparing for two quarterbacks and a first-time offensive coordinator? Ohio State has an explosive offense. They're running more tempo recently. They plan on seeing Kyle McCord, but you have to have a plan for anybody you might see. Their offense is similar regardless who is at quarterback. Same with the coordinator. "I'm sure Coach Day is extremely involved with their offense. They find ways to be innovative." They find different ways to get their playmakers involved, and it all starts with their running game.
Asked about JT Tuimoloau and the defensive line: it's deep and impressive. Tuimoloau is big, powerful, and explosive. But they have a bunch of guys who are physically disruptive.
What did your CBs get from the experience against OSU last year? You look back to that game, OSU returns a lot of those receivers. That was a way for ND's guys to measure themselves the rest of the year. They have continued to grow defensively and build skill from last year, "and it will never stop."
What makes Marvin Harrison and Emeka Egbuka hard to deal with? Just turn on the film. Harrison has a great body type and skill set. Fast, athletic. Egbuka is a playmaker. More of a slot. Dangerous returner. "I could go on and on."
Everybody talks about sacks, but Notre Dame is No. 1 in the country in pass efficiency defense. That's what he cares about. Sacks are an individual stat that don't really matter. Sacks are a result of a lot of different things. But constant pressure is what they want.
Al Golden (ND DC) had a great game plan against OSU last year and they did a great job executing it. Part of the game plan last year was limiting OSU's possessions and playing ball control. This year they don't want to play not to lose and hold the ball, which is kind of what their mindset was last year.
It's a different mindset this year in wanting the ball in the offense's hands because last year they had more questions offensively, especially in game one. That doesn't mean they'll be going up-tempo, but they want to have success. "It's complementary football. We still want to win time of possession."
How important is it for your WRs to get open to give Sam Hartman options. "I've got a lot of confidence in our wide receivers." They have put in a lot of work and have developed well. "Those guys are all playing really well. I'm excited for those guys to get the opportunity to go out there Saturday and compete against some really good DBs."
The message to former Buckeye DE Javontae Jean-Baptiste, who transferred to ND? The message is to not worry about Saturday, worry about today. Then on Saturday, worry about winning every single play.
How much does QB experience in a matchup like this factor in? Sam Hartman has played in big games in big moments. He knows the right mindset to have in order to have a successful game. Hartman knows it's about going through your checklists to have success. When you haven't been through that, it's more difficult. Obviously, he feels great having a quarterback with so much football experience.
What does belief in your offensive line do for you? When you can run the ball, that creates more with the passing game. They need to protect Hartman to make the most of that passing game.
Receiver Chris Tyree works tirelessly at the transition from running back. "You have to put the work in and that's what you've seen him do." It's great seeing him make big plays as a receiver now.
What gives you confidence this team can reach its potential against Ohio State? A good week of practice will give him that confidence.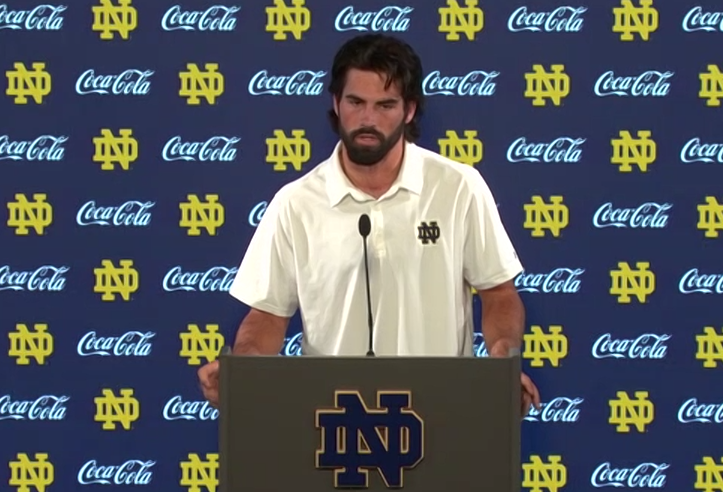 Quarterback Sam Hartman
Is this the biggest game he's played in? "It's a big game." This is a huge opportunity with a bunch of people watching. Challenging opponent. "I think it's a clash of two football greats that you grow up thinking about." It is a big game. To shy away from that is foolish. But every week it's "going to be about us."
It's big for the university and the team to have this game at home this weekend. "It's a big challenge. It's going to be a huge crowd. A huge ordeal." "It's going to be one play, one life."
Confidence starts with the coaches and the offensive line. Everybody on offense has been playing well. The receivers have shown the explosiveness out wide. They can run the ball. The defense has been helping out. Everybody around him has been doing their job.
How does his experience help when the game starts? You feel all the same emotions because of the excitement and the want to be the best and have success. His confidence comes from everybody around him. Experience is experience but every play is different. It's about trusting the guys around you.
Thoughts on the OSU defense? Starts with the linebackers who are stout and experienced. They are the QBs of the defense. The secondary has a bunch of talented veterans. They do a lot of things up front as well. You know it's going to be a battle for all four quarters.
Learning from tough losses against quality opponents? It's all about "one play, one life mentality." Bouncing back from bad plays.
ND is giving all fans LED wristbands. What do you think of that? Irish fans have a global effect. Excited to see a night game at Notre Dame Stadium.
What does he do to throw such a nice deep ball. It's about the guys getting open and getting separation and the OL protecting. Those two components mesh together and make it look really good.
What can he do to help his receivers against OSU's secondary? It's about execution. You can scheme up everything you want but if you don't execute, it's not going to work. "They're going to get us and we're going to get them. It's going to be a battle of wills and who wants it most."
"We're just trying to reach our full potential and wherever that ends up it ends up."